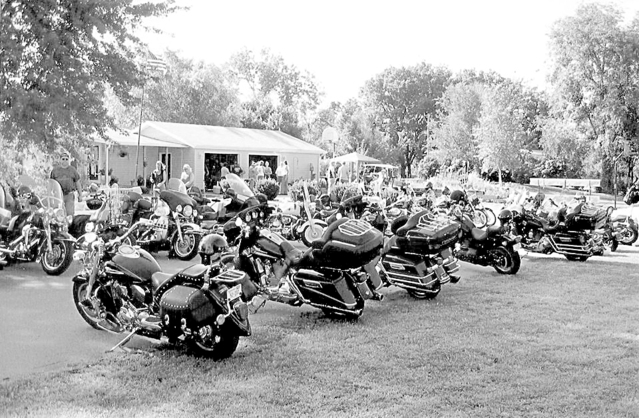 Almost $20,000 was raised during the ninth annual Mikey Ride at Wallace on Saturday.
Mike Maupin, organizer, said money continues to trickle in from people who weren't able to attend the fundraiser, but still want to donate.
Laura Burke, 27, of North Platte, will benefit from the proceeds. The single mom is battling a rare form of cancer that does not respond to chemotherapy or radiation.
The alternative medicines she has pursued are considered experimental and are not covered by insurance, which is where money from the Mikey Ride will come in handy.
The event began with a 240-mile poker run that lasted all day and took motorcyclists through parts of Colorado before looping back around to Wallace.
"We ended up with 151 bikes," Maupin said. "That was a record. The most we ever had up to this point was 125."
A potluck style supper greeted guests at Maupin's home. Two rows of food stretched through a shop and out into the driveway.
A live auction in the backyard took up most of the evening. More than 100 items were donated. They included everything from apple pies, jars of salsa and homemade quilts to Bronco pre-season football tickets, airplane rides and a Traeger grill.
"It all went together fairly well," Maupin said. "We had about 400 people at the meal, so were really happy about the attendance for both it and the ride. You always wonder if it will just be your bike sitting out front, but that's never been the case. I think people enjoy coming. A lot of new guests promised to return."
He said the goal is to have 200 motorcycles on the poker run next year because it will be the 10th anniversary of the ride. About $75,000 has been raised through the event since it started.
Those who would like to donate to Burke can still do so by sending a check to Maupin at Farmers State Bank, P.O. Box 156, Wallace, NE 69169.