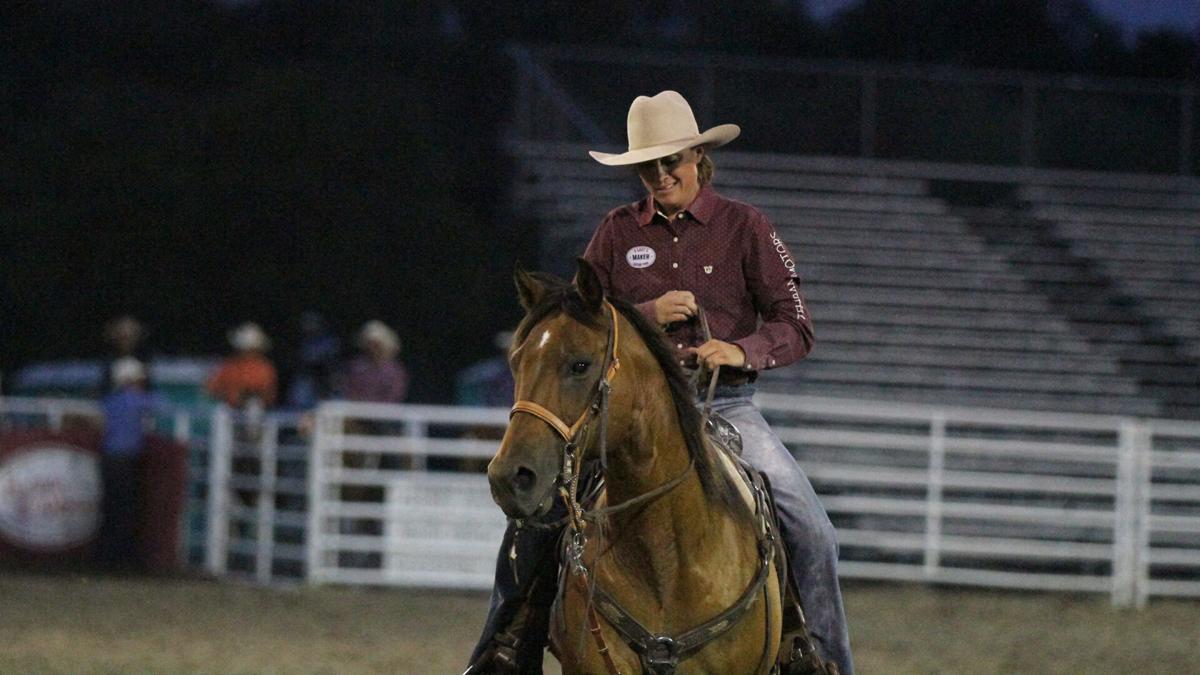 Katie Mundorf was supposed to have some family watching her in the grandstand of the Wild West Arena on Thursday. Just hours before she was set to compete in breakaway roping, however, she was sending out messages to relatives that they couldn't come.
The Buffalo Bill Rodeo decided to keep fans from attending the second day of the performance after the community risk dial for the West Central Health District moved into the "elevated" category earlier that day.
That wasn't going to stop Mundorf's loved ones from cheering her on, as they found other ways to make their support known. They were among the cars stationed on a side road outside the venue with a good view of the arena.
"My parents were already here, and my husband was already here with the kids," she said. "In fact, they're sitting up there on the road back behind watching."
The lack of fans wasn't going to stop Mundorf either, as she posted the unofficial second place overall score of 2.4 seconds — in the inaugural year for Breakaway roping at the Buffalo Bill Rodeo.
"I think tonight went as good as possible," Mundorf said. "This event is so quick, so there's room for no mistakes. You have to draw an animal that helps you, and that calf crossed over just right and helped me out."
Mundorf's career can be described in two waves. She grew up in a rodeo family. Her dad rode saddle bronc, while her brother, Steven Dent, is a bareback and saddle bronc rider.
Mundorf and Dent competed in junior rodeo while in high school. While they competed with other cowboys and cowgirls during the events, they competed with each other in nearly everything else.
"Everything from loading the dishwasher to basketball was a competition," Mundorf said. "So I think competition breeds competition."
She tried to continue the sport while at Hastings College. Eventually, she hunkered down and focused on basketball, where her team won a national championship during her freshman and senior years.
Rodeo, for the most part, was past her. Before she picked up rodeoing five years ago, her last event was in 2003 during her last year of high school. She coached basketball, started teaching, got married and had kids.
Mundorf moved back to a ranch after she got married, and started picking up the rodeoing again a year after her daughter was born. The family had built an arena on the ranch, and they spent a lot of time out there.
"We spent most evenings at the arena, especially in the summer," Mundorf said. "It's not unusual for us to eat at 8:30-9 o'clock at night."
She decided to enter the Buffalo Bill Rodeo when she heard they were adding breakaway roping as one of the events this year. The result was one of the top performances of the rodeo so far, and at the end of the second night, she is in good position to finish with a leaderboard score.
"It means a lot not only to myself, but to breakaway ropers across the nation," Mundorf said of the decision to add ladies breakaway this year. "Rodeos have been hard to put on, just a normal rodeo. But to add an event, that really means a lot to breakaway ropers."
Be the first to know
Get local news delivered to your inbox!