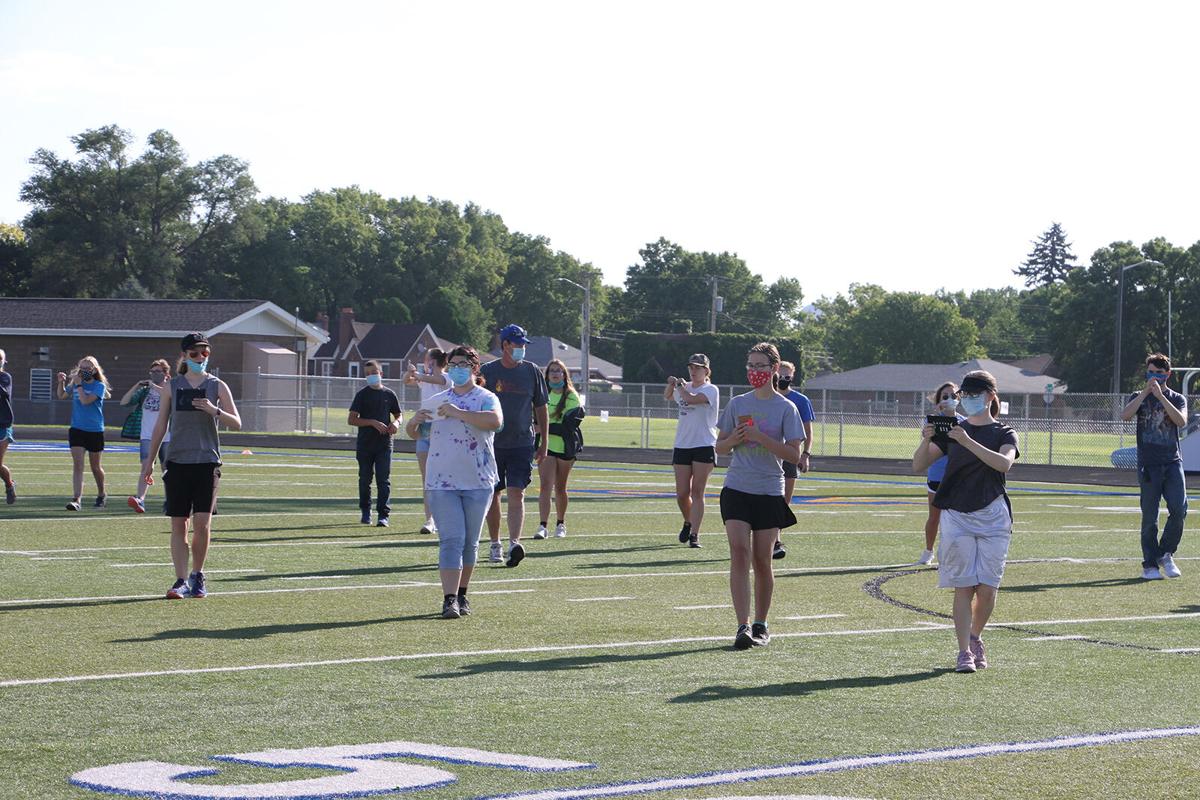 Bright and early Monday morning, the North Platte High School Marching Band dedicated time to prepare for a season that still hangs in the balance.
The ever-changing dynamics of the COVID-19 pandemic bring uncertainty about whether the band will actually be able to perform. Band director Brett Bradley, who is starting his 25th year at North Platte, said the students are working hard regardless.
"I love working with the kids," Bradley said Wednesday, the third day of band camp. "I work with the cream of the crop and that's why I love my job, because they're there because they want to be."
The students were wearing masks Wednesday while walking through their routines on the field. The band has also been divided into sections to rehearse the music, with some of the students playing their instruments in small groups while social distancing and others working on the marching routine.
The groups are separated on the field. Some sections practice on the south end of the field near the scoreboard and others on the north end on the track.
The drum section and saxophone sections were practicing their routines Wednesday in the school parking lot to keep as much separation as possible.
Of the early rehearsals, Bradley said, "It's going really well. The kids are working really hard and they are so happy to be together again."
His concern is that students will put in all the work but their season could end at any moment.
"As far as what our season looks like at home football games, we've talked about how we can social distance the band," Bradley said. "Maybe putting them in bleachers in the south end zone on the track to keep them away from the fans so we don't have that many in the stands there."
Bradley said he and NPHS Activities Director Jordan Cudney have been talking all summer about what can be done. Only one band competition is still on the books, in Kearney, but Bradley said he has doubts it will happen.
"I'm not real confident about that because right now we are at 25 kids and one parent per bus," Bradley said. "When you're taking 110 kids, that means five buses."
There has been discussion at the state level about what the schools might do through an online platform.
"The Nebraska State Bandmasters Association is talking about doing a virtual marching festival where every band would video themselves and upload it," Bradley said. "Everybody would be able to watch each others' shows, but I don't know if it would be for ratings. I don't know how you would do that."
Bradley said he is working on having a video made, at least so the students would have something to see from their work.
The musical theme for this year is "La Nouba," which was a Cirque Du Soleil show at Downtown Disney Springs, Orlando, Florida.
Drum majors for this year are Jonah San Miguel, Anissa Hoffman and Annie von Kampen.
Bradley said marching band is unique in its makeup.
"Unlike football, we don't have a starting 11 — we have a starting 110," Bradley said.