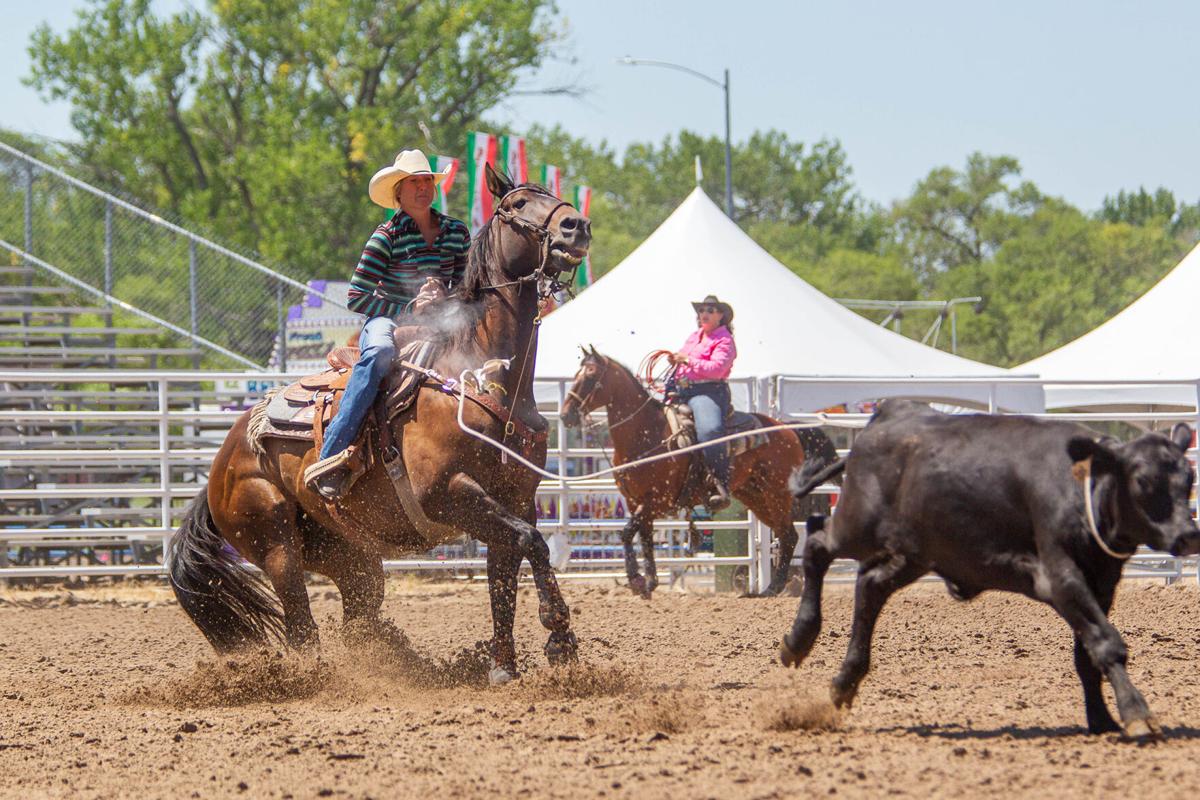 The No. 1 man in the PRCA world standings bareback riding was grateful to come to North Platte, and he left with the lead at the Buffalo Bill Rodeo.
Three-time world champion Tim O'Connell, who leads the world standings by more than $22,000 over Kaycee Feild, scored 86.5 points on the New Frontier Rodeo horse Barn Buster to take the lead in his event.
O'Connell did a little research on his horse, and thought the five-year-old gelding would be a good one. The horse had only been bucked once at a pro rodeo, in July in Abbyville, Kansas, where the cowboy Blaine Kauffman scored 87 points to win the rodeo.
"I saw the video, and I was pretty impressed," O'Connell said. "I was even more impressed today than I was by the video."
The last two weeks the Zwingle, Iowa, man hasn't won any money, so he went home and worked on technique.
"I've been pretty disappointed in my riding the last two weeks," he said. "So I worked with my coach. We really slowed myself down on the bucking machine and really focused on perfect fundamentals."
The horse, a bay, allowed him to hone his skills.
"It was the perfect horse to get on, to do everything correctly. Sometimes you get to rodeoing and you try to do too much, with too many little bad technical habits that will cost you a point here or there."
The COVID-19 pandemic has canceled more than 350 PRCA rodeos across the nation, totally stopping the sport from mid-March to late May and sidelining the contestants. But for O'Connell, it was a blessing.
"I loved (the break)," he said. "My boy is two years old and I love spending time with my wife." He and his wife, Sami, live near Marshall, Missouri, and he experienced things that he usually misses, being on the rodeo trail. "I was there when my son went on the potty for the first time, and I've been able to swim with him. Just being there for the little things. I love rodeo with all my heart, but there's an absolute sacrifice that people don't understand."
O'Connell is thankful to the Buffalo Bill Rodeo for rescheduling.
"To do what they've done, to stick their neck out on the line for us, they have no idea how much we appreciate them keeping their prize money and having to move dates," he said. "These are the rodeos, from here on out, that I'll support. These are the rodeos that mean the most to us. You really find out who the backbone of rodeo is."
In the steer wrestling, an Oklahoma man jumped to the top of the lead.
Cody Devers of Balko, Oklahoma, turned in a time of 3.6 seconds during Wednesday morning's slack. It was on a steer he also ran at the Woodward, Oklahoma, rodeo in June, where he tied for sixth place.
Devers is competing with a partially torn pectoral muscle, after injuring it at a rodeo last week. He's ranked twenty-first in the world standings, and with the rodeo season ending Sept. 30, there's no time for rehab or surgery. Sports medicine experts have told Devers that so long as he doesn't injure it any further, it should heal within a month. He gets it taped before competition, but when it's not taped, it hurts.
This is the fourth time the 25-year-old has competed at the Buffalo Bill Rodeo.
After the morning's slack and the evening competition, other leaders are tie-down roper Macon Murphy, Keatchie, Louisiana (7.8 seconds); saddle bronc rider Ty Manke, Rapid City, South Dakota (79 points); breakaway roper Misti Brown, Valentine, (2.7 seconds); team ropers Steven Duby, Hereford, Oregon/Evan Arnold, Stephenville, Texas (4.6 seconds); and barrel racers Amanda Welsh, Gillette, Wyoming, and Tiany Schuster, Krum, Texas (17.51 seconds each). There were no qualified bull rides.
The Buffalo Bill Rodeo continues at 8 p.m. Thursday. Fans are encouraged to wear pink to show awareness of breast cancer, with proceeds donated to the Callahan Cancer Center in North Platte. Tickets range in price from $15 to $20 and are available online at www.NebraskalandDays.com and at the gate.
1. Tim O'Connell, Zwingle, Iowa — 86.5 points on New Frontier Rodeo Co.'s 520 Barn Buster.
2. Pascal Isabelle, Okotoks, Alb. 82.
3. Jesse Pope, Marshall, Mo. 78.
4. Spur Lacasse, Calgary, Alb. 73.
1. Cody Devers, Balko, Oklahoma 3.6 seconds.
2. (tie) Cole Edge, Durant, Okla. and Tanner Milan, Cochrane, Alb. 3.8 each.
4. Jace Melvin, Ft Pierre, S.D. 4.0.
1. Macon Murphy, Keatchie, La. 7.8 seconds.
2. Cory Solomon, Prairie View, Texas 8.0.
3. Ryan Jarrett, Comanche, Okla. 8.5.
4. Ben Robinson, Red Deer County, Alberta 8.7.
1. Ty Manke, Rapid City, S.D. — 79 points on 781 Drop Kick Murphy Brown.
2. Dylan Schofield, Philip, S.D. 77.
3. Chuck Schmidt, Keldron, S.D. 74.5.
No other qualified rides.
1. Misti Brown, Valentine, Neb. 2.7 seconds.
2. Mable McAbee, Ansley, Neb. 4.4.
3. Caydee Johnson, Manhattan, Mont. 5.0.
2. Anna Bahe, Grantsville, Utah 12.2.
1. Steven Duby, Hereford, Ore./Evan Arnold, Stephenville, Texas 4.6 seconds.
2. Douglas Rich, Herrick, Ill./Zane Thompson, Cheyenne, Wyo. 5.0.
3. (tie) Jake Orman, Prairie, Miss./Brye Crites,Welch, Okla.and Aaron Tsinigine, Tuba City, Ariz./Kyle Lockett, Visalia,Calif. 5.1 seconds each.
1. (tie) Amanda Welsch, Gillette, Wyo. and Tiany Schuster, Krum, Texas 17.51 seconds each.
3. Cindy Smith, Lovington, N.M.17.58.
4. Jana Bean, Ft. Hancock, Texas 17.70.
** All results are unofficial.
Be the first to know
Get local news delivered to your inbox!