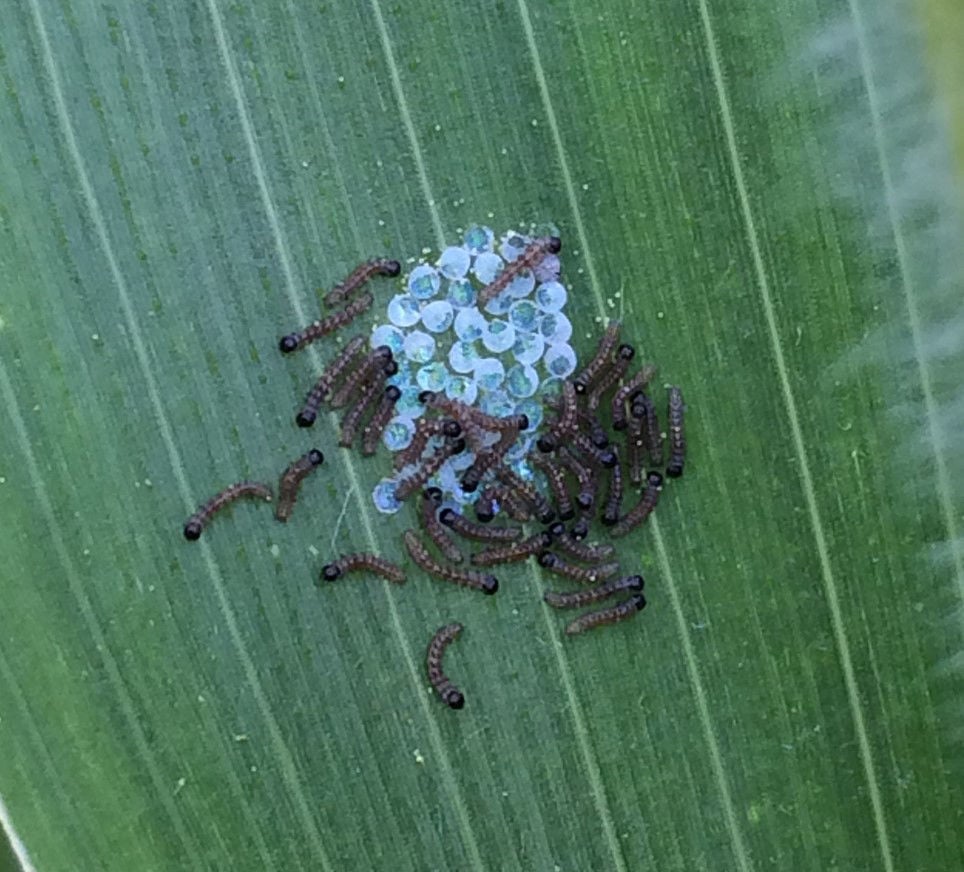 Western bean cutworms tend to be an annual concern for corn producers in west central Nebraska, and this year is no exception, says entomologist Julie Peterson.
Wetter weather has kept grasshopper and spider mites down, she said, but she cautioned that producers and crop consultants should continue monitoring fields and take action if necessary.
Peterson works for the University of Nebraska-Lincoln Extension and is based at the West Central Research and Extension Center in North Platte.
Peterson said grasshoppers and spider mites can be serious pests on crops in August, particularly in dry years. Spider mites thrive on plants that are stressed by drought, she said. They can also flare up after insecticides are sprayed on fields, because the chemicals destroy grasshoppers' and spider mites' natural enemies along with damaging insects.
Grasshoppers typically start out the season in pastures and grassy road ditches, Peterson said. When rainfall is lacking in late summer, those areas may dry up and the grasshoppers will move to green plants in low areas and in yards, gardens and irrigated crops. Grasshoppers are not very noticeable this year, and their numbers may be down due to wet spring weather that reduced their survival. However, Peterson said that does not mean they are not there, distributed throughout the pastures. If pastures in some areas become too dry, grasshoppers may still move into fields. However, as time progresses and crops approach maturity, the need for control will be less likely, she said.
The Cropwatch website, cropwatch.unl.edu, has guidelines for controlling crop pests, including photos to show how much soybean leaf feeding can be tolerated before fields need to be sprayed. Corn can tolerate more leaf feeding. However, in some years grasshoppers feed extensively and may need to be controlled in corn, too. Follow pesticide labeling carefully, and be aware that some products include days that must elapse between application and crop harvest.
Producers should be on the lookout for spider mite flare-ups after spraying insecticides to control pests like western bean cutworm, Peterson said. That is because many insecticides, such as broad spectrum pyrethroids, do an excellent job killing good and bad insects, but not spider mites. Without beneficial insects to keep them in check, the mites can multiply rapidly, requiring the use of mite-killing chemicals, called miticides. Spider mites do not affect yields past dent stage in corn, said Peterson.
Peterson said many corn fields were sprayed for western bean cutworm in our area this year, as usual, and even more in areas farther east.
UNL has traps at the North Platte research center to monitor western bean cutworm activity. Black lights attract the adults, which are moths, and researchers keep track of how many are caught each night during the peak flight period in July. The highest number was 265 on the night of July 18, she said.
The information helps alert farmers and crop consultants to the need to watch their fields. What they look for in fields are egg clusters laid on upper surfaces of corn leaves in the top third of the plant. After larvae hatch, they move to the tassels at the tops of the plants and feed there for a time before moving back down, and into the ear.
Sprays must be applied before larvae move under the protective layers of husks around the ear, said Peterson. Now is a good time to pull back the husks to see how effective spray applications were. Hopefully there will be very few, if any, larvae that survived and are now munching on corn kernels.
Peterson said many corn hybrids on the market have been inserted with genes that make them resistant to certain insect larvae. One is called Cry1F and is a trait in Herculex hybrids. It is effective against some pests, but not very effective against western bean cutworm, she said. Another, called Vip3A, or Viptera, is very effective against western bean cutworm but is not widely used.