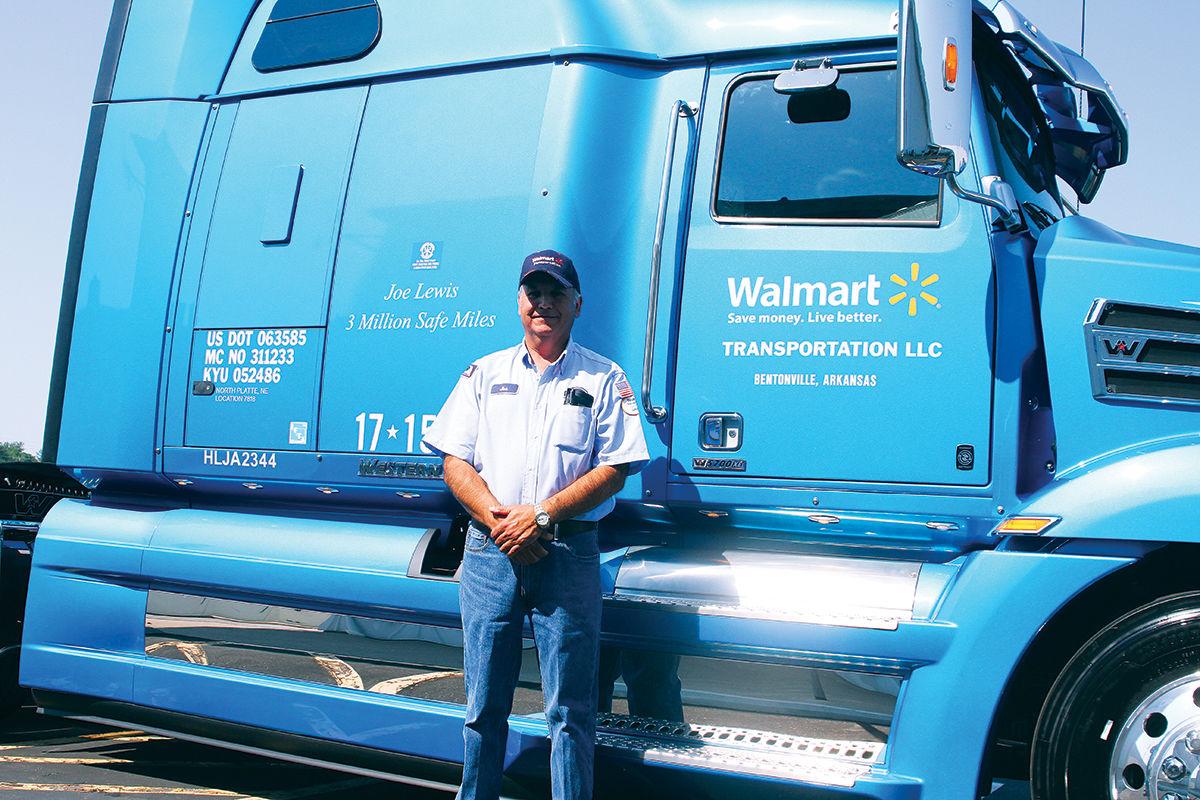 Award winner presented new vehicle as reward for continued defensive driving
Joe Lewis of Sutherland is now a 3 million-mile man.
In honor of his accomplishment, Wal-Mart Private Fleet driver associate Lewis was presented the keys to a 2017 Western Star 5700 XE semitrailer tractor on Tuesday at a ceremony at the Wal-Mart Distribution Center in North Platte.
"I'm looking forward to driving it," Lewis said. "It's a pleasure [to win this award.]"
Lewis began his career with Wal-Mart in Laurens, South Carolina, in 1988. In 2007, he transferred from Loveland, Colorado, to North Platte.
"I've covered quite a few states," Lewis said. "I ran the East Coast for several years and then all the Midwest states."
He said he accomplished his milestone "one mile at a time by just trying to drive defensively as much as possible."
He reached 3,048,145 miles of safe driving on Aug. 1. His total career miles are over 4 million.
Wal-Mart gives any driver who reaches 3 million miles of safe driving a choice of whatever semi tractor they want to drive.
"Joe got to pick out his tractor and he chose the Western Star," said Tricia Tullis, general transportation manager. "The tractor comes with a Detroit DD15 engine and an automatic 10-speed Eaton transmission."
Since moving to North Platte, Lewis has driven accident-free for 713,357 miles.
Each week, drivers get what is called the "First Load of the Week."
"Joe gets to choose whether he goes east, north, south in our service territory, which covers nine different states," Tullis said. "He normally goes east to Sioux City, Iowa, and up to Worthington, Minnesota."
His accomplishment is a record for North Platte, but several drivers within the Wal-Mart companies have reached the 4 million-mile threshold.
"For him to accomplish the 3 million-mile safe record is wonderful," Tullis said. "What these guys do day in and day out, they're away from their families weeks at a time. It's an honorable achievement, and we're very proud of what Joe has accomplished and to be a part of that team and celebrate with him."
Lewis enjoys spending time with his family and spends a lot of time in the outdoors, camping and sightseeing. His all-time favorite hobby is fly fishing.