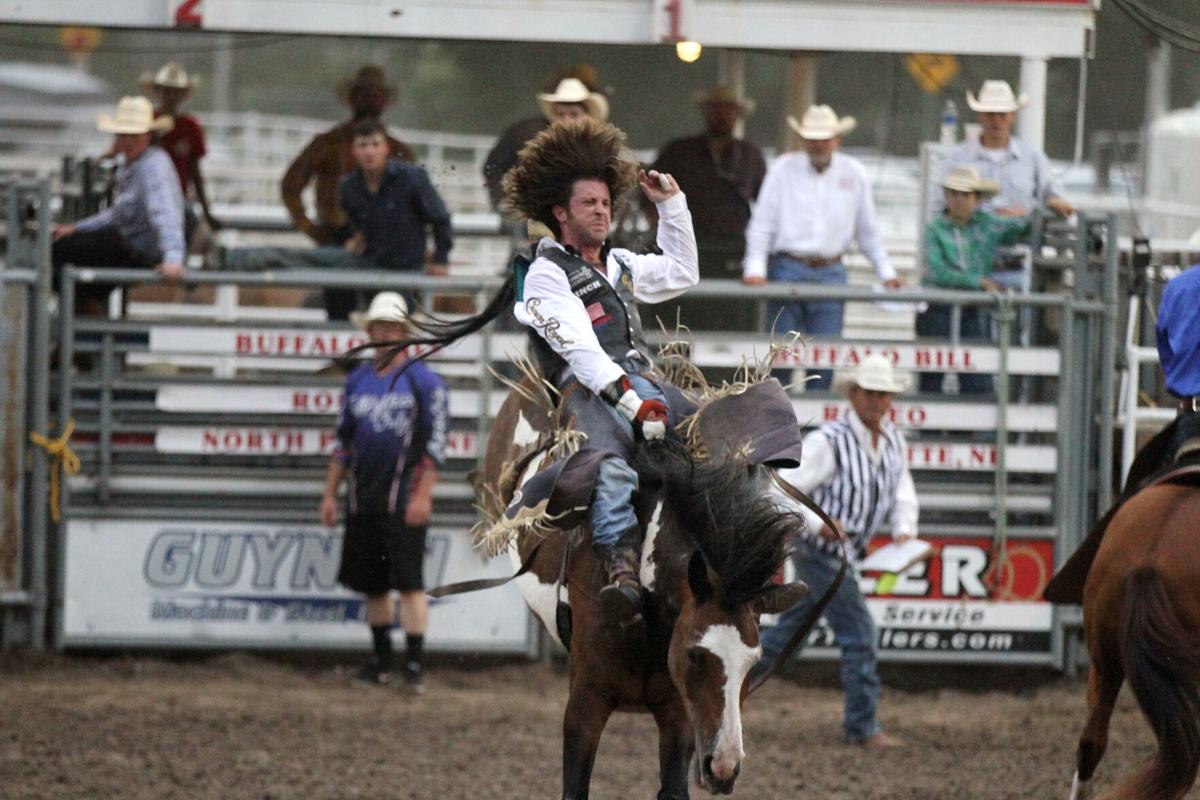 Tilden Hooper had never competed in the Buffalo Bill Rodeo before, but that didn't stop him from etching his name into the history book.
The Texas-based cowboy tied the Wild West Arena record with 89 points in the bareback riding event Saturday during the final night of the Buffalo Bill Rodeo. His performance secured the top spot on the leaderboards.
"Every time you run your hand in on one of these bucking horses, you want to come out on top. No doubt," Hooper said. "To get to (tie) the arena record, that's special."
Hard Times, the horse he rode, gave him nothing of the sort. Hooper said he knew the horse well, as he has rode it in a few competitions before.
"That horse, I've been on her a couple times and I've always been 88 or more on her," he said. "She's just a really special horse, so I was tickled to have her here."
Hooper said Hard Times is a great horse to have for bareback riding because of how high it can get on its buck. He had a good shot of putting up a high score once he got Hard Times.
"The higher they get in the air, the more time that gives us to really spur and like show off," Hooper said. "When you see one jumping and kicking and going across there ... like however high they get off the ground, that's how long we have to get our feet set and beat them to the ground. So when they jump and hang in the air, it gives me a little extra time to show off. It's just more fun."
North Platte was Hooper's last stop on his current rodeo stretch. He heads back home to Fort Worth, Texas, where he will have the week off. He'll either head to Baker, Montana, or Guthrie, Oklahoma. He is currently scheduled for both rodeos there, and said he will have to choose which one to attend.
The current PRCA world standings have Hooper in fifth place entering his performance on Saturday, and his win at the Buffalo Bill Rodeo could move him into fourth place depending on how the other cowboys did this weekend.
"(A win) puts a little gas in the tank, puts a little money in the bank, and hopefully moves me up in the standings a little bit," Hooper said.
Be the first to know
Get local news delivered to your inbox!