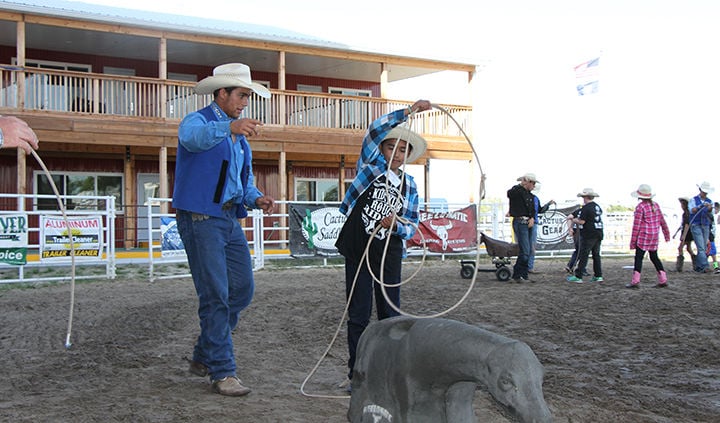 North Platte fourth- and fifth-graders had a big night at the rodeo on Friday.
When school got out for the day, members of the Kids Klub after-school program took the bus to Wild West Arena, wearing their new Kids Klub Rough Riders T-shirts and cowboy hats. Rodeo team members from Mid-Plains Community College talked to them about the sport. Students received rodeo queen autographs and pictures and tried their hands at simulated rodeo events, such as roping a dummy. Then they watched the MPCC annual Stampede that brought together teams from Nebraska, North Dakota, South Dakota, Iowa and Wisconsin. It was an exciting late night out for the youngsters.
Carri Lienemann, Kids Klub director, said this is all part of a year-long program made possible by a 21st Century Community Learning Centers grant from the Nebraska Department of Education for after-school programs.
"It's been an amazing journey," she said.
Kids Klub also partners with University of Nebraska-Lincoln Extension. Extension educators teach the children horse anatomy and care, and about different horse breeds. Then the children go to Dusty Trails and receive riding lessons on real horses.
"That's a partnership we'll not let go," Lienemann said.
Another "nice partnership" is with Nebraskaland Days, which gives the children tickets for a Nebraskaland Days rodeo in June.
Lienemann said this is a two-year grant from NDE, and prior to this, they formed a wildlife club, funded by a one-year grant. The NDE grants are funded by one percent of Nebraska lottery proceeds, she said.
Lienemann said the children love the rodeo program and over half of the students in this year's group are repeat attendees from last year.