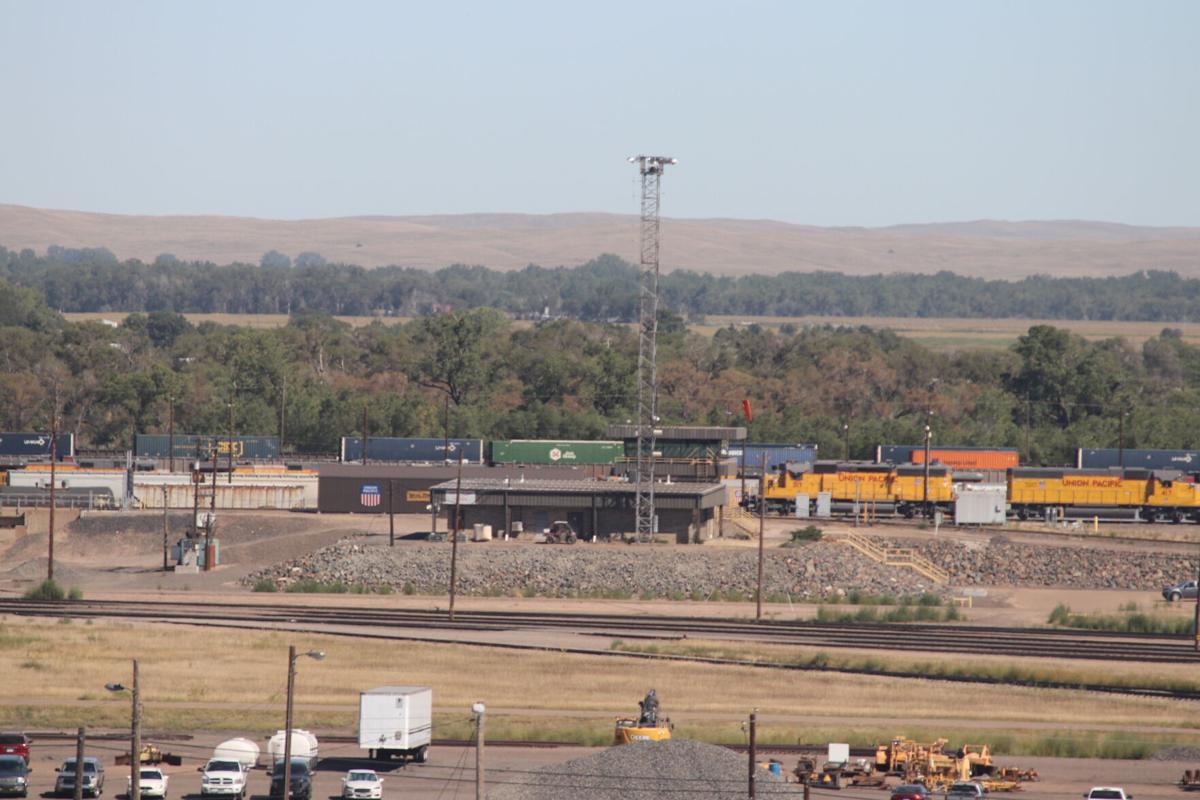 Railroad buffs have about 2½ weeks left to see both "hump yards" in operation at North Platte's Bailey Yard, at least for a while.
But they'll still see plenty of traffic after that in the world's largest rail classification yard, said Kirsten Parker, executive director of the Golden Spike Tower & Visitor Center overlooking the yard.
The Union Pacific Railroad hopes to complete its consolidation of rail car sorting in the 50-track Bailey West hump the week of Sept. 21, U.P. spokeswoman Raquel Espinoza said Wednesday.
The railroad's announcement Tuesday that Bailey would operate as a "single classification" yard simply means Bailey West will handle all assembly of eastbound and westbound trains, Espinoza said.
Bailey West, which sits north of and stretches west and east beyond the 64-track eastbound hump, opened in 1980 on the site of the original 42-track "retarder yard" established in 1948.
Tuesday's decision will at least temporarily idle the eastbound hump, which opened in 1968 when the entire yard was named for then-railroad President Edd Bailey.
Prior to that, the old retarder yard — U.P.'s first automatic classification yard — sorted rail cars headed in both directions. It and its
1980 successor have been devoted to westbound traffic since then.
U.P.'s statement Tuesday cited "improved customer shipment processing times" by Bailey's employees as the main factor in consolidating sorting in the west hump.
Bailey still will play "a critical role on the Union Pacific network," it said, and U.P. doesn't "anticipate changes at Bailey Yard will have a significant impact on the estimated 1,600 employees who are based in North Platte."
Parker said Wednesday that she and her Golden Spike Tower staff will have some learning to do as Bailey Yard employees put the planned changes into effect.
Open since 2008, the tower at 1249 N. Homestead Road sits on private property just east of Bailey's diesel repair shop.
It offers bird's-eye views of yard operations from two observation decks: an open-air one on the seventh floor and an enclosed one on the eighth.
While Bailey's east hump is closer on the Golden Spike Tower's west side, the west hump's control tower and peak sit due north.
A quartet of powerful lights, visible at night from Interstate 80 and for miles around, mark the west end of Bailey West's "bowl" where rail cars run onto train-assembly tracks after coasting down from the hump's peak.
"The west hump is straight out our windows" on the eighth-floor deck, Parker said. "When people watch the sorting, they prefer to watch it there."
She added that Bailey's status as the world's largest classification yard — a distinction listed in the Guinness Book of World Records since 1995 — is based on the yard's physical size of 2,850 acres.
The Golden Spike Tower will update its displays as needed to explain west-hump operations when it's sorting cars for both eastbound and westbound trains, Parker said.
"Our goal is to make sure people are as educated and informed as they come in here as to how the process is working," she said.
For the next couple of weeks, Bailey's employees have "got a lot to do in a short amount of time to make this happen."
Be the first to know
Get local news delivered to your inbox!