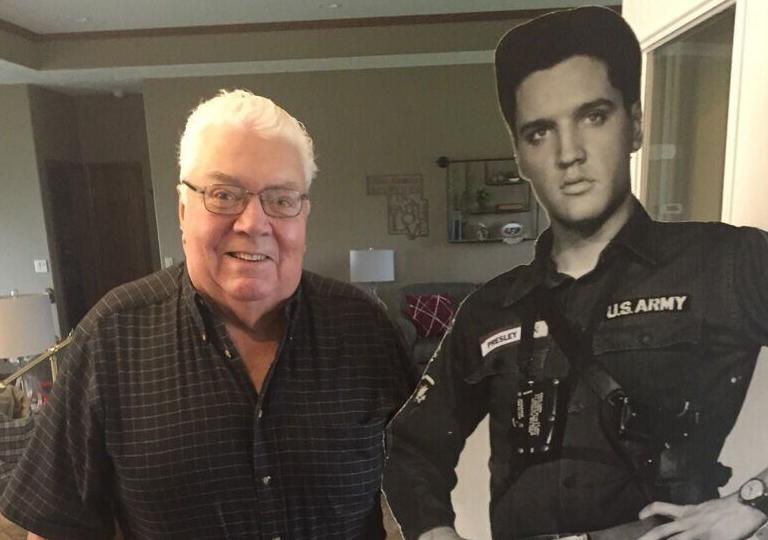 On the album cover for "G.I. Blues," Elvis Presley wears his Army uniform with a "Spearhead" patch on his left shoulder.
Jerry Hinrichs has the same patch on his Army shirt, which he still has today. Presley and Hinrichs, who lives in Giltner, served in the 3rd Armored Division at the same time. The nickname of that division was Spearhead.
Hinrichs, 82, and Presley were in basic training at Fort Hood, Texas, at the same time. They also were in Germany, though at different bases, simultaneously.
They were among the soldiers who were transported from New York to Bremerhaven, Germany, on the troop ship USS Randall.
Presley's autograph was published in the Sept. 29, 1958, edition of the ship's newspaper, the Randall Rambler. Hinrichs still has a copy of the paper.
Hinrichs was in Company B, Presley in Company A. The Nebraskan was in the signal corps at the Drake-Edwards base in Frankfurt. Presley was a tank driver stationed at another German base.
Hinrichs never really talked to Presley, although he was one of the members of the entertainment committee who asked Presley to sing on board the ship. Presley politely declined, saying his deal with his recording company, RCA Victor, prevented him from singing in public. He did play the piano aboard the ship, though.
"As far as I was concerned, he was just a good Tennessee farm boy," he said.
Hinrichs did bump into Presley in a hallway on the ship. But that wasn't unusual. "It ain't hard to bump into somebody on a ship," Hinrichs said. 
Hinrichs was in the Army from 1958 to 1960. He spent a year and a half at the Drake-Edwards base.
The motion picture "G.I. Blues" was released in 1960. A soldier in Hinrichs' barracks played one of Presley's friends in the film. When the motion picture was released, Hinrichs recognized some of the exteriors featured in the film.
After basic training, Hinrichs was sent to Fort Gordon, Georgia, where soldiers marched every day. Presley was never stationed at Fort Gordon, but his presence in the Army was well known.
As they marched, the soldiers sang cadences. One of them went, "R.A., R.A., don't feel blue, Elvis has to do it, too." The "do it" referred to marching.
Presley received special treatment in the Army. Officers made him a squad leader, so he had his own small room, instead of sleeping in the barracks.
Hinrichs grew up a mile east and a half mile south of Giltner.
In 1957, he graduated from Giltner High School, where he participated in football, basketball and track.
Of the four boys in his graduating class, three joined the Army. They knew they were going to get drafted anyway, Hinrichs said, so they just decided to enlist.
Hinrichs is glad he was in the Army. It "made me grow up. I wouldn't trade that for anything," he said.
His future wife, Mary Ann, graduated from Giltner High School in 1958. Knowing he had a "girl waiting for me" back home made life easier for Hinrichs in the Army.
He wrote to her every day. "And she wrote me pretty near every day. So I had a box of letters," he said.
Like many soldiers, Hinrichs tackled an obstacle course, crawling on the ground with an M-1 in his hands, bullets flying overhead. The challenge was called a confidence course.
His superior officer was surprised when Hinrichs asked to do it again. "It was fun," he said.
During his time in Germany, Hinrichs and a friend from Iowa were able to see much of Europe, taking weekend flights on planes carrying soldiers receiving medical care.
Traveling free of charge, the soldiers went to Italy, London and France.
He remembers looking down at the French Alps through the glass bottom of a plane called a flying boxcar.
With the Cold War going on, Hinrichs remembers tensions rising before a deadline of May 27, 1959.
On Nov. 27, 1958, Soviet Premier Nikita Khrushchev notified the West that if occupying forces were not pulled out of West Berlin within six months, access through East Germany to the city would be shut down. But talks in Geneva eased the threat.
Hinrichs' job in the Army had its benefits. He never pulled guard or KP duty, because he worked with messages sent via teletype. Hinrichs had what was called "crypto clearance."
Hinrichs arrived home in February 1960. He and Mary Ann were married that October.
They have four kids. The two boys are named Jeff and Joel, and the girls are Jenny and Joni. They have 11 grandkids and six great-grandchildren, with one on the way.
After the Army, Hinrichs was in the Nebraska Army National Guard Reserves for two years.
After farming 42 years, the couple moved into Giltner four years ago. Their farm was four and a half miles north of their current home.
In Germany, Hinrichs paid $117 for a set of wedding and engagement rings for Mary Ann. He still has the receipt. They have been married 61 years.
The couple once visited Graceland.
But Hinrichs never went back to Germany to visit.
"That was on my bucket list. But the bucket got kicked over," he said.
Nebraska veterans of courage, commitment and strength
Omaha WWII vet, 103, who built bridges across the Rhine has 'just kept going'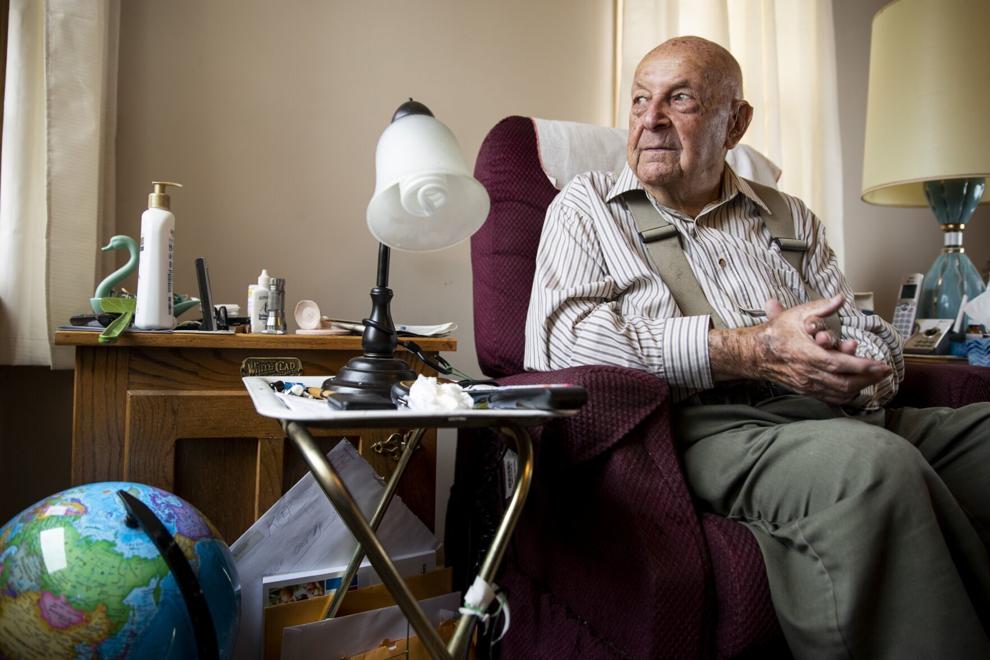 Drive by Walter Coy's South Omaha house on a summer day, and you may catch the World War II Army veteran cutting the grass in his front yard.
Now 103 years old, he's been on Earth for every Veterans Day since the first one (then called Armistice Day) to celebrate the end of World War I in 1918.
His one concession to age: He uses a riding lawn mower.
"I'm glad I've still got a clear mind," said Coy, relaxing in a power chair in the living room of the house he built himself in the 1950s. "All I can say is, I kept living. Just kept going."
Coy is one of thousands of local veterans who will be honored this week as Nebraska and the nation commemorate the men and women who served in uniform.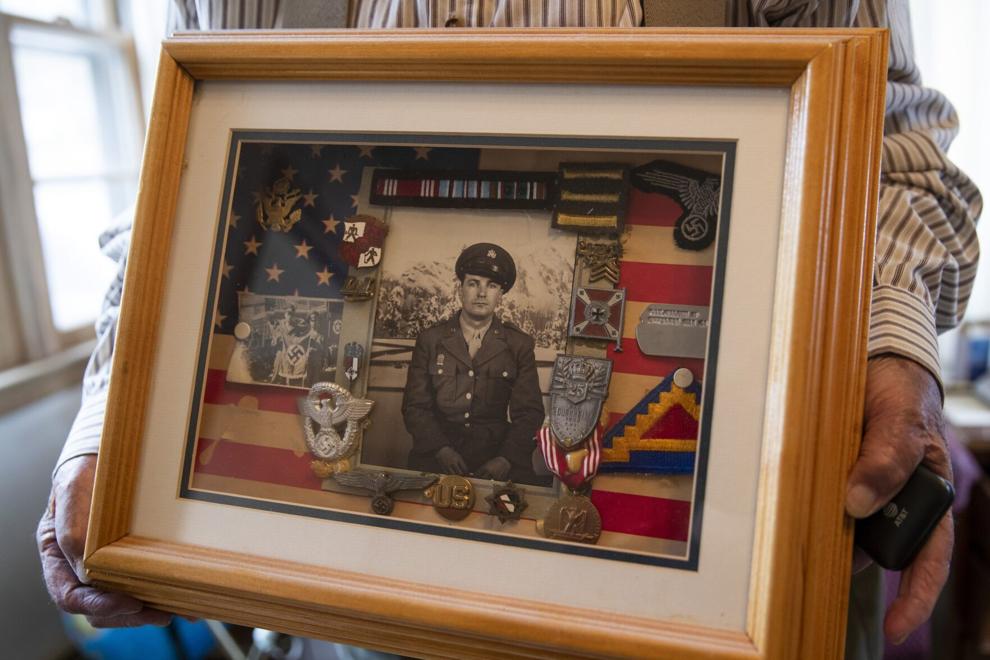 Many, like Coy, left families and jobs behind. They trained hard, traveled far from home, and witnessed historical — and, sometimes, terrible — events before returning home to normal lives.
Coy's service stands out because he is among the state's oldest living veterans.
He was born May 30, 1918, in Stewartsville, Missouri, the fifth of 10 children. His impoverished parents moved their brood to nearby St. Joseph while he was still young.
His father worked for the New Deal-era Works Progress Administration and two of his brothers for the Civilian Conservation Corps. Coy remembers listening to President Franklin Roosevelt's "fireside chats" on the radio.
He was working two days a week at a grocery store and had recently married his sweetheart, Hester, in 1938 when he heard about a full-time delivery job with an oil company in Omaha. The couple moved there; a year later their daughter, Judyth, was born.
Coy also worked for a railroad and a brewery in Omaha before landing a job as a laborer with the Metropolitan Utilities District in the summer of 1941, earning 55 cents an hour.
A few months later, the Japanese attacked Pearl Harbor. Because Coy had a wife and daughter, he initially had a draft deferment.
But by 1944, the U.S. badly needed soldiers as it prepared a massive push to liberate Europe and crush the Nazi Germany forces. Coy wasn't surprised when his deferment expired.
"I just got a notice in the mail," he said. "It didn't bother me."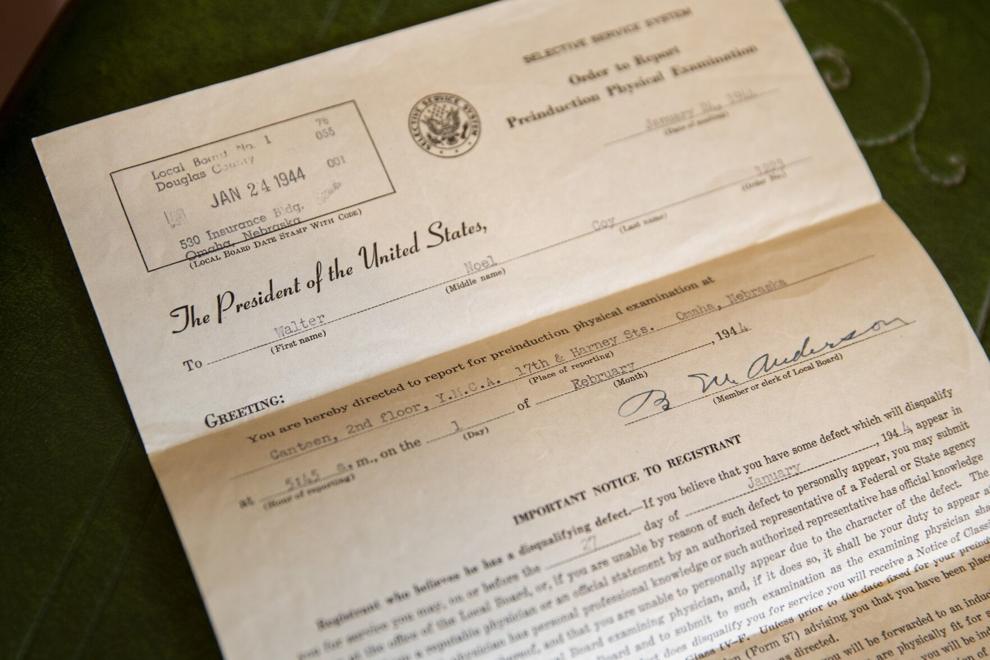 He was inducted at Fort Leavenworth, Kansas, in March 1944. After boot camp on the West Coast, he was trained as a truck driver and assigned to the 1019th Engineer Treadway Bridge Company.
As the unit assembled at Camp Swift near Austin, Texas, its soldiers readied for their overseas job: hauling portable bridges to the front lines. The Treadway pontoon bridges could be assembled quickly and allow soldiers, trucks and even tanks to cross rivers where permanent bridges had been bombed out.
The 1019th, with 137 men, boarded a transport ship in New York on Jan. 31, 1945, and arrived in England nine days later. The unit proceeded to Le Havre, on the French coast, in late February where its members picked up bridges and equipment for delivery to the front in Germany.
"Our view of Le Havre was one of wonderment, as we gazed at the rubble that had been huge brick buildings," according to the unnamed author of a history of the 1019th published just after the war. "One could easily see that the war had passed here."
Coy and his fellow engineers built a bridge across the Rhine River near Mannheim. The 1,164-foot structure was assembled in just 10 hours. The unit would go on to build 21 more bridges in the next several weeks, including five on the Main River near Würzburg and Schweinfurt.
Sometimes the work got dicey. Though the war was winding down, Coy remembers several times the engineers came under fire from German 88 millimeter anti-aircraft guns.
"We were unloading the bridge," he recalled. "They were shooting shrapnel. They were hitting the wires above us."
He also remembers a solo German pilot the engineers called "Goodtime Charlie" who would come and fire on their camp each day, without causing damage.
"We were glad he didn't have any bombs," Coy said.
The 1019th advanced with the U.S. 7th Army across Bavaria and was near the Austrian border when Germany surrendered on May 7, 1945. The engineers named their camp Fort Victory and celebrated with wine pilfered from Hitler's nearby mountain retreat at Berchtesgaden.
For Coy, though, the end of the war didn't mean a quick ticket home. His unit remained in Germany for occupation duty, which gave him an opportunity to visit places like Stuttgart and Paris. He was discharged in March 1946.
Coy returned to construction work at MUD, and in a few years became a foreman. He retired in 1983, at age 65. He is still known there for inventing a tool that protects workers' toes when they are digging into concrete with air-powered pneumatic drills.
Coy is still friends with MUD retirees, and meets a group of them for lunch each month in Ralston. He is especially close friends with Bob Hoult, who once worked on one of his construction crews.
"He was honest. He treated everybody fairly," Hoult said. "He'd help a guy out if he was in trouble."
Coy's marriage did not survive the war. Walt and Hester were divorced in 1946. He later married and divorced a second time but has been happily single since 1966.
"I've dated. I never had marriage in mind anymore," he said, chuckling.
His daughter, Judyth, died of leukemia in 1968. Three of her four sons are still living, all of them in Missouri. He has seven great-grandchildren and one great-great grandchild. His grandniece, Jennifer, lives in Omaha. She takes him out for lunch and gets him to doctor's appointments.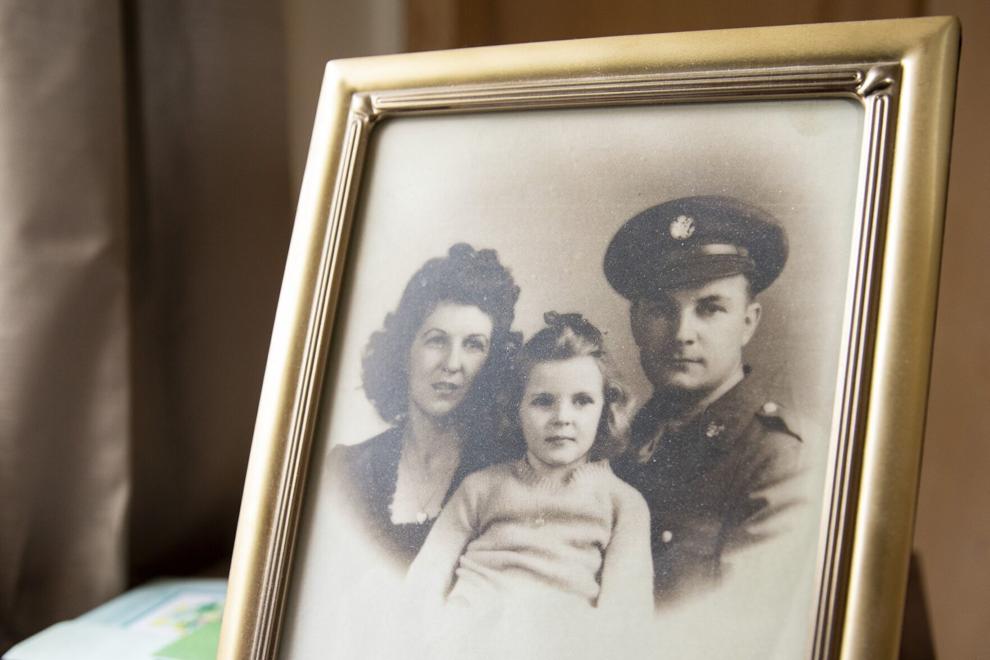 Coy's neighbors near 52nd and O Streets look out for him. One bakes cookies for him. Another clears the snow from his driveway.
"If it ain't too heavy, I can get it myself," he said.
Coy never joined the American Legion or VFW. And on Veterans Day, he probably won't stray far from that chair in the living room of the house he built with his own hands.
But maybe he'll thumb through that old Army book, the one with the black-and-white photos showing the World War II bridge-building exploits of the 1019th Engineers.
"When I got drafted, I done my part," Coy said. "That's about it."
Typhoon capped Nebraska merchant mariner's WWII service
In the waning days of World War II, Merchant Marine seaman Bob Wiegand served in the engine room of a ship convoying war supplies to American service members fighting Japan in the Far East.
He endured boot camp, wore a uniform and saluted officers like other members of the U.S. armed forces. He bore the risk of sudden attack by kamikaze aircraft or submarine-launched torpedoes.
It was dangerous work. One in 26 merchant mariners died in the line of duty during World War II — a higher rate than the Army, Navy or Marine Corps.
Yet when Wiegand returned home to Cedar Bluffs, Nebraska, in January 1946, he couldn't tap veterans benefits or use the GI Bill for college. Neither the government nor veterans groups recognized his Merchant Marine service.
"We were not part of the military, so we couldn't join the American Legion," said Wiegand, 96. "I was pretty burned up about that."
Not until 1988, as the result of a successful lawsuit by a Merchant Marine veteran, did the Defense Department recognize merchant mariners who served in World War II as military veterans and extend military benefits.
Now Wiegand's name could be added to the town's veterans memorial. He could finally buy a beer at the local Legion hall, which he helped build.
An odd chain of events sent Bob Wiegand to sea with the Merchant Marine instead of his first choice, the U.S. Navy.
Born in 1925, he grew up on a farm outside Cedar Bluffs, a town of 600 people near Fremont.
The Wiegands raised milk cows and chickens, so no one went hungry during the Depression.
"We had no money; the neighbors had no money. Nobody had any," he recalled.
Each Saturday, Bob's mother gathered extra eggs from the hen house and sold them in town. That was the money the family got by on each week.
Wiegand graduated from high school in 1943, then studied agriculture at the University of Nebraska for a year before getting his draft notice at the same time as two friends from Cedar Bluffs.
By the time they reported for their physicals in November 1944, they had decided to enlist in the Navy. But they were told that the Navy had no slots available.
Their choice: the Army, or the Merchant Marine.
"We were Nebraska farm boys. We didn't know the Merchant Marine from a bale of hay," Wiegand said. They picked it anyway.
They traveled by train to Los Angeles, getting their first-ever glimpse of mountains, in Colorado, and the ocean, in California.
After basic training on Santa Catalina Island, Wiegand and other newly minted merchant mariners were sent to San Francisco.
"Our first inkling that we were not part of the armed forces was when they sent us to a union hall," Wiegand said.
He was assigned to the Liberty Ship SS Isaac I. Stevens, a 441-foot cargo vessel bound for the Philippines, to a low-level job wiping down boilers in the engine room.
The ship put to sea in early January 1945. Wiegand was thrilled sailing under the Golden Gate Bridge.
But he found it unsettling steaming in the broad Pacific.
"What got to a farm boy was getting away where you couldn't see land. Just water and a few fish," Wiegand said. "That took some getting used to."
The Isaac I. Stevens joined a convoy of 40 to 50 cargo ships, protected by Navy destroyers. They zigzagged across the ocean to throw off submarines.
The danger only increased as the convoy reached the Philippines in mid-January with supplies for Gen. Douglas MacArthur's invasion of Luzon. Wiegand's ship anchored in the nearby Lingayen Gulf.
"We were just a week behind the invasion," he said. "We could see the fighting up on the hill."
They also were sitting ducks for Japanese kamikazes. That month, nine U.S. merchant ships were damaged or sunk off the Philippines, all but one by kamikazes, according to the website American Merchant Marine at War, usmm.org.
By May, the Isaac I. Stevens had returned to San Francisco. Wiegand, promoted to the rank of fireman, joined the crew of another ship, the MacArthur Victory. It was carrying explosives for the U.S. forces fighting in Okinawa, but the battle ended before the convoy arrived.
Wiegand's ship was anchored in Okinawa's Buckner Bay when a pair of atomic bombs were dropped on Hiroshima and Nagasaki, Japan, on Aug. 6 and 9. Then Japan surrendered, eliminating the need for a bloody D-Day-style invasion of the Japanese mainland that everyone had assumed would follow.
"We were so happy because we knew what was coming," Wiegand said. "We would have lost a lot of people."
But the most harrowing moment of Wiegand's Merchant Marine career still lay ahead.
In mid-September, the powerful Typhoon Ida struck Okinawa. The MacArthur Victory headed out to sea, which is considered safer for ships during a heavy storm than staying at anchor.
All the other firemen became violently seasick, leaving Wiegand to tend to the boilers himself as waves that topped 70 feet tossed the ship.
"I stayed on duty all through that storm, probably 30 hours," he said. "I had to keep turning valves. Otherwise, you'd blow the whole ship up."
The storm killed more than 2,000 people in Japan. But the MacArthur Victory rode it out.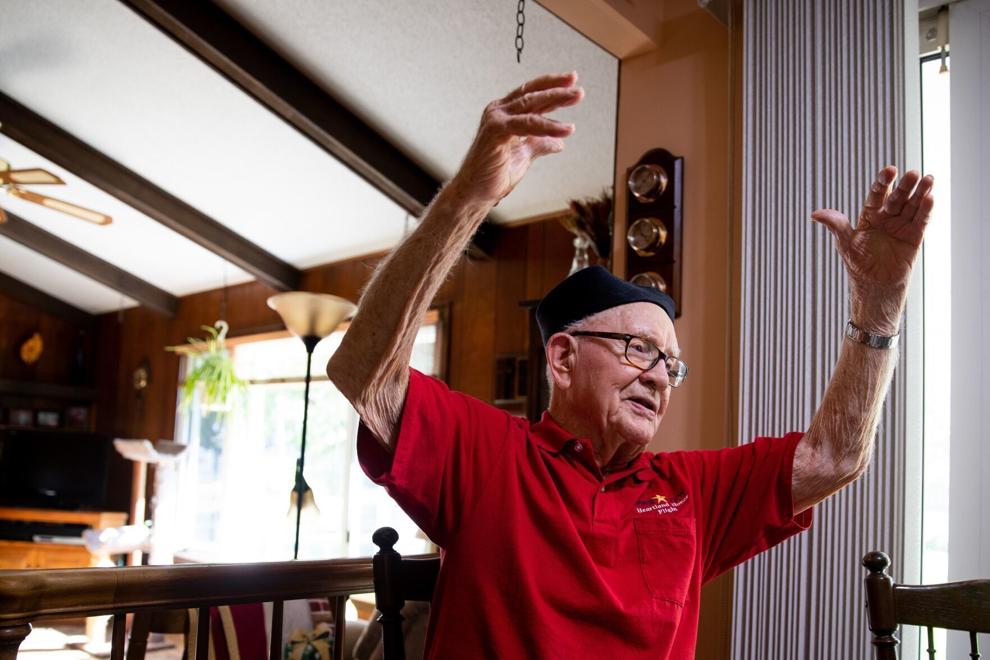 Three months later, the ship sailed to Los Angeles. Wiegand was discharged from the Merchant Marine in January 1946, and he headed home by train for a no-fuss homecoming in Cedar Bluffs.
"No fanfare," he said. "I was just happy to be back home."
Wiegand helped his father on the farm. A year later, he started farming his own land.
In 1949, he met Donna Hoegemeyer, a farm girl from just up the road in Scribner, at a dance. It was a good match. They soon married and raised two daughters, Deborah and Rebecca.
"We've been happily married for 72 years," said Donna, 93.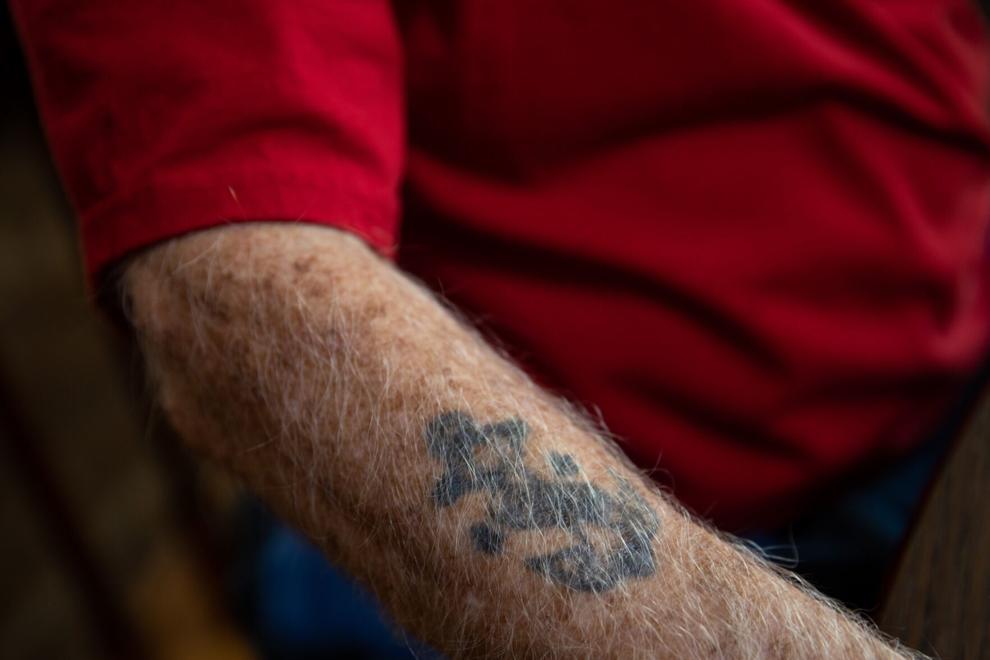 Bob took a part-time job at a co-op to supplement the farm income, and in the 1960s, he became a full-time co-op manager in Mead. He retired from that job in the mid-1980s — and then drove a school bus for 20 years, retiring again at age 80.
He also found time to serve on Cedar Bluffs' rescue squad, and on the town council for 10 years. He and Donna have been active for decades in the village's First Presbyterian Church.
Although he was long denied membership in the American Legion, Wiegand is now its senior member. And his service earned him a chapter in "Forever Heroes," a 2017 book by retired Midland College journalism professor Joyce Winfield of Fremont profiling local World War II veterans.
All these years later, he would not change the decision he made to go to sea as a merchant mariner.
"I didn't know what I was getting into, but I enjoyed the time I was there." Wiegand said. "It wasn't an easy thing. But I survived."
Nebraska nurse practitioner aided women, babies during 24-year Air Force career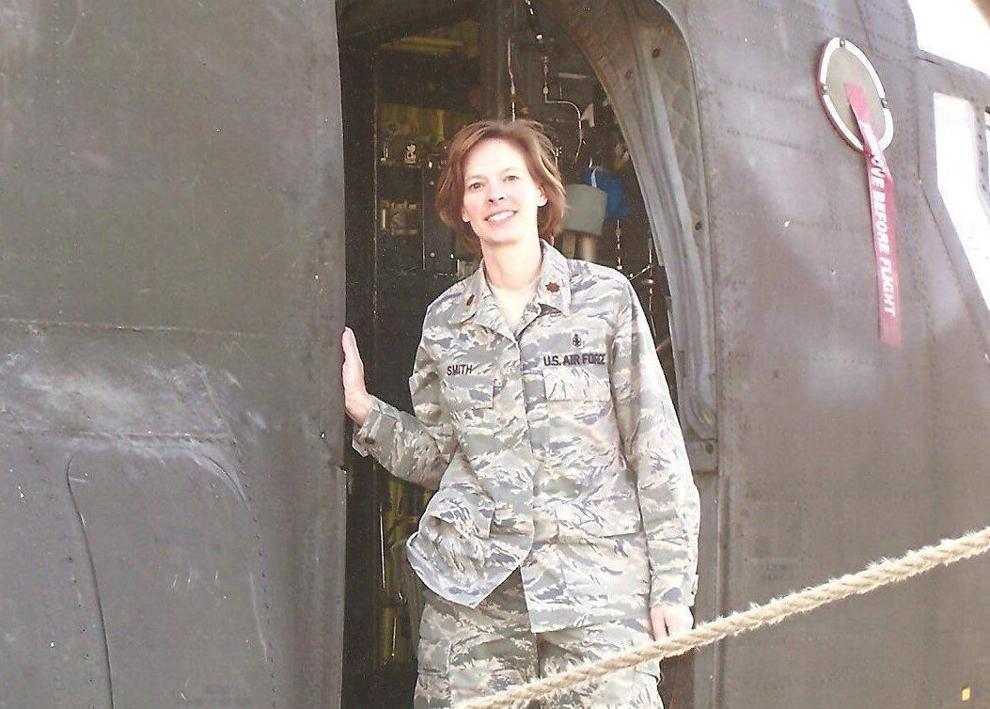 During 24 years in Air Force medicine, Mary Smith, a retired Air Force nurse practitioner, had put in many long, hard days.
Never before, though, had one ended with crowds of sign-wielding strangers — and a few friends — cheering for her and for her 134 fellow Nebraska veterans, all of them women.
That was Sept. 24, 2018, and the scene was Eppley Airfield, at the conclusion of Patriotic Productions' honor flight trip to Washington, D.C., for female vets.
"It was like an indoor parade, with thousands of people," Smith said. "It was very emotional, at the end of a very long day."
Smith could hardly have imagined such a rousing welcome home that day 30 years earlier when she had left her hometown of Howells, Nebraska, to join the Air Force.
The daughter of a seed corn dealer, Smith had deep roots in the town of 600 about 60 miles northwest of Omaha. She graduated from the local high school in 1986 and attended Nebraska Wesleyan for a year.
But the private-school tuition threatened to leave her loaded with student-loan debt. In the Air Force, she saw a chance to see the world beyond Howells while earning some college money — and scratching a patriotic itch.
Smith's father had served in the military during World War II. And her aunt and uncle in nearby Dodge, Nebraska, had 11 sons, 10 of whom served in uniform.
"I just felt like it was something I wanted to do," Smith said. "I always joke: Because I was born on the Fourth of July, I had some patriotism in me."
The Air Force trained her to be an aeromedical specialist, a kind of combination EMT, certified nursing assistant, and medical aide. She was assigned to RAF Alconbury, a U.S. Air Force base in England about 60 miles north of London.
"I had always been interested in science and medicine," Smith said. "That first tour kind of cemented my plans."
After that first tour, she stepped away from active-duty service to earn a nursing degree from the University of Iowa while serving in the Air National Guard. She rejoined the Air Force as a nurse, and as an officer, in 1995.
That led to a rewarding assignment in the neonatal intensive care unit at a military hospital in Okinawa from 1998-2001, a tour that reinforced her decision to become a nurse.
NICU nurses can't help but become attached to their tiny patients, who are sick and vulnerable.
"You work with the same baby — especially if it was a sick baby — for days or weeks," Smith said. "You spend 12 hours a day, several times a week."
The joy from the cases that end well lingers for a long time. So does the pain from those that didn't — like one little boy who was born premature, just 23 weeks into his mother's pregnancy.
"I worked with him for 42 days," Smith said quietly. "I was with him when he passed."
Following that tour, Smith faced a choice. She could remain a nurse, and move into management, or earn a master's degree and become a nurse practitioner.
Nurse practitioners are qualified to take a larger role in managing patient care, including ordering and interpreting diagnostic tests, treating chronic conditions such as diabetes and high blood pressure, and prescribing drugs. It also meant she could continue to treat patients.
So she headed home from Japan to study close to home at University of Nebraska Medical Center while her husband, Command Chief Master Sgt. Martin Smith — whom she had met during her first tour in England — took an assignment at Offutt Air Force Base.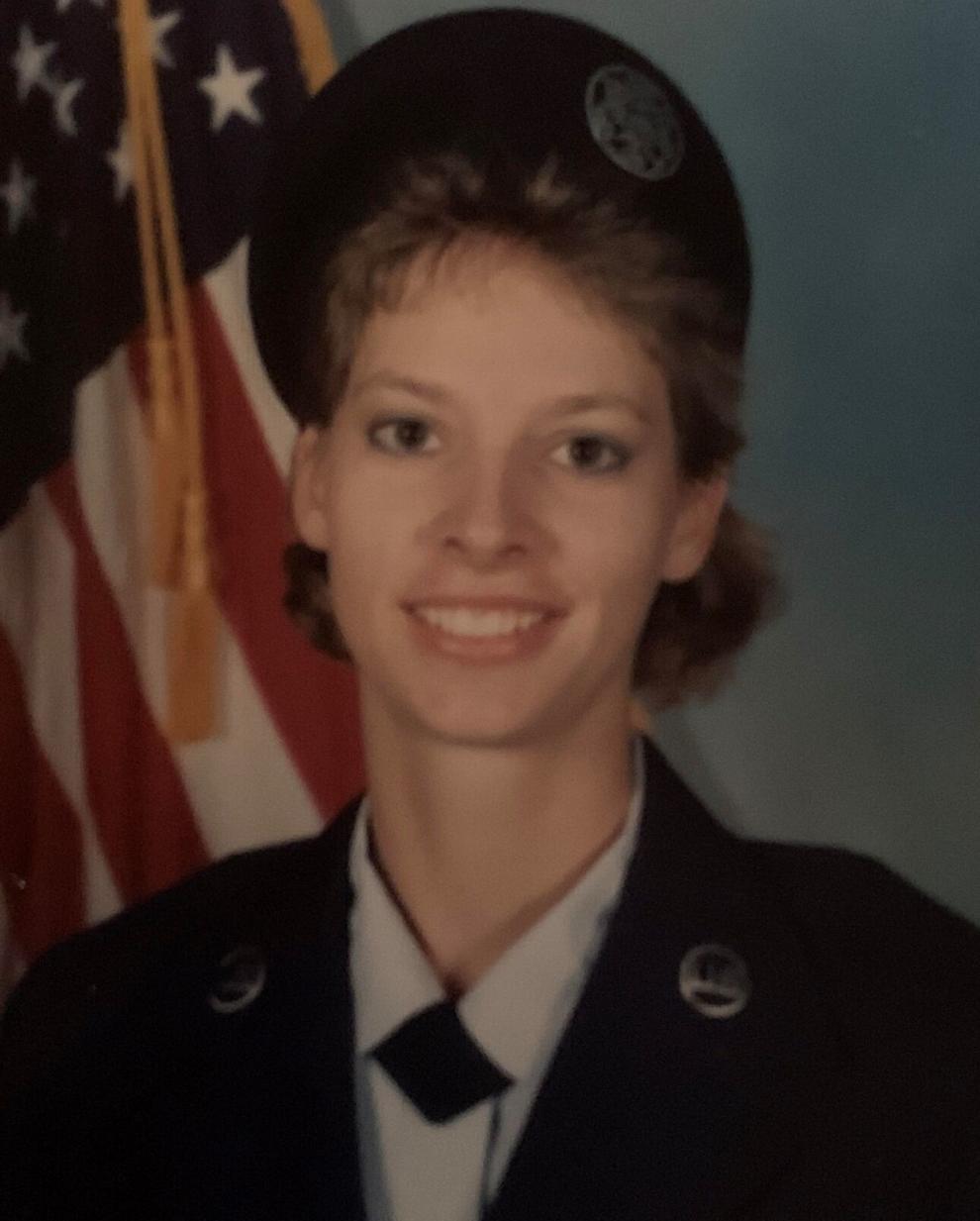 Smith was in class on Sept. 11, 2001, when al-Qaida terrorists hijacked commercial airliners and crashed them into the World Trade Center and Pentagon, killing nearly 3,000. In the aftermath, President George W. Bush launched wars in Afghanistan and Iraq.
After earning her master's — specializing in women's health — Smith was ready to deploy. She got the call in 2008, when she was sent to Bagram Air Base, Afghanistan, for five months.
"It was eye-opening — scary at times," Smith said. "You could hear gunshots all the time outside of the base."
Smith was the only women's health practitioner in the Afghanistan and Iraq combat zones. She joined an American OB/GYN doctor on weekly visits to an Egyptian hospital at Bagram that served Afghan patients. She assisted in performing hysterectomies and treating cancer patients in a country without oncologists or chemotherapy.
For the first time, Smith also treated combat casualties at Bagram.
"We were the hub. If somebody got injured in Afghanistan, they would come to our hospital," she said. "I saw some things I honestly thought I would never see."
In 2011, Martin Smith retired from the Air Force as a command chief master sergeant, the top enlisted rank. A year later, Smith retired as a major.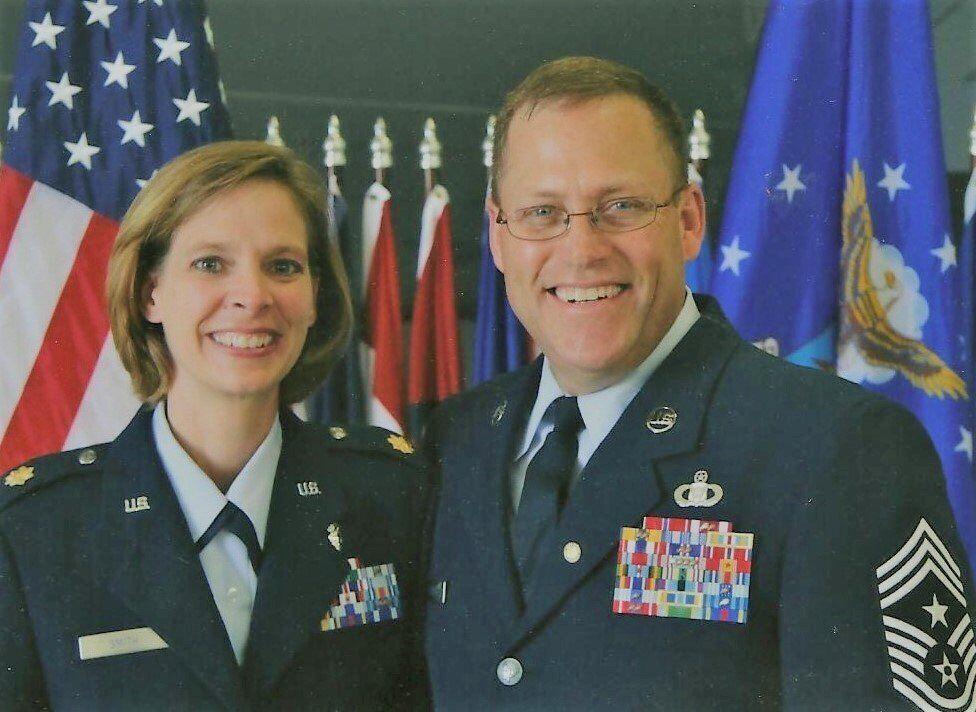 Having traveled all over the world — 13 tours for Martin, nine for Mary — the couple settled back home in Howells to be near Mary's family.
Soon after retiring, Mary got a job as a women's health practitioner with Midtown Health Center in Norfolk. She enjoys the work, but it's different than treating military patients.
"I work mostly with uninsured or low-income people," she said. "Finding ways to get them the care they need — that was a huge change."
In 2018, Smith's sister saw an article about the honor flight for women veterans and encouraged her to apply for a slot. She and her cousin, Jackie Wallick, also a veteran, both made the journey to patriotic sites in Washington, D.C.
The best part, she said, was bonding with nurses who had served before her, in Vietnam and World War II.
And, of course, the memorable homecoming.
Honoring Our Heroes: Nebraska veterans and their service
Lincoln to honor veterans during walk, virtual ceremony Thursday
Lincoln will honor veterans with a virtual ceremony and walk of recognition Thursday.
The 23rd annual Veterans Walk of Recognition will start at 9:30 a.m. at the southwest corner of Memorial Stadium and conclude at the Veterans Memorial Garden, 3200 Memorial Drive, in Antelope Park. Flags will also be placed in the garden to commemorate Veterans Day.
There also will be a virtual Veterans Day ceremony. The prerecorded ceremony will air at noon and 6 p.m. Thursday on LNKTV, the city government access channel. LNKTV is available on Allo channels 2 and 3, Spectrum channels 1300 and 1301, and Kinetic channels 1005 and 1010.
The ceremony will also be available on demand at LNKTV.lincoln.ne.gov and YouTube.com/LNKTVcity. In addition, LNKTV apps are available on Roku, Apple TV and Amazon Fire TV. The broadcast will also be shared on the Lincoln Parks and Recreation Facebook page.
The program will include remarks by Army Brig. Gen. Kevin Lyons, who serves as the assistant adjutant general for the Nebraska Army National Guard. Presentation of the colors will be conducted by the Nebraska Army and Air National Guard Color Guard.
Laura Keller and Lynn Hartzell will be the featured musicians. Kirstie Engel, a spiritual leader with First United Methodist Church, will deliver the invocation and benediction.
Watch now: Veterans honored during parade in downtown Lincoln
Lincoln residents lined K Street on Sunday to celebrate veterans during the city's third annual Veterans Day Parade, which included five Lincoln high school marching bands and more than 50 other local groups.
Former city councilman and veteran Roy Christensen said this year's theme — Welcome Home Vietnam Veterans — aimed to "honor those who were not honored then."
Resident Ronda Hilker stood in front of the state Capitol with her husband to view the parade and show support for local veterans.
"I come from a long line of Marines including my brother," Hilker said. "I came to remember those who gave us our freedom."
Dionray Macias also sat in the front row with his wife, kids and other family members.
"I'm proud of my country; we want to show veterans that we are proud of them," Macias said.
In addition to the marching bands and 59 other local groups that marched past the Capitol, the parade also included two large inflatables.
University of Nebraska President Ted Carter, who served in the U.S. Navy for 38 years, rode in a Mustang convertible led by the Marine Corps League Color Guard as part of the parade.
"This is a special day to remember our Vietnam veterans because they didn't get these type of parades when they came home, and we should never forget that," said Carter, who previously was the superintendent of the U.S. Naval Academy. "We should thank them today and every day for their service."
Carter reminded the crowd of the history of Veterans Day dating back to 1918, when it was called Armistice Day.
"We've celebrated it ever since, remembering those who stand up and take an oath to defend and protect our constitution and our way of life," Carter said.
Carter said there are Nebraskans who have served in every conflict in the nation's history.
"We are in a really unique time in American history. There is so much divisiveness. There is a lot of distrust in people that lead in all different levels of government," Carter said. "But the one thing that our country has never done is they have never stopped thanking our American veterans."