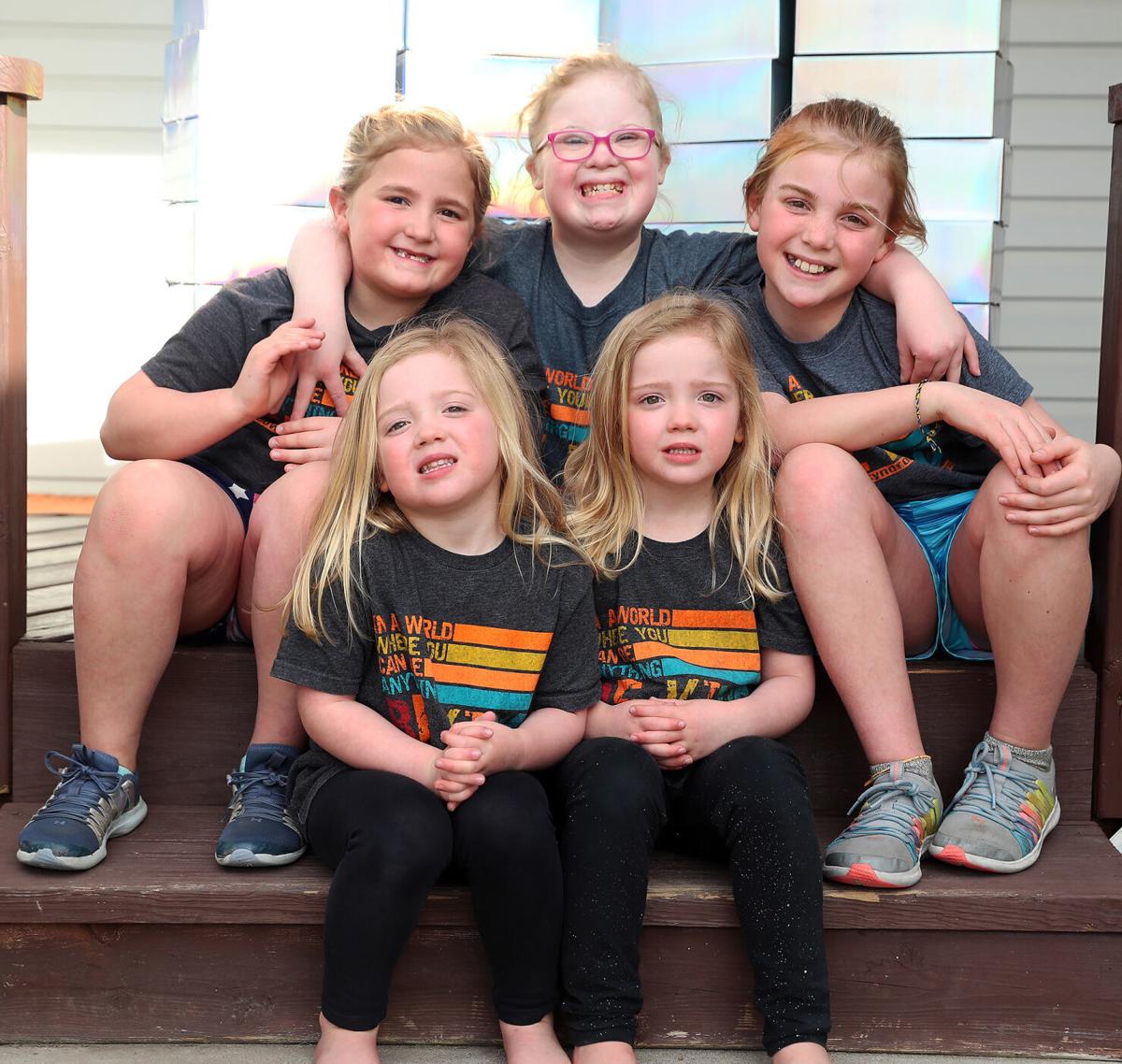 CENTRAL CITY — A Central City family has had great success selling gift boxes for Christmas and Easter, running out in short order.
During a period of 65 hours in December, the Graham family fulfilled 250 orders for the fun-filled gift boxes. On a recent weekend, the group sent out 400 Easter boxes.
The company, which began in November, is called You Are Worth It.
The key member of the operation is Bailey Graham, an 11-year-old who has Down syndrome. She is assisted in the project by her parents, Shauna and Zeb, and other members of the family.
Bailey decides what to include in each box, which is priced at $25. The Easter box included a bath bomb, candy, an Easter beach ball, a squishy toy, a "You Are Worth It" color-changing cup, glow-in-the-dark slime, an Easter punch ball, a kindness rock-painting kit and a waterproof sticker that reads "Believe There is Good in the World."
The family calls them Bailey Boxes.
Sent in silver boxes, the gifts are targeted at kids 2 to 12. Each box contains the same assortment of items.
More than half of the boxes go to Nebraskans. But they've also been sent to Texas, California, Boston, New York, Virginia, South Carolina, Colorado, Kansas and Missouri.
An Easter box even went to a Marine in Bahrain, who is the husband of one of Shauna's friends. It has been "mind-blowing" how supportive and encouraging people have been, Shauna said.
Packing up the boxes is a family effort. The Grahams have five daughters. The assembly line is also staffed by Shauna's mother and niece.
The group spent six hours, with breaks, filling the Easter boxes.
The project began after Bailey, a fifth-grader, filled out a questionnaire in her language arts class.
On the form, she wrote that her ideal job would be to operate a toy store in a Walmart or Target. She wrote that she is an expert on toys, candy and ice cream. She wanted to help kids order hot chocolate, candy, Legos, chips and ice cream. "This is my dream job forever," she wrote.
Her parents helped shift the idea into sending items to people in boxes. Shauna thought her daughter would have a lot of fun with the idea.
Shauna, who has a lot of internet followers, shares her daughter's story in a blog.
Her feeling is that the more people know about Down syndrome, the more accepting they are. "So that was really my goal for Bailey," she said.
The family recorded a video to talk about Bailey's dream job, which Shauna shared on social media. "And it kind of went viral a little bit," she said.
Shauna also started a podcast that focuses on Down syndrome.
When people hear that a mother is expecting a child with Down syndrome, they often say, "I'm sorry."
Shauna wants that to change. She wants people to say congratulations, as they would for the birth of any other child.
Shauna knows that health issues "can come with having a child with disabilities. But the positives by far outweigh the negatives."
In the middle of last year, Bailey started telling people, "You are worth it."
"And I don't know where she got that, actually," her mother said. But they decided to make that the name of the company.
Proceeds from the venture go into an Enable Savings Plan, which will help pay for Bailey's future.
Shauna says Bailey is "full of life and hilarious. And she will always tell you how she's feeling."
If Bailey "likes something, she's going to tell you. If she doesn't like something, she's also going to tell you that."
When someone in the family is having a rough day, Bailey will go sit with that person.
She also "lights up the room," her mother said. "She's funny. She's kind. She likes to talk to people."
In addition, "her memory is pretty stellar when it comes to meeting people," Shauna said. If Bailey sees a friend or a teacher, she'll ask about that woman's husband.
Her daughter is very chatty and "can also be quite stubborn," Shauna said. Her teachers have learned to work through that.
The family's other children are Ellie, 10, Skylar, 8, and 4-year-old identical twins Tatum and Quinn.
Shauna is the executive director of the Merrick Foundation. Zeb works at Southern Public Power District.
In June, the family will send out a summer-themed box.