The Nebraska State Patrol is remembering Lt. Ken Dahlke, who died this week. Dahlke retired in 2017 after a 33-year career at the patrol. "A great role model for the many troopers who carry on his legacy of service," the patrol said in a social media post.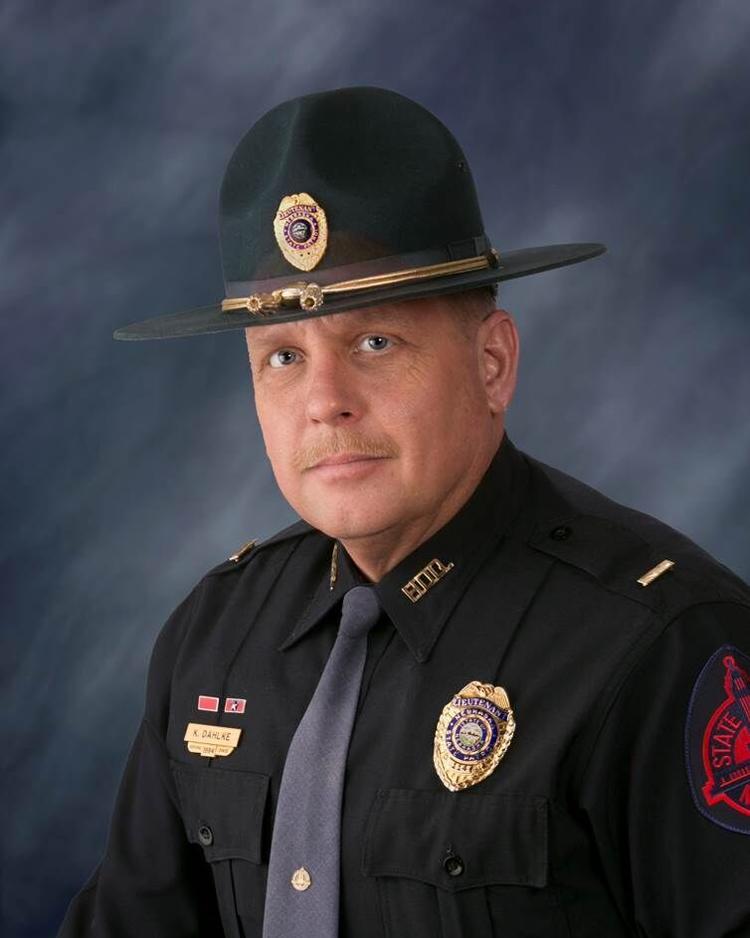 Dahlke was featured in a 1993 episode of the TV show "Top Cops," dramatizing the 1989 pursuit in Holdrege involving prison escapees from Colorado.
Here's a column from 2019 from the Kearney Hub's Lori Potter on the Holdrege escapees:
After a man-made tragedy or natural disaster, a first reaction by victims, survivors, witnesses and bystanders often is, "Things like this don't happen here." It's a shock to know things do happen, such as two major floods in four months.
You might think journalists live for "not here, never before" events. That may be true in some places, but community journalists like me know that many potential tragedy victims are our neighbors, friends and relatives.
The most unusual "things like this don't happen here" event during my 40-plus years in journalism happened 30 years ago in Holdrege.
On Friday, Aug. 18, 1989, two women rented a helicopter and then forced the pilot at gunpoint to land in the prison yard of the Arkansas Valley Correctional Facility near Ordway, Colo., where their husbands Ralph Brown and Freddie Gonzales were serving time. The helicopter was abandoned 35 miles away. The pilot was tied up, but unhurt. The foursome drove east in a yellow commercial van the women had stashed nearby.
Based on van and people descriptions broadcast by radio stations, passersby identified them at an Arapahoe gas station. By the time they drove Highway 6 to Holdrege, city and Phelps County law enforcement officers were waiting for them.
After a high-speed chase and shootout that included racing by residences along East and West avenues, the escapees and their wives, Patricia Gonzales and Rebecca Brown, were apprehended. The only injury was a self-inflicted gunshot wound to Ralph Brown's finger.
I was Hub regional editor then. I called our regional correspondent in Alma, the late Ginger Jensen, and asked her to meet me in Holdrege. I think she was out of her house and into her car almost before she hung up the phone.
I stayed near the police station and courthouse while Ginger interviewed people along the shootout route. I interviewed a relatively new Phelps County deputy whose patrol car was hit by several bullets. We knew each other when he was a York County deputy and I worked at the York News-Times.
At a media briefing, then-Phelps County Attorney Glenn Clark said the Nebraska State Patrol would handle the shootout investigation because Holdrege police officers and Phelps County deputies had fired their weapons during the chase.
My brother-in-law Jim Parish, a career trooper now retired from the NSP, soon walked in as an investigation team leader. I called him the following Sunday to get the latest public information for Monday's Hub.
Former Hub photographer Brad Norton and I were at the Phelps County Courthouse that Monday morning when the Gonzaleses and Rebecca Brown made their first court appearances. Ralph Brown's first time in court was the next day.
All four initially were charged with attempted murder and use of a firearm to commit a felony. Bonds were set at $1 million each, a huge sum now and even more so in 1989.
Federal and state charges also were filed in Colorado.
A July 2009 Denver Post story I found on the internet says Freddie Brown had just been paroled from a Colorado prison and the women were released earlier. Ralph Brown, believed to be the escape mastermind, remained in prison.
Thirty years ago today would have been two days before the Holdrege shootout. If someone had said then that such an event was in Holdrege's future, I bet most folks in town would have replied, "Things like that don't happen here."
Photos: State Patrol graduation in 2019
Be the first to know
Get local news delivered to your inbox!