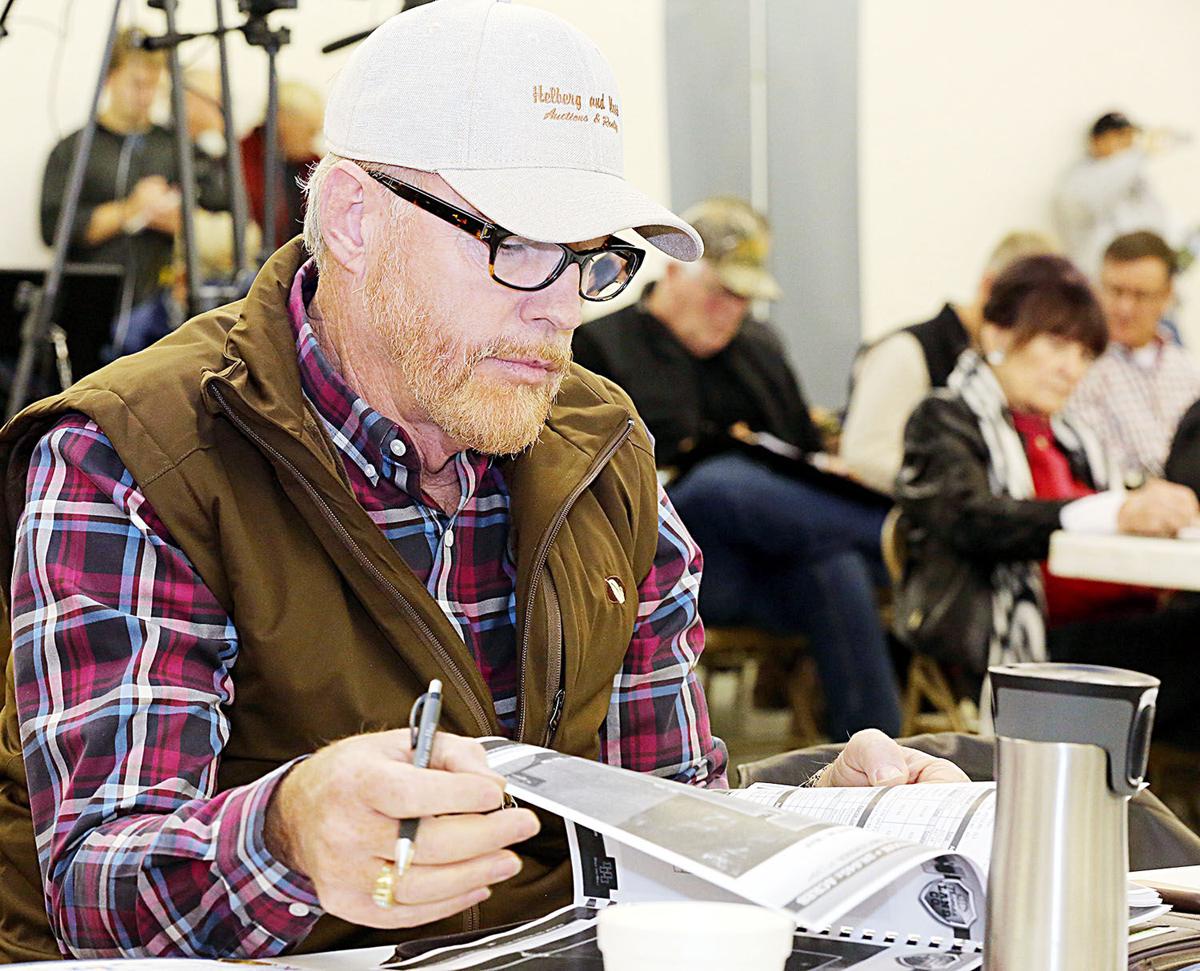 OGALLALA — One of Nebraska's largest farm and ranch operations fetched $37,555,000 in bids at auction Thursday.
The auction of Thomas Land Co., a 28,645-acre operation that overlooked Lake McConaughy, attracted international interest but drew a mostly regional crowd of 300 people to the Keith County Fairgrounds.
The operation's 45 square miles of farm and ranch land would roughly cover Omaha from the Missouri River on the east to Interstate 680 on the west, and from Dodge Street south to the Douglas-Sarpy county line along Harrison Street.
Hall and Hall Auctions offered the land in 50 parcels, and bidders were permitted to bundle the tracts across parts of Keith, Perkins and Deuel counties into any size. Bidding took nearly seven hours to complete.
In the end, 19 bidders were alone on the leader board. The average price per acre was $1,405. The property included grassland, non-irrigated cropland and center-pivot irrigated cropland.
Bill Sheridan, a Mason, Michigan, auctioneer who helped with the sale, said the $37.5 million in bids was a fairly accurate indicator of the value of the operation. He said Hall and Hall's inside appraiser estimated the property would sell for $34 million to $38 million.
"When you gather this many in a hall like this and give everybody an equal opportunity to bid against one another, you will come up with a true indicator of what market value is today," Sheridan said.
Sheridan said the agricultural land market has softened in recent years because of weaker commodity and cattle markets.
"So the attitude in the country for buying land is not quite as aggressive as it was a few years ago," he said.
Bidding, although spirited at moments, advanced at glacial speeds.
"People had more time deliberate, and we captured more market value," he said.
Auctioneer Spanky Assiter of Canyon, Texas, cajoled bidders to take advantage of the opportunities the diverse farm and ranch operation would provide their own businesses.
"Don't wake up in the morning and say, 'Dang, I wish I had given $5,000 more,'" he said. "We broke the operation up to give you the opportunity to buy the land of your dreams."
The first rounds of bidding brought offers for all parcels totaling $19.8 million. Then one bidder offered $21 million for everything. Another group of bidders pushed the buy-it-all total for $28 million.
Six hours later, the buy-it-all bidders were out of the picture and dozens of others carved out parcels of the operation and raised the final total to $37.5 million.
Owner Lola Thomas, who lives in Miami Beach, Florida, attended the auction. She and her late husband, Michael Thomas, put together the operation starting in 2005. Michael Thomas was a 1958 graduate of Ogallala High School. He died at age 74 in 2015.
As the auction opened, Thomas addressed the crowd, tearfully thanking the people of Keith, Deuel and Perkins counties "for making my husband so happy in his last years."
She said afterward that she was pleased that neighbors and local farmers and ranchers purchased most of the land.
"I absolutely wanted the neighbors and local producers to be able to stay in the game and increase their involvement in Nebraska agriculture," she said.
"I'm just very happy for what my husband and I did in Nebraska, and I'm very happy to see it culminate today in this auction," Thomas said. "I hope the people that purchased the property will help it grow just as my husband and I tried to."