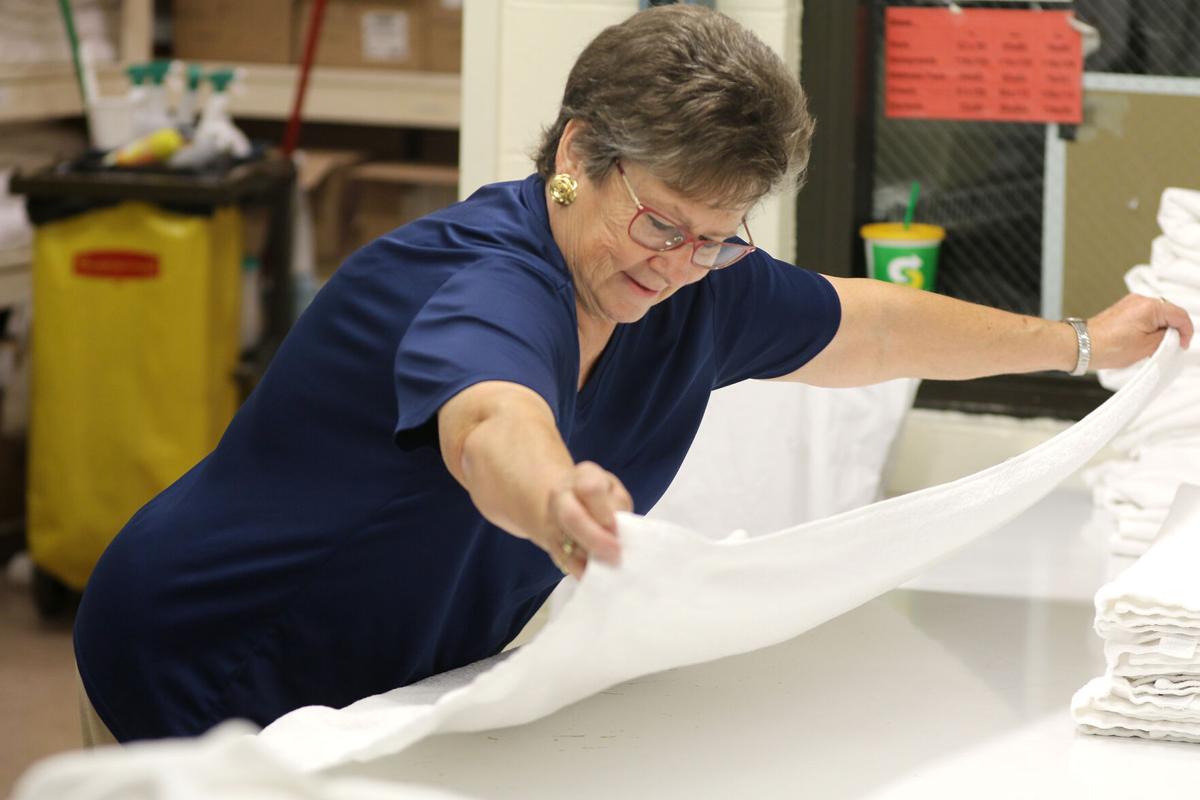 Ellen Dimmitt has folded enough towels and sheets in the roughly three decades she has spent in the hospitality industry that the act is basically second nature.
She worked her way Friday through a sizable hamper in the laundry room at the North Platte Hampton Inn with a few efficient wrist and arm movements. In what seemed like seconds, a folded towel was added to the top of a growing pile on the silver table she was working at.
"I can do them pretty fast," Dimmitt said. "I don't even think about (how quick). I just get them done."
Friday was a bittersweet day for Dimmitt, 72, as it was her last shift after 23½ years at the Hampton Inn. She decided to retire to care for her husband, who has been dealing with health issues.
"This is my second family," said Dimmitt, a North Platte native. "We spend more time here than we do at home and we all work together well and are good friends. It's difficult (to leave), but it's something I had to do."
General manager Rich Simmons said Dimmitt has been well-respected and has been a favorite of other employees. He added that a proper send-off and open house for her will be held when one can safely be held in the time of the coronavirus pandemic.
"She is dedicated, just someone who has that old-school mentality," said Simmons, who has known Dimmitt for more than 20 years. "She is just dependable. It will be different not having her around, that's for sure.
"We have had (employees) leave to try different things and sometimes they come back. One of the first things they will say is, 'Oh, Miss Ellen is still here? That's great,'" Simmons said. "That says something."
Dimmitt worked at a Holiday Inn — which is the present site of the Quality Inn in North Platte — before she moved across the street to the Hampton Inn. She started as the assistant housekeeping manager and worked her way to the main position, which she held for 15 years.
For the past five years she has worked in the hotel's laundry room — the first shift from 7 a.m. to 3 p.m. On Friday morning she had washed five loads of towels by 10 a.m. and planned to do perhaps four more. The workload was about the same for the sheets.
"When you walk in some mornings and see (the laundry) piled up high, you think, 'Oh my God, I'll never get it done.' but eventually you do," Dimmitt said. "But I like this work. It keeps you busy."
As for the laundry at her house? That schedule is a bit more relaxed.
"Oh heck," Dimmitt said. "I don't do that until Sunday nights."