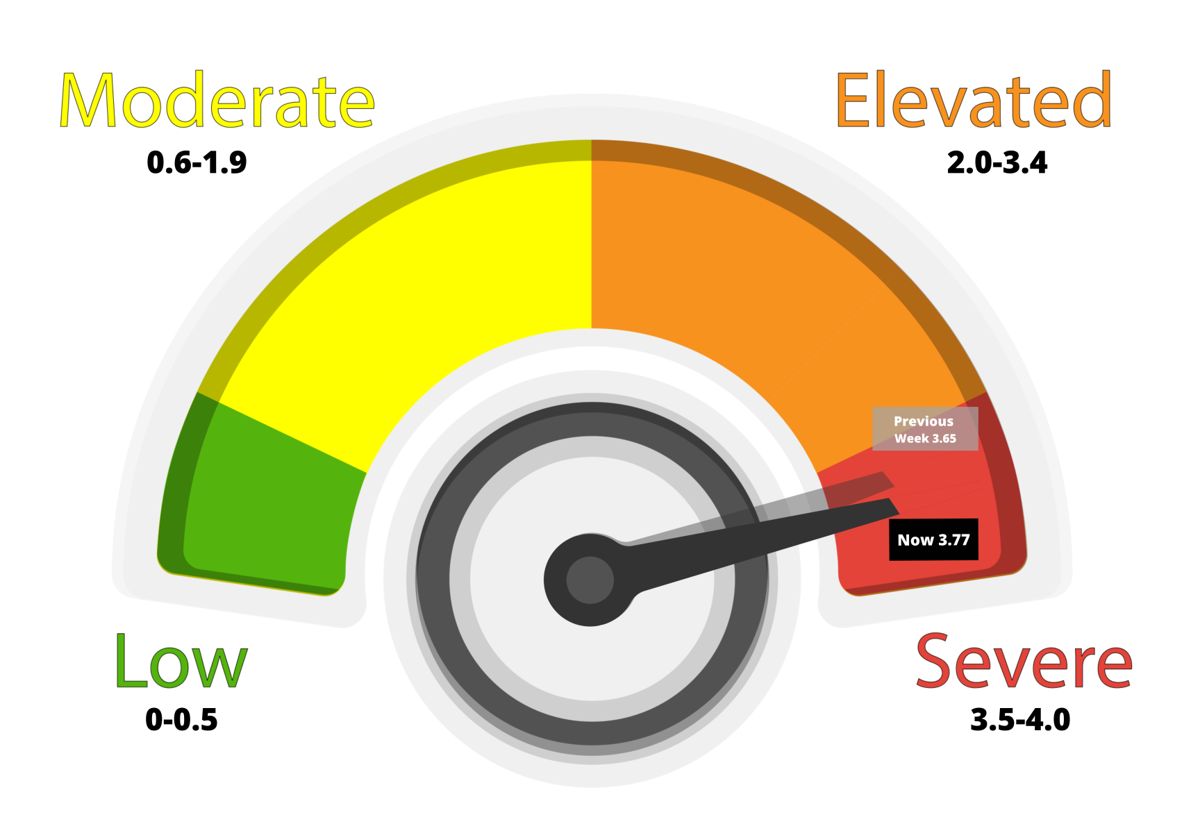 A week ago, the West Central District Health Department's COVID-19 Risk Dial moved into the red — severe — category for the first time since its implementation.
This week, it moved further into the red as the risk factors gave an average score of 3.77 out of 4.0.
What happens if the community exceeds that threshold?
"There are states that have moved into purple, like they had to add another color, and that's really scary. I hope (we don't have to go to purple, but) we're aware that if we get to the end of that road, we got to look at what we do," said Shannon Vanderheiden, executive director of WCDHD. "How do we add on other variables, and now what are we measuring? Once we get to the end of the dial, it means everything is maxed out. We have no room, and we have no resources.​"
The risk dial does not give a prediction of what is to come. It's meant to give an assessment based on current data, to warn public health officials when to pump the brakes before a community reaches a severe state.
​"Looking at (this dial) and then trying to make a change is like looking at the house is burnt down, and we're going to put out the fire after the house burns," Vanderheiden said. "So really paying attention to the importance of the mitigation strategies is critical. We could stop right now — everybody be in masks, be in complete shutdown — but we still would see an increase in cases for the next four weeks."
WCDHD does have the power to order people to quarantine or isolate, according to state statutes. But WCDHD cannot issue a mask mandate.
"When we send a quarantine or isolation order, it is per statute, it's not guidance," Vanderheiden said. "I think where people get extremely confused is on this whole mask mandate thing. The only health departments currently that can issue a mask mandate — because they are city health departments — (are) Lincoln and Omaha."
Currently, district health departments cannot issue mask mandates without the authority of Gov. Pete Ricketts and Dr. Gary Anthone, chief medical officer of Nebraska's Department of Health and Human Services, she said.
However, Vanderheiden sees the value in such a mask mandate.
"Given the information that we have on wearing facial coverings or wearing masks, I am confident that having a mask mandate would help decrease the number of cases in our area, prevent people from being hospitalized and prevent deaths," she said.
On a local and state level, health officials are already overwhelmed and changes are being made to the way contact tracing is done. Someone who tests positive for COVID-19 will be asked to call their close contacts themselves.
If someone calls you about exposure, the most important thing to do is to quarantine immediately, Vanderheiden said, adding that testing isn't recommended until about five days after the most recent exposure.
"Testing does not need to be done immediately, should not be done immediately, because you want enough viral load for that virus to be detected," Vanderheiden said. Someone who is tested too soon and comes up with a negative may think, 'Oh, I'm negative, I can go about my life,' but you can't. You have to quarantine for those 14 days."
Be the first to know
Get local news delivered to your inbox!