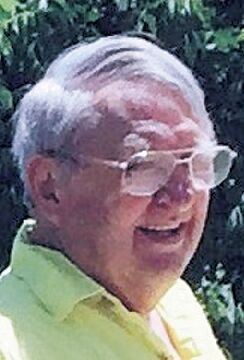 Peter Francis Campbell, 80, of North Platte, peacefully passed away at his home on April 6, 2020. Peter was born in Jamestown, North Dakota, on Oct. 20, 1939, the oldest child of James Peter and Helen Lucille (Cheser) Campbell. He grew up in North Dakota, and it wasn't until later in life that he proudly received his high school diploma. In April 1957, Peter enlisted in the U.S. Navy and served as a machinist's mate. Following his discharge, Peter married and had three children. They lived in North Dakota, Wyoming, Arizona, Colorado and Texas before settling down for the remaining half of his life in midwestern Nebraska, primarily in the North Platte area. He was a skilled parts manager in car dealerships and ABC Auto Salvage where he worked until he retired. Peter was a member of St. Patrick Catholic Church, Moose Lodge, North Platte Eagles Club, where he volunteered in many ways, and was a local leader in Alcoholics Anonymous. While living in Arizona, he volunteered as a Cub Master and Scout Master in the Boy Scouts. One great adventure Peter instigated was "Operation Miata." In 2015, he found a near-perfect condition two-door, soft-topped Mazda sports car on eBay Motors, purchased it without a test drive, then led a four-generation entourage on a cross country journey to take possession of "Mia," He was preceded in death by his parents, Jim and Helen; and brother, Dennis. Peter is survived by his brother, Lee "Joe" (Ginger); children, James, Sandra and Michele (Eric); grandchildren, Chelsea, Chris (Faith), Jonathan, Matt, Seth (Kalei), Zachary and Olivia; great-grandchildren, Liberty, Taryn, Rosemarie, Masyn and Winry; his furry friend, Tommy; as well as other family members and friends. In lieu of flowers, memorials are suggested to PAWS-itive Partners of North Platte. Cremation was chosen. Graveside service, with military honors, will be at 3 p.m. Friday, July 24, at Fort McPherson National Cemetery, near Maxwell. The memorial book may be signed at odeanchapel.com. Odean Colonial Chapel at C & Sycamore is in charge of arrangements.
Obituaries Newsletter
Sign up to get the most recent local obituaries delivered to your inbox.