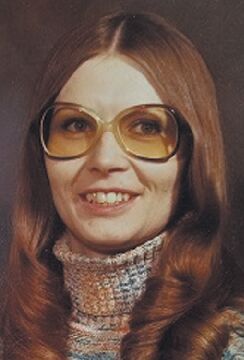 Lynne Marie Empfield, 68, of North Platte, passed away at her home July 27, 2020. She was born March 22, 1952, in North Platte to James and Dorothy Empfield. She had two older siblings, Patricia Stull and Ron "little Ron" Empfield. Lynne attended Jefferson Grade School and North Platte Senior High. In 1970, she married Oliver Dawson. From this union came three children, two infant sons who would die shortly after birth, Brian Paul and Richie Allen, and a third son, Timothy James. In 1983, she moved to Denver, where she worked at the Golden Probation Department. She married Jeff Brodbeck. She enjoyed going to the mountains and camping while there. She moved back to North Platte in 1992, working and enjoying life until she moved to Hastings in 1997. She lived there until mid-2000 when she came back "home" to North Platte for the remainder of her life. She loved spending time with her family and close friends, Robert and Pat Schimek and Connie Guerra. Lynne loved them dearly. She had a crush on Willie Nelson and loved every song he sang. She saw him in concert a handful of times and even got to meet him in person. She also enjoyed collecting pigs of all shapes and sizes and they adorned her home. Lynne will be remembered by her enjoyment of life and the many paths taken in her journey. Lynne loved all animals, especially cats. She left behind her cat, best friend and snuggle buddy, Stanley. Memorials are suggested to the family. Online condolences may be shared at carpentermemorial.com. She was preceded to the hereafter by her parents, James and Dorothy Empfield; brother, Ronald Empfield; cousins, Ron (Big Ron) Empfield and Colleen Millison (Empfield); infant sons, Brian Paul and Richie Allen; and loving friend, Connie Guerra of North Platte. Lynne is survived by her son, Timothy (Louann Goff) Dawson of North Platte; sister, Patricia Stull of Georgia; sisters-in-law, Susie Empfield Dowhower of North Platte, and Twila Dawson of Phoenix; cousin-in-law, Bill (Colleen) Milleson of North Platte; long-time loving friends, Robert and Pat Schimek of North Platte; and many other cousins, nieces and nephews. Memorial service will be at 10:30 a.m. Saturday, Aug. 1, at Carpenter Memorial Chapel with Pastor Gary Goodwin officiating. There will be a book signing from 9 a.m.-5 p.m. at Carpenter Memorial Chapel, which is entrusted with arrangements.
Obituaries Newsletter
Sign up to get the most recent local obituaries delivered to your inbox.