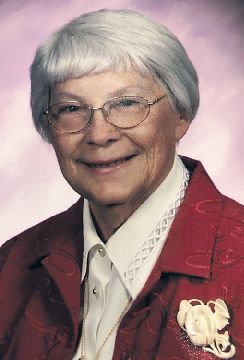 JoAn Hauser, 88, of Lincoln, formerly of North Platte, died at St. Elizabeth Ann Hospital on July 7, 2020. JoAn was born in Anselmo to Raymond and Bessie Emaline (Reyner) Chrisman on March 25, 1932, and raised in a soddy near Anselmo. When she was nine years old her dad died, so the family moved to the Sandhills where JoAn was responsible for bringing in the cows to be milked. n 1947, the Chrisman family moved to Redwood City, California. JoAn graduated from Sequoia High School in 1950. She then married Richard Nadler and had three children, Deborah, Rhonda and Jeff. On April 27, 1960, JoAn married Henry Gene Hauser in Redwood City. The family grew with the addition of his daughter, Suzanne, and their three children. After living in California for the next 14 years, they moved to Warsaw, Missouri, and then to North Platte in 1981. JoAn was a cake decorator at Sixth Street Foods, and later Sunmart, for 12 years. She enjoyed being a volunteer with R.S.V.P. and the Thrift Connection, and working in the Senior Center kitchen. JoAn enjoyed sewing and crafts. She was a great wife and mother who was always giving and doing what she could, and then some, for her family and others. She was preceded in death by her husband, Henry; daughter, Dawn Renfrow; parents, Ray and Bessie Chrisman; brothers, Raymond "Bud", Pete and Tim Chrisman; sister, Margaret Chrisman; brothers, Raymond "Bud," Pete and Jim Chrisman; sisters, Lois Chrisman and Alene Hiatt; and a granddaughter and grandson. JoAn is survived by her children, Jeffrey (Trudi) Hauser of Irmo, South Carolina, Toby (Angie) Hauser of Lincoln, Deborah (Steve) Silva of Roseville, California, Rhonda (Mike) Guess of Auburn, California, Suzanne (Phil) Ramage of Sandy, Utah, and Kelly (Mike) Dailey of North Platte; son-in-law, Raymond Renfrow; her dog, Riley; 16 grandchildren; 23 great-grandchildren; and many other family members. Memorials are suggested to the Thrift Center. The memorial book may be signed at odeanchapel.com. Cremation was chosen. Service will be at 1:30 p.m. Monday, July 13, at the Maxwell First Baptist Church. Inurnment will be at 3 p.m. at Fort McPherson National Cemetery, near Maxwell. Odean Colonial Chapel at C & Sycamore is in charge of arrangements.
Obituaries Newsletter
Sign up to get the most recent local obituaries delivered to your inbox.