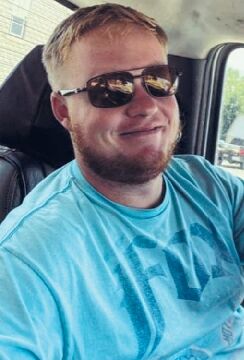 Alexander Michael Heiser, 23, of North Platte, died July 24, 2020, at Great Plains Health as a result of an accident. He was born on Aug. 20, 1996, in Thornton, Colorado, to Michael and Elizabeth (Cook) Heiser. Alex graduated from Hershey High School in 2014. He then went to the John Deere Tech School in Garden City, Kansas. After graduating, he returned to the area, where he worked for 21st Century Equipment in Ogallala, Western Engineering, Miller Repair in Maxwell, and most recently for Olson Farms as a foreman/mechanic. Alex loved riding his motorcycle, hunting, fishing, golfing and horseshoes. Alex liked playing his trombone in the Hershey band and had many fond memories of that time in his life. He loved the outdoors and loved being free. He was a definitely a free spirit and will be remembered as a "wild one." He was preceded in death by his grandparents, Brooke Evans, Allan Higgins and Douglas Cook; and uncles, Mike and Jeff Cook and Ricky Heiser. Survivors include his father, Michael Heiser of North Platte; mother, Elizabeth Heiser of Thornton; brother, Nick Heiser of Grand Island; grandparents, Sharon Heiser of North Platte and Richard Heiser of Denton, Texas; aunts and uncles, Brad Cook of Austin, Texas, John and Rebecca Peterson of Stapleton, Anthony and Alycia Carter of North Platte, Chris and Venaus Lowe of Grantsville, Utah, Carol and Greg McCormick of Strasburg, Colorado, Elinor (Ron Smith) Davis of North Platte, and Glenna Lowe of Mesquite, Nevada; numerous other family members; and many friends. A memorial has been established and online condolences may be shared at adamsswanson.com. Memorial service will be at 10:30 a.m. Thursday, July 30, at Adams & Swanson Funeral Home with Pastor Gary Smith officiating. Register book signing will be from 9 a.m.-5 p.m. Wednesday, July 29, at Adams & Swanson Funeral Home, which is in charge of arrangements.
Obituaries Newsletter
Sign up to get the most recent local obituaries delivered to your inbox.