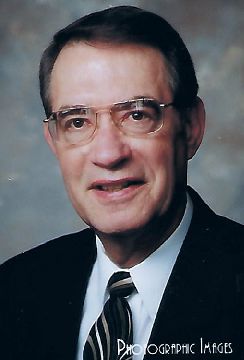 Born on a farm in Adrian, Minnesota, on Oct. 12, 1935, Merlyn B. Honerman passed away June 18, 2020, surrounded by his loving family. After graduating in 1957 with a degree in business administration from St. Mary's College in Winona, Minnesota, Merle started in retailing with W. T. Grant Co. During his almost 20-year career with Grants, he managed stores in seven states, including the one in downtown North Platte from 1964-68. In 1976, Merle purchased the Ben Franklin store in Westfield Shopping Center and the Gothenburg Ben Franklin in 1981. He retired from retailing in 2009. Merle believed that when a community is good to you, then you should "give back to your community." He demonstrated this belief by serving as president of the Chamber of Commerce, Chamber Ambassadors, Rotary Club, and Variety Distributors Board, Chairman of the Holy Spirit Parish Council, Finance Committee, Board of Counselors of the University of Nebraska Medical Center and the local SCORE chapter. Merle served on the boards of American Security Bank, Farmers State Bank, Nebraska Retail Association, Westfield Merchants Association, Nebraskaland Days, Great Plains Hospital Board, Great Plains Development Corporation, Great Plains Taxing Authority, North Platte Country Club, Salvation Army and the North Platte Development Corporation. Merle was a lifetime member of the Knights of Columbus and an Admiral in the Great Navy of the State of Nebraska. In 1989 he was honored as the Businessman of the Year by the North Platte Chamber of Commerce, and in 1994, the Nebraska Retail Association named him Nebraska Retailer of the Year. Merle loved creating memories with his family, going fishing, spending time with friends, playing golf and following the Los Angeles Lakers. Merle never met a stranger and was a master storyteller (most of them detailed exaggerations!). He is survived by his wife of almost 60 years, Diana; children, Deb (Marty) Thalken of Tulsa, Oklahoma, and Mike (Barb) Honerman of North Platte; grandchildren, Tamara (Chris) Noel and Tyler (Ashley) Thalken, both of Tulsa, Matt (Tanya) Honerman of Lawrence, Kansas, Brian Honerman of St. Paul, Minnesota, and Amy Honerman of Kearney; great-grandchildren, Palmer and Pearson Noel and Charlotte Thalken; sister, Eileen Hocking of Luverne, Minnesota; brother, Gordon (JoAnn) Honerman of Sioux Falls, South Dakota; brother-in-law, Charles (Myrna) McCain of Independence, Missouri; sister-in-law, Darlene (Dale) Howard of Sun Lakes, Arizona; and many nieces, nephews and friends. In lieu of flowers, donations are suggested to the Prairie Arts Center, North Platte Catholic Schools Endowment Fund or a charity of your choice. Mass of Christian Burial will be at 10 a.m. Monday, June 22, at Holy Spirit Catholic Church with the Rev. Vidya Sagar Arikotla celebrating. A rosary will be at 7 p.m. Sunday, June 21, at Holy Spirit Catholic Church. For those unable to attend the service, it will be livestreamed at Adams & Swanson's Facebook page. Adams & Swanson Funeral Home is in charge of arrangements.
Obituaries Newsletter
Sign up to get the most recent local obituaries delivered to your inbox.