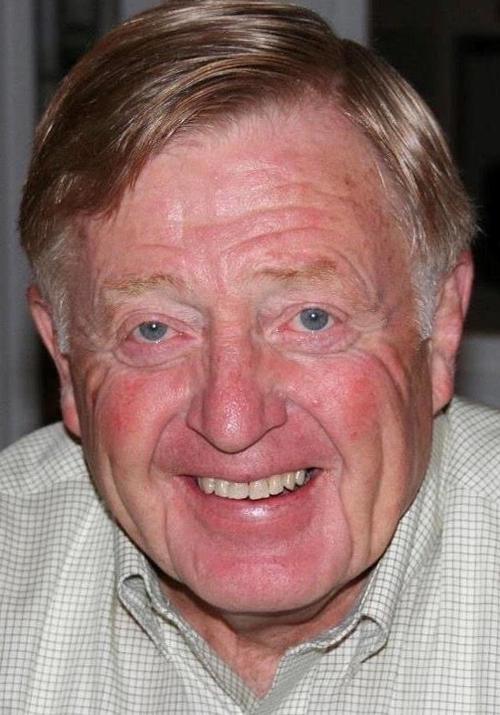 Herbert 'Herb' D. Knudsen Herbert "Herb" D. Knudsen, 78, of Ogallala, died April 18, 2020, passing away peacefully in his sleep, after a full day at the office where he was strategizing and making big plans for the future. Always full of ideas, dreams and optimism, we are thankful that neither he, nor we, knew it would be his final day on Earth. Herb was born July 23, 1941, in Sioux City, Iowa, to Keith and Dagmar (Nielsen) Knudsen. His birth was full of joy as he was the first of 35 cousins. Herb's first word was "cookie," which continued to be his favorite food until his passing. Herb attended Dana College in Blair where he started the wrestling team and was the student body president. It was at Dana that Herb met the love of his life, Karen Nielsen. Herb hosted a "New Student Picnic" and was instantly smitten. While their courtship was long and winding, Herb never gave up the pursuit. Herb and Karen were married August 6, 1966. Lovers of road trips, the newlyweds drove around Lake Michigan on their honeymoon. Herb attended law school at the University of Nebraska-Lincoln. There he was the first ever vice president of the National Student Bar Association while also serving as the student body president. He traveled extensively throughout the country during his senior year in law school to each judicial district. He graduated in 1968. Herb and Karen relocated to Midland, Michigan, after law school to work with Dow Chemical Company as a patent attorney. In Midland, both Peter and Debbie were born. In 1971, Herb was recruited to work with Standard Oil of Ohio and the family moved to Cleveland. In Ohio, both Karl and Mark were born. While working with SOHIO, Herb traveled throughout the world. He worked with companies and governments from the countries of East Germany, France, Romania, Bulgaria, Belgium, Italy, Czechoslovakia and Japan. Over the course of his law career he became a renowned and respected patent attorney. In 1987, Herb founded Natural Fibers Corporation with a keen focus on the development of the Milkweed plant. From 1988 to 1990, Herb commuted from Cleveland to Ogallala on a bi-weekly basis. Natural Fibers Corporation grew and the family relocated to Ogallala in 1990 to work on the Milkweed project. This was the project he worked until his last day. Over the past 30 years, Herb became quite active in several groups in the Ogallala community. He was a member of Rotary, Nebraska Diplomats, RYLA, the Nebraska GOP, the Ash Hollow Pageant, the Teammate Mentorship Program, the United Methodist Church, the UMC Choir and was a strong supporter of the Regional Arts Council. He and Karen also hosted Rotary exchange students. He tended to be quick to volunteer his time and services (and the time and services of his family). Herb's greatest attributes were his insatiable curiosity, can-do attitude, optimism and boldness. Herb was friendly, kind, welcoming and courteous to all. He will be dearly missed. He was preceded in death by his parents; Keith and Dagmar Knudsen; and 1 brother, Dan Knudsen. Herb is survived by his loving wife of 54 years, Karen (Nielsen) Knudsen; his 4 children; Peter, Debbie (Dekleva), Karl and Mark; nine grandchildren, Celie, Truman, Cedric, Mason, Christopher, Benjamin, Samuel, Jonathan and Naomi. They kept him busy with football, soccer, basketball, golf, track, cross country, dance, trap, speech, plays and music. Herb was convinced they are all destined for greatness. Memorials are suggested to the First United Methodist Church of Ogallala, the Rotary Club of Ogallala, or the Alzheimer's Association. Online condolences may be left by clicking the Share a Memory or the Tribute Wall Button by going to drauckerfh.com. Memorial service will be at 10:30 a.m. Friday, July 31, at the United Methodist Church in Ogallala with the Rev. Chuck Rager officiating. Interment will follow at the Ogallala Cemetery. The service will be livestreamed. Masks are recomended. Draucker Funeral Home is in charge of arrangements.
Obituaries Newsletter
Sign up to get the most recent local obituaries delivered to your inbox.