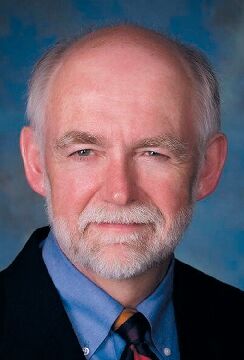 Dr. Leland F. Lamberty, 76, of North Platte, passed away Sept. 12, 2020, at Great Plains Health in North Platte. He was born to Earlyon John and Gladys (Havekost) Lamberty on Oct. 24, 1943, in Tilden. He grew up in Seward where he graduated from Seward High School with the class of 1961. He attended the University of Nebraska at Lincoln where he received his bachelor's degree. He then attended the Nebraska School of Medicine for his medical degree and performed his internship at Bryan Hospital in Lincoln. Lee was united in marriage to Ann Steinheider on Sept. 5, 1964, and to this union four children were born, Jennifer, Becky, Ryan and Garrod. Leland and Ann divorced in 1991. On Aug. 4, 2007, he was united in marriage to Jody Lundvall. He began his career in Holdrege for a short period and later moved to North Platte in 1973, where he established Family Medical Associates. He was joined by Dr. Janet Bernard in 1985, where she worked until retirement. Recently, the practice joined with the Great Plains Health in January 2019. Lee loved music and played the trumpet in high school and college. He enjoyed playing golf and tennis and teaching his children the game growing up. He always looked forward to family get-togethers during the holidays and especially loved Christmas and the 4th of July. He always bought the largest Christmas tree and loved a huge display of fireworks on the 4th of July. He was an avid car enthusiast. He enjoyed reading about cars, driving cars and looking at cars. Lee had a special interest in gas mileage. He appreciated trees, really loved his family and his work. He could frequently be seen dancing in the halls if a song he liked came on. He was a member of the First Lutheran Church in North Platte where he served more than once as Council President. He was Chief of Staff at the hospital twice and enjoyed serving on various committees. He was preceded in death by his parents; son, Ryan; niece, Kam Lamberty; and sister-in-law, GiGi Lamberty. Lee is survived by his wife, Jody; daughters, Jennifer (Dave) Roth and Becky (Keith) Kempke; son, Garrod Lamberty; grandchildren, Zach(Jess) Roth, Kelsey Roth, Matt (Aleesha) Roth, Jamie Roth, Eli Kempke, Ruth Kempke, Gabby Lamberty and Lizzy Lamberty; great-grandson, Sam Roth. After marrying Jody, Lee added to the family, Misty (Robert) Durfee, Melony (Jared) O'Keefe, Myron Lundvall , Ashlynn , Katie and Alyssa Durfee, Makenzie Lundvall, Keathen and Kasen O'Keefe; his (adopted son), Brendon Curtis; brothers, Louis (Pat), Leonard (Ellie), Larry (Elaine) and Lynn (Rose) Lamberty. Lee had phenomenal care at Great Plains Health, and the family would like to thank the nurses, doctors, therapists and other support staff who made this care possible. A very special thanks to Dr. Eduardo Freitas, Dr. Renu Kadian, Dr. Jovanka Vuksanovic and Dr. Guido Molina-Pallete for everything they did for Lee and his family. Great Plains Health is fortunate to have such great people on staff there. A memorial will be established in Lee's name and memorials are suggested to the family. Online condolences may be shared at carpentermemorial.com. A private family celebration of life will be at 11 a.m. Saturday, Sept. 19, at Carpenter Memorial Chapel. Visitation and book signing will be from noon to 8 p.m., with family receiving friends from 5-7 p.m., Friday, Sept. 18, at Carpenter Memorial Chapel. The family requests bright clothing in honor of Lee's love of bright colors. Masks will be required. Services will follow all current health directives regarding COVID-19. The service will be livestreamed via Carpenter Memorial Chapel's Facebook page for those that cannot attend. Carpenter Memorial Chapel is entrusted with arrangements.
Obituaries Newsletter
Sign up to get the most recent local obituaries delivered to your inbox.