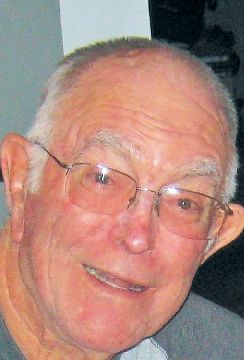 Robert "Bob" McEntee passed away peacefully at home on July 8, 2020, with his family by his side. Bob was born Nov. 3, 1939, in Ravenna to Robert and Neat McEntee. He spent most of his younger life in Ogallala. On May 9, 1959, he was united in marriage to MaryAnn Washa in Julesburg, Colorado. In his early years, Bob farmed in the North Platte and Ogallala area, worked for the State of Nebraska Department of Roads, and in 1969, went to work for the Union Pacific Railroad as a carman. After retiring, he worked part-time for Gary's Super Foods. Bob was a member of the Eagles Club and a 4-H leader for several years. He loved boating, fishing, auctions and garage sales, as well as enjoying Professional Bull Riding and attending rodeos. He also enjoyed going to casinos. His deepest passion was cheering on his grandkids as they participated in sports and activities and he loved getting together with family. He never met a stranger. Bob is preceded in death by his parents, Robert and Neat McEntee; daughter, Carrie Ann Bauder; sisters, Sarah Bloomberg and Jenny West; brother, Dennis McEntee; father- and mother-in-law, John and Ruthcile Washa; and brother-in-law, Johnny Washa. He is survived by his loving wife of over 61 years, MaryAnn; daughter, Debbie (Dave) Giesenhagen of North Platte; son, J.R. (Tina Scott) McEntee of Lander, Wyoming; and son-in-law, Mark Bauder of Sterling, Colorado; grandchildren, Chad (Krista) Bauder, Chelsey (Jacob) Lehmkuhl, Stacy (Herbie) Nauer, Seth and Anthony McEntee, Kevin (Jazz) Scott; seven great-grandchildren; brother, Tom (Ronna) McEntee; sisters, Linda (Mike) Tuttle, Margaret Ann Pollock and Timmie (Bill Zeiss) Bishop; brother-in-law, Charles (Connie) Washa; sister-in-law, Pauline (Loren) Railsback; and his four-legged friend, Cali. In lieu of flowers, memorials are suggested to the Callahan Cancer Center. Online condolences may be shared at carpentermemorial.com. Cremation was chosen and graveside services will be at a later date. There will be a book signing from 9 a.m.-5 p.m Monday, July 13, and Tuesday, July 14, at Carpenter Memorial Chapel, which is entrusted with arrangements.
Obituaries Newsletter
Sign up to get the most recent local obituaries delivered to your inbox.