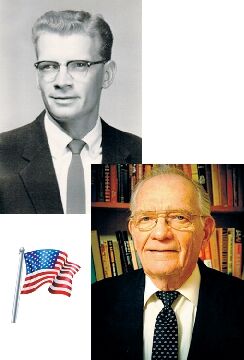 Virgil Leroy Nelson, 86, of North Platte, passed away on March 30, 2020, at Great Plains Health after complications from pneumonia. He was born Nov. 5, 1933, near Wausa to Fredolph and Violet Nelson. Virgil fully embraced the life of hard work and adventure where he was raised on the family farm and attended country schools near the small Swedish community. He attended Liberty High School and graduated from Wausa High School in 1951. After attending Yankton College and Luther College, Virgil was drafted into the U.S. Army and served in Korea from September 1953 to August 1955. Upon return, he completed his college degree, earning a bachelor's degree in math and education from Wayne State College in 1957. He later earned his master's degree from Colorado State College (University of Northern Colorado). On Aug. 17, 1957, he was united in marriage to Carol Lee Moline at the United Methodist Church in Wausa. Virgil and Carol were married for 53 years. The couple moved to Arcadia in 1958, where Virgil taught math and served as principal for one year at Arcadia High School. In 1965, they moved to North Platte where Virgil was hired to teach math as one of the original faculty members of the new North Platte Community College. His teaching career at NPCC/Mid-Plains Community College spanned all levels of math and computer science until his retirement in 1996. Many former students recall Professor Nelson and how much they learned from him. Virgil's industrious spirit, natural talents and endless work ethic allowed him many pursuits, which included singing in the small country music band, The Mavericks, around central Nebraska (1959-1971); completing numerous construction projects in the summers and maintaining a mini-farm on his property. He enjoyed playing volleyball with the college faculty team for many years in the city league, as well as bowling and occasional ice skating. His sharp wit, humor and storytelling amused family and friends. Volunteering throughout the community during retirement, he worked with Habitat for Humanity and served as president of both the North Platte Tree Board and Buffalo Bill Kiwanis Club. He was selfless in his service to neighbors and friends throughout the community. He and wife, Carol, also enjoyed crossword puzzles, reading, Scrabble, gardening, camping and traveling to visit family and grandchildren. Virgil was preceded in death by his parents; brother, Keith; and wife, Carol. He is survived by his son, Wade Nelson of Overland Park, Kansas; his daughter, Heidi (Steve) Reiser of Aliso Viejo, California; six grandchildren, Stephanie (Jeremy) Nelson, Samantha (Jerry) Jacobs, Spencer Nelson, Walker Nelson, Matt Reiser and Anna Reiser; one great-grandchild, Levi Nelson; and many nieces and nephews. Memorials are suggested to the North Platte Community College Foundation. Online condolences and memories may be shared at carpentermemorial.com. Memorial service will be at 10:30 a.m. Friday, July 24, at Carpenter Memorial Chapel, which is entrusted with arrangements.
Obituaries Newsletter
Sign up to get the most recent local obituaries delivered to your inbox.