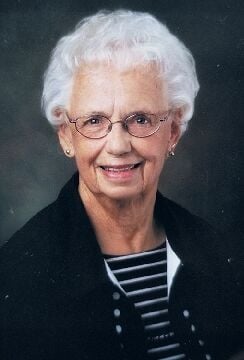 Betty Rieker, 94, passed away Sept. 9, 2020, at Stone Hearth Estates in Gothenburg. She was born Nov. 15, 1925, on the family farm north of Eustis to Otto and Sophia (Yeutter) Bartruff. Betty was baptized at the Eustis Methodist Church. She attended rural school through eighth grade. Betty graduated from Eustis High School with the class of 1943. After high school, she taught rural school north of Cozad for two years. Due to her mother's passing, Betty returned to help her father care for their home and her two younger sisters. On April 15, 1947, Betty married Leonard Rieker. They were blessed with three daughters, Christine, Karen and Debra. They lived and farmed east of Farnam. From caring for livestock to marketing grain, Betty was an integral part of their farming operation. She was an active member of St. John Lutheran Church. Leonard passed away on Oct. 23, 1985. Betty continued to enjoy her life on the farm. Her home was always welcoming. Betty's flowers and beautiful farmyard were a testament to her love of the outdoors. She moved to Stone Hearth Estates in October 2015. Betty exercised her God-given gift of caring for others. Her visits, casseroles and homemade pretzels were appreciated by many. Betty grew up playing cards for fun, and always enjoyed a good game. She often attended ball games and always supported youth activities, including 4-H and the WINGS program at St. John Lutheran Church. Betty delighted in her family, most specifically her grandchildren. She patiently taught them many life skills such as driving, canning, playing cards and pretzel-making, just to name a few. Betty instilled within her children and grandchildren a lasting work ethic. Betty was preceded in death by her husband, Leonard Rieker; parents; brothers, Vern, Otto Jr., Robert and infant brother, Lloyd; sisters, Lucile Wahl Anderson, Doris Welle Hotchkiss and Marjorie Kugler; brothers-in-law, Lorenz Wahl, Harley Anderson, Gilbert Welle and Robert Hotchkiss; and sister-in-law, Lorraine Bartruff. Survivors include her daughters, Chris (Rick) Dunbar of Eustis, Karen (Rich) Miller of The Dalles, Oregon, and Deb (Pat) Hecox of Gothenburg; grandchildren, Brad (Courtney) Dunbar of Omaha, Janine (Jeff) Williams of Grand Island, Brittany (Miles) Imwalle of Mill Valley, California, Collin (Maya) Miller of San Francisco, Heidi (Bryce) Anderson of Paragould, Arkansas, Helen (Josh) Cool of Gothenburg and Robert Hecox of Stapleton; sister, Diane (Danny) Easterday of Eustis; sister-in-law, Evelyn Bartruff of Eustis; brother-in-law, Kenny Kugler of Elwood; 12 great-grandchildren; and special friends, Dan and Ann Pohl and Nancy Laier. Memorials may be given to the St. John Lutheran Church or the church of the donor's choice. A private family service was at St. John Lutheran Church. Burial took place at the Eustis East Cemetery. Blase Strauser Memorial Chapel was in charge of arrangements.
Obituaries Newsletter
Sign up to get the most recent local obituaries delivered to your inbox.