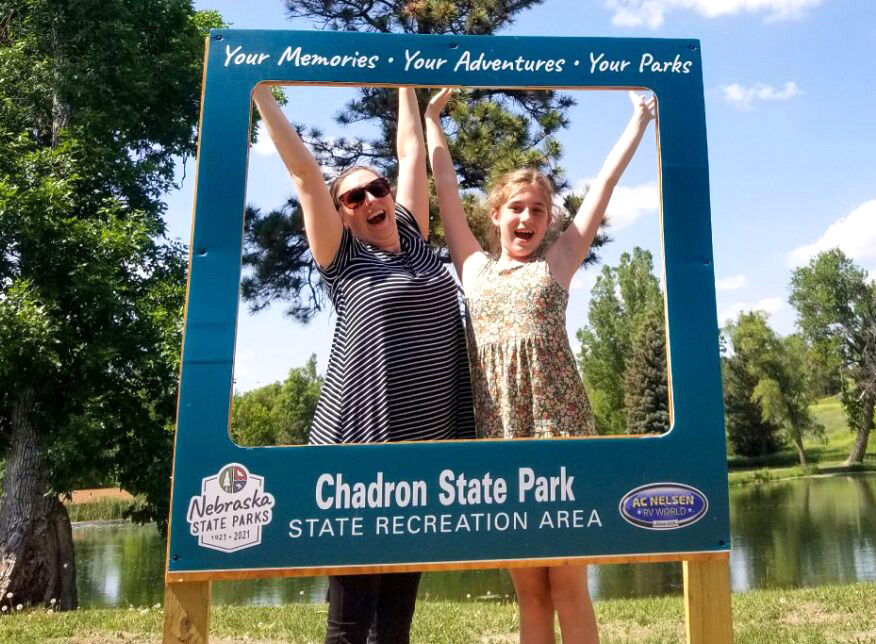 The summer is winding down quickly, but there's still time to get outside and explore the many diverse state parks in Nebraska.
The Nebraska Game and Parks Commission is challenging you to explore our state park in honor of our parks' centennial. When at a state park, snap a selfie at one of the parks and share your story for a chance to win prizes. The best stories and photos will be included in our centennial time capsule, which will be preserved and shared with future generations.
If you visit Nebraska's first three parks, Chadron State Park, Victoria Springs State Recreation Area and Arbor Lodge State Historical Park, and our newest one, Danish Alps State Recreation Area, and submit a photo taken at each park's selfie station, you'll be entered for a chance to win our grand prize: a Forest River RV Patriot Edition 14cc from AC Nelsen RV World.
Find a park that you'd like to visit anywhere in the state and find the selfie station, snap a photo and submit your selfie and trip story. The more selfie stations you visit and enter into our challenge, the more chances you will have to win several prizes like a $100 Scheels Gift Card; a six can soft side cooler, travel cookware and coupons for free Hiland Dairy products; and parks centennial swag package, which includes a T-shirt, water bottle, stickers and fanny pack. Win a family camping package for four that contains a North Face 6-person tent, 70-quart Big Frig Cooler, four sleeping bags, camp stove, outdoor games and more (courtesy of JEO Consulting). And finally, there's a backpacking camping package for two consisting of Osprey backpacks, Jetboil stove kit, water purification system, headlamp, first aid kit and more (courtesy of Crouch Recreation).
There's still plenty of time for you to get outside and make your own adventures this summer and have a chance to win great prizes. This prizes will be drawn at the end of the contest period, which ends Nov. 30. To find more information, visit parks100.outdoornebraska.gov/yourparksadventure.
Duck hunters must choose between two daily bag limits when they register for their Harvest Information Program number this year.
Nebraska and South Dakota are entering a new "two-tier" program starting with the 2021-22 regular duck season.
Tier I is the current traditional six-duck bag limit with species and sex restrictions. Tier II is a three-duck bag limit with no species or sex restrictions.
HIP registration begins Aug. 1. When hunters go to register, they will be asked whether they plan to hunt ducks. If so, they will be prompted to select a tier. Hunters will be bound to that bag limit for the entire season.
The regulations will not apply to goose limits or during the early teal season, which have their own bag limits.
All hunters age 16 and older, including residents, nonresidents, lifetime permit holders, veterans and senior permit holders, are required to register for HIP if they plan to hunt migratory game birds in Nebraska between Sept. 1 and July 31, 2022.
Residents younger than 16 are exempt from the HIP requirement if they choose the Tier I bag limit, but must register for HIP if selecting Tier II. All nonresidents under the age of 16 must register for HIP regardless of the tier they select.
Hunters who choose the Tier II option will be provided a journal, where they will record information on hunting activity and harvest. The journal will be submitted to the Nebraska Game and Parks Commission at the end of the hunting season. In addition, postage-paid envelopes will be provided to each hunter with the expectation that a wing from each duck harvested also will be sent. This process will be similar to ongoing federal collection efforts to estimate harvest. Duck harvest and species composition will then be compared to hunters using the Tier I option.
In a survey, duck identification skills were identified as a factor preventing potential hunters from taking up the sport. The new two-tier regulations are an effort to remove the barrier associated with identification skills.
Starting Aug. 1, hunters can register for HIP at outdoornebraska.gov/hip. Registered hunters are assigned a number that they must carry with them while hunting.
HIP, which is required by federal regulation of the U.S. Fish and Wildlife Service, helps wildlife managers estimate the number of migratory game birds harvested each year. Migratory birds include doves, ducks, geese, snipe, rail, coots and woodcock.
The two-tier program will continue for the next four seasons, and then be reexamined to determine whether it affected waterfowl hunter numbers and duck populations.