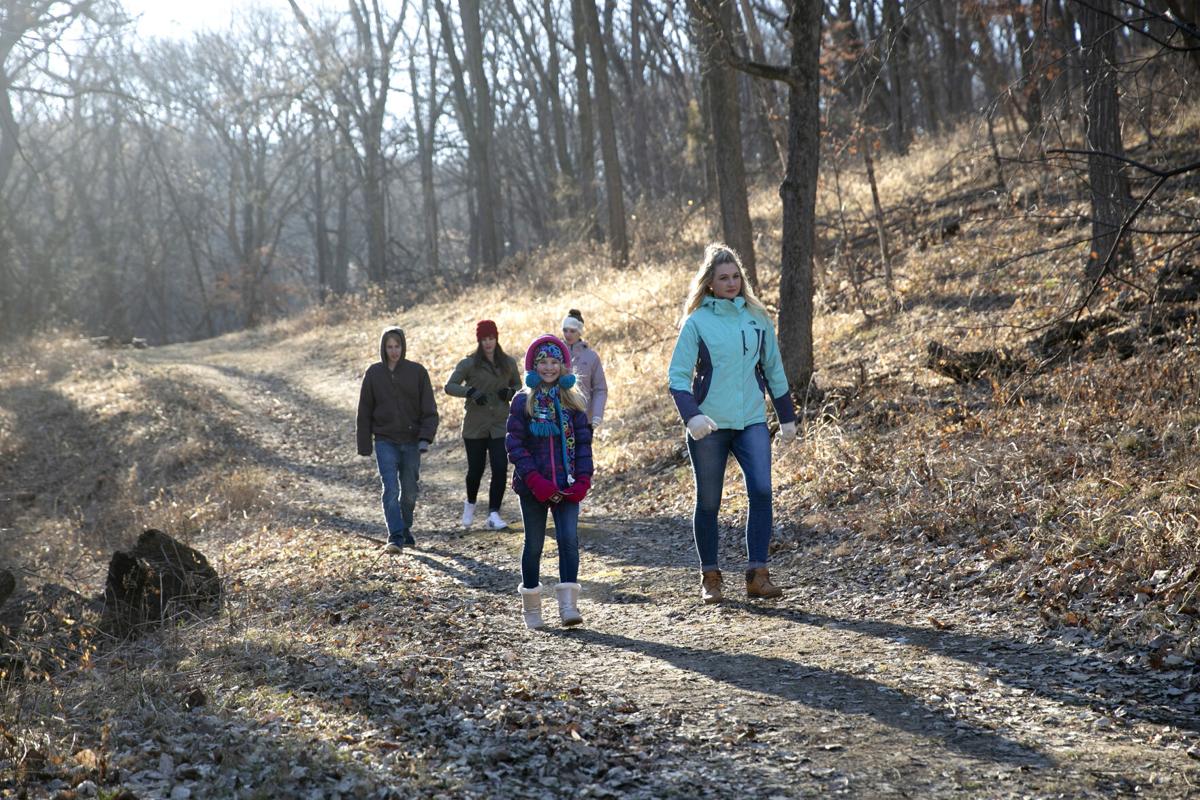 Winter can be a difficult time of year to get outside and have fun, however, with the weather we have been experiencing, it's a great time to get outside and enjoy the great outdoors and all it has to offer.
Watching wildlife
There are many ways to view wildlife this time of year. Take a drive in the country where many animals may be easier to spot in barren winter landscapes. State parks and recreation areas along with Interstate lakes, and city and state parks are great places to view wildlife and to look for tracks to try and identify what wildlife made them.
To increase your chances of seeing wildlife, bring some binoculars and carefully look for out-of-place shapes and slight movements in natural habitat, like ears on a deer or its tail moving. Make your outing an adventure for all ages. Dusk and dawn are usually prime times for wildlife watching.
Many bird species from small songbirds to hawks and turkeys will also be out and about and are great for viewing and photographing.
Eagles and waterfowl will be migrating throughout the state and can be found at state parks and recreation areas. These are great places to view these birds, especially those areas with open water. On larger reservoirs like Lake Maloney, Sutherland Reservoir, Lake Ogallala, and Johnson Lake, waterfowl will flock to open water to bathe, loaf, and in some cases, feed on fish and plants along with getting a needed drink. Eagles will follow waterfowl and open water areas where they feed on waterfowl and will hunt for fish.
Visit state parks
There is no better time to spend a weekend at a state park. Winter is a slow time at state parks so you don't have to worry about being able to get a reservation or finding a spot for your camper or tent. Even in winter there are plenty of fun things to do like fishing, hiking, bird watching, photography or maybe you just want a quiet weekend away. Just think, you could sleep in, get up when you want, eat breakfast at noon or whatever you want. Several state parks have yearround cabins rentals that are perfect for a weekend get-a-way. Visit outdoornebraska.gov for information on cabins available during the winter and get 30% off your stay through April.
Hiking is a great way to spend a day, get some fresh air and see spectacular sights. There are several places close to home to hike. Lake Maloney's trail is a super place to start and it covers several areas where deer, turkey and song birds live. Buffalo Bill Ranch State Historical Park and state recreation areas provide roads and paths to hike. Take a walk at Sutherland Reservoir where waterfowl, deer, foxes and other wildlife can be seen. Ash Hollow State Historical Park south of Lewellen is a beautiful place to hike the hills and bluffs on the Mormon/Oregon trail with mowed trails through the park. Johnson Lake and Red Willow both have great hiking/biking trails along the lake, and these are only some examples of places you can visit.
Have a winter picnic at a state or city park or I-80 lake in our area. If fire pits are available, warm your fingers and toes by a nice fire and cook hotdogs and smores.
Take along a sandwich and cookies, cocoa in a thermos or even hot soup to warm yourself by the fire. Don't forget a camera and binoculars to watch wildlife, play on outdoor equipment or simply relax in a lawn chair and enjoy the winter scenery.
Backyard campfires
Put your hat, coat and warm clothes on and gather round the campfire. With inexpensive backyard fire pits, anyone can enjoy sitting around the fire any time of the year.
This can be a fun way to spend an afternoon or evening. It's an ideal location to sit and watch the flames, read a book or enjoy some hot chocolate.
Grab the s'mores stuff and make yourselves a treat. To get really creative, try chocolate chip cookies or Oreo cookies with a roasted marshmallow and enjoy a new kind of smore. Snuggle up in a blanket in your outdoor swing by the fire and enjoy the night sky with all the stars and moon. It just doesn't get much better than that.
Geocaching
Geocaching can be done yearround. It is fun to hunt for caches in any weather and a great way to spend time outdoors even if there's no snow on the ground. You'll need a GPS unit or many smart phones have GPS capabilities on them now as well.
To find cache locations log on to this free web site geocaching.com. When you enter your zip code, a list of caches hidden in your area will be revealed, along with their GPS coordinates. Decide on a cache, enter its coordinates on your GPS, and go out and try to find it. There are many hidden caches in our area or you may want to do a little traveling, pack some sodas and sandwiches and make a day of it. Many of our state recreation areas have caches for the public to search for so you can enjoy a day at a recreation area while you cache. All caches should contain a logbook or paper scroll to sign when you find it; some caches contain small treasures for you and you can leave a treasure for the next cacher. You can also hide your own caches and post them online for others to find.
Bird feeding
With the winter months upon us, birds have a difficult time finding food. Putting out a bird feeder in your yard brings wildlife to you. Feeders are a great way to learn which birds are coming to feed and it's fun to watch them. Below is a treat you can make for the birds this winter — kids and adults can have fun making, feeding and watching birds.
Here is a recipe for suet that is nutritious and doesn't become frozen and inedible when it gets really cold.