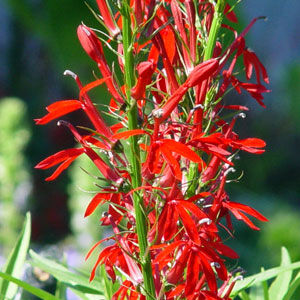 Native plants are generally defined as the plants that were growing in our area before the arrival of the European settlers. Not everyone agrees as to whether that plant should be a species plant or a cultivar of the species, but we can all agree on the fact that native plant habitats are decreasing. So why should we care? Because native plants support beneficial insects and other wildlife. Before you finalize plans for your property, please consider setting aside an area for native plants.
You can 'go native' on your property by following some simple steps. You will be helping to protect native plant communities and minimizing habitat destruction. Natives are tolerant of our local conditions, including native insects; they require minimal watering once established; and they provide food, shelter and conditions necessary for reproduction of native insects, birds, amphibians and mammals.
Natives that you can easily incorporate into sunny flower beds include Bee Balm (Monarda), which grows 2 to 3 feet tall and flowers from June to August. It attracts bees and hummingbirds. A spring flowering native is Columbine (Aquilegia). To attract Monarch butterflies, plant milkweed. Asclepias tuberosa, commonly named Butterfly Weed, is a favorite. Monarch larvae only eat milkweed leaves; and since patches of common milkweed are becoming rare, the Monarchs rely on the milkweed varieties in flowerbeds. There are many different kinds including swamp milkweed for wet areas.
Blazing star (Liatris) blooms mid-summer and attracts all pollinators, including native bees. It has lovely lavender flowers and reaches heights of 24 inches. For fall flowering, consider the many cultivars of our native aster. A cultivar of a native plant is a sub-species. Another sunny garden favorite, which attracts pollinators and provides seed for birds in late fall and winter is Purple Coneflower (Echinacea). Black-eyed Susan (Rudbeckia), which flowers for 6 weeks or more in mid-summer, has the same attributes as Coneflower.
For those with more space, sunflower (Helianthus) varieties have been developed with multi-stems and lots of flowers, varying heights, and many different colors. They attract native pollinating insects and birds as the seed heads develop. Zinnias and Cosmos are great carefree annual plants which bloom all summer and attract pollinators, as well as birds that eat the seeds.
Bees and other insects go to plants in search of nectar and pollen. Both are an important food source for them. When they are nectaring, they are sipping the sweet sugar liquid of the plant, but they are also brushing against the pollen of the plant and moving it from the male to the female parts. This is pollination. It is the sexual side of plant life. Most plants have male and female parts on the same plant, often on the same flower. The male parts produce the pollen which must get to the undeveloped seeds in the ovary (female part of plant). If those seeds are never pollinated (fertilized), a mature seed will never develop, and the plant will not make fruit, or reproduce. In other words, without pollinators, we would lose a huge percentage of our plant life, which translates into a huge percentage of our food supply!
One plant that does well in wet, partly sunny conditions is the Cardinal Flower (Lobelia), which grows 2 to 3 feet tall, has beautiful red flowers in July, and attracts hummingbirds. Blue Lobelia grows to the same height and blooms in August and September.
Adding a new native plant area in your yard will save energy, yours and the CO2-type, by reducing your lawn area. It has really come to the point where what we grow and how we manage our backyard landscape is important to more than just ourselves. If you are interested in introducing some native plants to your property, remember that you need to site them correctly, right plant right place. All native plants are host to somebody. The oak is credited with supporting the most species of wildlife. Native plants produce seeds, fruits, berries and nuts that all wildlife depend on for life. Imported plants may look beautiful in our landscapes, but generally, do nothing to support wildlife. An imported plant, although it may look the same to us, is not usually recognized as food by local wildlife.
When settlers came to the plains of Nebraska, they found clean, sparkling streams and rivers, natural grasslands and clear skies. Today cities cover many acres of what was once wildlife habitat. Malls, big box stores with their massive parking lots, multi-lane highways and housing developments have replaced more habitat. Native plants are destroyed and replaced by imported ornamentals, or lawn grass. Worse, many imported plants, lacking natural controls, have escaped cultivation and invaded our few remaining natural areas crowding out the native plants that remain.