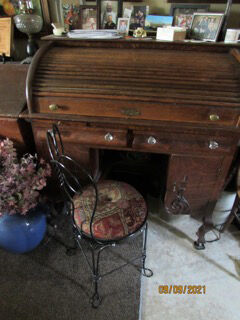 Naturally, when a person is in an antique mall, we shop around — even when I happen to be a dealer myself. Yes, it is so much fun to look at whatever everyone else brings in for sale at the CR Rustic Antique Mall here in North Platte. That is what makes it so much fun when working with other dealers and finding out more information of where it came from and other fun details (which I hope to find out more at a later date) about my latest little purchase.
Many years ago, we had a beautiful family wrought iron table and chair set which went back to the original family after several years — but I always loved the set. We always kept it inside the family room sliding glass door to the patio but then we put a roof and a screened-in porch on that same patio — hence the table set was still undercover and protected from the weather.
But since that time, I found a cute set (pair) of wrought iron chairs with arms and I use them in my office. But with the roll top desk, arms do not work the best. When I found this cute vintage chair at the shop the other day, I decided to buy it and bring it home. I love it in front of the vintage lady's roll top desk I purchased out in Colorado at a nice antique shop out there many years ago. Probably around 20-some years ago, for sure. Anyway, It was hard to find a chair for it that would slide in under the desk top and still be out of the way but usable. I was excited when this cutie came into the antique mall the other day — newly "redone" but still an original chair. It has a beautiful padded seat and a new black paint job on the wrought iron only. And the best part, it just slides right in to place and I don't have to hunt for a chair any more. Comfortable, too. The back is in the shape of "owls' eyes" I believe. Some were made to look like "bull's eyes" also — just a difference on how taut the curved wrought iron was done.
Many of these wrought iron chairs were used in bakeries and/or cafes through the years. Maybe during the early 1920s and maybe even a bit earlier than that. I may have to do a bit more investigating or hunting for more info on that particular subject but I do believe I am very close. They are sturdy and yet comfortable. They look nice with so many other furniture styles. They will go with just about any kind of style because they are simply made, and oh so cute. It is fun to find them in good original condition but many times they may need a quick coat of paint and the wooden seat may need to be replaced. Some were metal seats, but most were oak. But the little chair I just purchased has a beautiful cushioned/upholstered seat over the top of the wood. Nicely done, indeed. And makes it very comfortable for this old lady.
One of the many hazards of having a booth in a fun and great antique mall is that I love to go shopping their myself. And everyone knows I am out of space for any more antique goodies of anything. But just once in awhile, this old lady needs to go shopping for herself and my little apartment. I love it being "cozy," whereas some would say it is "way too much" in such a small space — and others will giggle and love it as much as I do.
But now, lets get back to finding those special treasures that we all love to hunt for. Naturally, I have always said that "the hunt is the best part of any antiquing trip." Why? Because you never know what you are going to find. So very true. Just think — we go into grocery stores and look for all kinds of different and tasty treats to take home to our families. And we look for exciting new or old pieces to add to our living spaces or outdoor spaces or even as a collector, you may just add it to the rest of your collection however you have chosen to display it. The most important thing is it is all the things you especially like put together however you want to as well. And that is the way it should be.
The new/old shop in North Platte (CR Rustic Antique Mall) at 108 E. Fifth St. here in North Platte features many old things and refinished items like furniture and yet they have a touch of new scattered throughout to help remind us it can all be woven together as we see it and want to do it ourselves. A touch of old with a whole lot of new is nice. But a touch of new is wonderful with a whole lot of old, too. Just ask me — I love it all.
I do not go out buying for resale as much as I used to — due to age and "I have enough in storage places" probably to keep me going for quite a spell. I have "stuff" — excuse me — "collectibles and sweet antiques" still in storage so all I have to do is pull a box out and take the lid off and start digging through all the packing and paper keeping another treasure safe till I get to it. But I do have to admit, I miss the hunt. This game of antiquing definitely requires you to stay on top of values and/or prices, and it makes you pay attention as to what is the "hot" item for this particular time of the season. The most important thing is to take a chance once in awhile by buying something quite different from the usual items we buy, just because it is fun to do.
What is different? Maybe you might find a unique piece of vintage glass you have never ever seen before. That makes it fun to buy it and try to resell in your own booth or neighborhood. Just keep in mind, sometimes it takes a little while before your item might sell and/or it may go out the door the same day it comes in as I have seen what is happening in the new location of the CR Rustic Antique mall. It is so fun to see what sells. It is fun to see the smiles on collectors' faces when they spot a piece they have been looking for for quite a spell and suddenly it is right in front of them. Or better yet, something a dealer or collector has never ever ever seen before in all their years of antiquing. Now that is really fun.
Antiques or collectibles — it really doesn't matter. Whichever areas are quite inspiring in so many ways. Each person has his/her own desires and wants in what they are looking for, and that is what makes collecting fun.
As we are into fall already this year with many holidays ahead of us, it is always a good time to start thinking about — we'll say the word carefully and quietly — Christmas. It is nice to get an early start and believe me when I say that the antique mall parking lot is on the corner of Jeffers and Fourth streets here in North Platte. It just makes it easier to find. So many gift ideas for birthdays as well as holiday seasons all wrapped up into one store. The creativity flowing from this shop is so fabulous that when I walk through it, it just makes you feel good all over. I am just an old antique dealer with still old ideas of how to display to a certain degree. But some of these other consignors have it really going strong and such a gift for creating backgrounds as well as products to put in their beautifully staged booths. It is just plain fun to walk through and take a look. But the most fun is that these booths are changing almost on a daily basis. As things sell, more and different items are brought back in to fill the empty spots in their booths.
Which reminds me, I had better get in there myself and do a bit of "creating and rearranging" again too. Thanks to the younger set, I get some good ideas from them and they help me out with what to do next. Thanks everyone for walking through Rob and Corey's shop as well as coming to my antique classes on Tuesday evenings. They are still being held at the Good Life on the Bricks on the corner of Dewey and Fourth Street here in North Platte. People come and order a bit of supper and then we begin the "show and tell" part of the class. Each person brings one item that they want to know more about — I do charge $5 per item but you do get to see several other pieces being evaluated too. And sometimes, that may remind you of something you have similar at home and will want to bring it next time. My phone number is 308-530-4572, please call me if you have any questions about my classes. Take care, everyone and stop and say "hi" — I am usually at the shop on Saturdays from 11:30 a.m. to 4 p.m. We would love to see you and visit a spell — or maybe help you find something you have been looking for. They have a want file also. Just leave your name and number and maybe one of the other dealers can find it for you or have something similar at home and will bring it in for you.