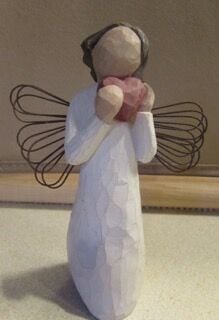 I am sure through the past 28 years or so, I may have touched on these little cuties, but just in case I haven't done it recently: Here I go this week!
I gave this to a friend many years ago and when she passed away, her family gave it back to me. It was probably a Valentine's Day present — I am ashamed to say I am not sure when I had given it to her — but that doesn't really matter.
This one is dated on the bottom as 2000 and named "Willow Tree Angel of the Heart." It also has a gold "Made in China" tag on the bottom. Her angel wings are made of wire and it looks like it could have been carved out of a piece of wood, but due to the weight, I am sure it is a molded piece.
These pretty little angels have been produced for all kinds of events and special days and many other reasons — maybe even just because. And they are great little gifts to give to a special someone who collects angels or, better yet, maybe because she is an angel at heart.
Just now researching online, I discovered that the artist Susan Lordi does hand carve every one of her original angels and then they reproduce them with a mold casted from the original, of course. She has been making these cute little angels since 1999. As a collector of antiques and/or collectibles, I always appreciate a dated gift of any sort. It just makes things more fun and definite as to may have taken place or gives us a bit of information for to relate to the giver as well as the recipient.
Lordi's original carvings portray a certain tilt of the head or what she may be carrying in her arm, which is carried through in the casting. Each form that she creates becomes a gift of interpretation for the giver and recipient. Awesome artistry with a simple design, but it still has a story to tell and sparks the imagination.
Being able to create a simple but elegant piece is definitely a talent to be awed and respected. Lordi's pieces have so many delicate patterns and designs, with something for most every occasion or lifestyle imaginable with a gift of imagination and admiration. Each tells its own story and communicates the love of the giving experience, whether it's a small gift of remembrance, for a namesake or just a hello to remind the recipient that somewhere someone else is thinking of them and appreciating their relationship. It is nice to be remembered and appreciated! We sometimes forget to pass these simple messages on to those whom we care about. A simple figurine is a great reminder of a very special moment, an experience or a lifetime of love and friendship.
So many times I write about antiques — you know, the really good old stuff we have collected or received as gifts or heirlooms through the years. But, even these cute little Willow Tree angels become collectibles the moment you buy them or receive them and will someday become a true antique when it hits 100 years of age or more.
But it's definitely a sweet collectible before the age of 50. Every single item that we collect today (or collected yesterday) becomes a special treasure through the years, and definitely makes us more aware of what we like and what we love the most. That is what collecting is all about.
For fun, I just looked up the definition for the word "collect": "To bring or gather together." Other similar definitions followed, such as "to gather, accumulate, assemble, amass, stockpile or pile up."
My sons would definitely agree about the last two definitions of collecting; "stockpile or pile up" would be the ones who describe me probably the best of all definitions. But, look at it this way: If I didn't do it, who would?
Our Willow Tree collectibles are definitely great for small gift giving with a big heart. They do not take up much space and there are thoughts and directions for just about every phase of life as well as all of its ups and downs. The collectibles impart a sense of love to the recipient and the giver. It is that simple.
Whether it be a large gift like a Victorian wardrobe or a simple smaller gift such as an "Angel of the Heart by Willow Tree," either one shows love, indeed.
The next time you are searching for a small gift or a large gift, please do not forget to take a stroll through our fine antique and collectible shops here in North Platte. Especially take note of the new shop in town — CR Rustic Antique Mall at 413 N. Dewey St.
It's worth a stroll, with the one shop encompassing many booths with antique and specialty items. I find it especially fun to visit the shop again in a few weeks as many different and new (old) things are brought in as each dealer spruces up their booth several times each month.
I do believe that keeping inventory fresh is one of the most important draws for any shop.
From homemade crafts and arrangements to vintage and antique collectibles throughout, each booth has a bit of everything in it, and you never know what you may just find. For instance, are you looking for a piece to match your china pattern or maybe you are missing one bowl from your Pyrex set, or maybe you need to find the one piece you broke awhile back. And, what about finding a cute footstool for your favorite chair? Or, better yet, finding a piece of vintage jewelry that highlights your favorite holiday dress? And for the guys, CR Rustic Antique Mall has lots of tools and furniture as well as vintage coins and currency.
Have a great week, everyone, and thank you for taking time out of your busy day to pick up the newspaper and read my articles each week. Be safe out there and be good to yourself. Take care!
Catch the latest in Opinion
Get opinion pieces, letters and editorials sent directly to your inbox weekly!