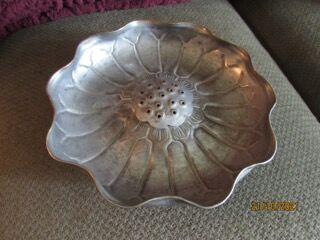 Today I am looking at a metal (possibly pewter) flower bowl with a removable flower "frog" in the center. The decorator would remove the flower frog, fill the bowl centerpiece with water and then put the stems of the flowers into the flower frog to arrange them. The fun part about this particular vintage piece is that it does have a bit of brass trim on the outer edges of the bowl, giving it a bit of flair that might not be seen until it was under direct lighting — whether from a bulb or candlestick.
I found this, I believe, in one of my trips to the New Mexico area several years back. I wish I could remember exactly where, but these days with my age and all, it is almost a miracle that I can still write my articles and come up with different info for each and every week.
As some of you may know, I am having a brain fog these days so please forgive me when I start repeating my paragraphs and/or my articles. Just laugh along the way with me and continue this great journey of 27 or 28 years of writing articles for the Telegraph. I have kind of lost count through the years, but every single article I do write for the paper means I sat down for a couple of hours and did research on the subject I write on and I tried to find even more information before I start the article itself. Sometimes, I get weighed down and have to let it rest for a bit before I can come back to my computer and start typing up the article I want to share with you all. And, if anyone ever comes up with some ideas they would like to know more about, maybe drop me a line at j2mullen2@gmail.com, mail me a letter at P.O. Box 688, North Platte, NE 69103-0688.
But, back to my article for this week's paper: I always think in the summertime I will use my metal vase and put fresh flowers in it, but I get so busy taking care of all my flowers and plants in front of my apartment as well as at my back door. Many pots are planted — I think I have done other articles regarding those ornaments — and it takes a lot of watering to keep them flowering through the summer and fall months. Now it is getting time to let them go, which is hard sometimes because I do love my flowers. I received a bushel basket of planted flowers for my 75th birthday from dear friends in the country and I bring that basket in every single night to make sure it doesn't get frosted yet.
I looked online and did not find much of anything even close to my photo this week. But I have it sitting on my coffee table, which is actually a vintage cedar chest, in the middle of my living room in front of my sofa! I love unusual things and I love to hunt for the rare items when I can. Actually, I do not go out scouting or hunting for treasures as much as I used to do.
But, as most of you already know, I am in the great and fun antique shop CR Rustic Antique Mall, 108 E. Fifth St., here in North Platte. It's owned by Corey and Rob Derbyshire. They are open 10:30 a.m. to 6 p.m. Tuesday through Friday and 11:30 a.m to 6 p.m. on Sundays.
I walked through on Wednesday of this week with a friend or schoolmate from our North Platte High School graduating class of 1964 — ouch, that seems like an awfully long time ago. No wonder I am tired these days! He was needing some help finding out what a couple of items he has might be worth, but didn't have pictures of them to go by, so I thought a walk through the shop might help us get a better idea. We did find something similar and he may try to send me a photo of what he does actually own. But, many times, the area of the United States you are in will help determine the value as well. Large cities usually have higher prices on their things than we may have here in North Platte, or the reverse could even be true. It all depends on condition and age of the item we are trying to assess.
Our 1964 NPHS class meets for lunch at the Airport restaurant on Wednesdays at noon. It is a fun time to reminisce and compare notes on what we all remember: Who did what and why. That is the funny part — the "why." But it is fun to stay connected and in touch with those who live in North Platte or surrounding areas. It is always a fun time to be reminded of who did what and why we did it and the classes we loved and special teachers who helped us through those many years ago.
Anything and everything has stories to tell. Sometimes it takes a bit more research than others do, but all in all those extra special moments when we find something unusual or eye-catching or just plain awesome, that is what this business of antiquing is all about. All of the dealers in the CR Rustic mall are sprucing up their booths each and every week and also getting prepared for the holiday season coming up fairly fast these days. I need to go in and rearrange a bit and start decorating for the Christmas holidays myself, but I usually try to wait until Halloween is over before I do too much decorating. I don't want to get tired of everything before the great holiday actually gets here!
But, getting back to my pretty vintage flower container in my photo today, I presume it to be worth around $35 to $45 as it is complete with the actual flower frog, which is removable and easier to fill the water bowl that way. I love when we find something with such sturdy attributes and beautiful trim and/or designs in the metal. It looks like a large flower with frog being the center. It was definitely wrought by hand, I believe, as it is not perfectly round, which makes it even more fun to have sitting in my home. I love imperfect items, one of a kind items, the rare or the unusual. I guess that is definitely one of the main reasons I love this business so much. Flaws and imperfections showed things were handmade back in the day and those certain qualities will help identify with the type of house decorating you might want to do in your own home. I love the unusual, but many people do not. They may want it absolutely perfect, and I am totally OK with that — but I want something different.
As the holidays are approaching, let us all remember the true reasons for the seasons, each and every single one.
Last Saturday my son, John, and I drove out to the old farm home where I was raised. John rode the combine as our friends who rent the ground were combining/or picking the corn. They had asked me to come out and ride a round or two with them. I was afraid of the climb into the combine itself so I stayed on the ground, but what a beautiful day it was.
I remembered the days I would follow my dad when he was digging the ditches for irrigating the corn by tubes. I walked barefoot on the ridges of the ditch he was cutting so I could look for bits of arrowheads or flint or anything that the digger might bring up to the surface. The ditch was maybe three feet deep or so, but I would carry a coffee can and easily could fill it up with bit of flint or even parts of arrowheads or spear heads occasionally. Naturally, with my bare feet, I would feel the bits of flint quicker than actually spotting them. What a fun and a bit wearing process this would be every year, but I loved being out in the field with my dad — I hated doing housework inside with mom, and I guess from the way my house looks today, I still do. Fond memories!
Have a great week ahead, everyone. Please remember to treasure your memories as they are the best treasures ever.