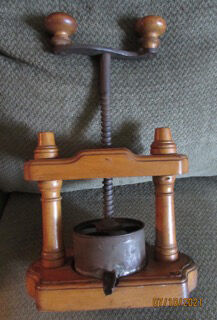 I think I have written about this particular oil press once before — many years ago — but I have started cleaning or I should say "clearing" out some of my prized positions and taking them to the antique mall in my booth (CR Rustics).
This particular oil press is made of wood with metal press pieces and a metal holding tank/container at the bottom. It is so very primitive that I have a hard time letting it go. You know me, I do love those old primitives including tools of all kinds and many other home made like or vintage style accessories that helped the homemaker in her daily chores.
Absolutely no names or numbers on it anywhere. I did give it a good cleaning and oiling with my Howard's Orange Oil, and it really shined up the wood and even the tin was not as rusty after using it. I gave it a good rub down and it is looking pretty good. Pieces like this one are hard to find nowadays, sad to say. I cannot even remember where I found it. Probably at a farm auction years ago. So very hard to remember the history of all my special goodies. I should have kept better track, but of course I did not. And since I have moved several times since, things get put in different boxes and stored in another storage place until I find room to unpack it and bring it into the apartment. But, I have to say this might be one of the oldest pieces I've owned. I am guessing its from the late 1890s or even a bit earlier. No dates, no numbers, nothing to help me identify this particular piece.
Believe me, I have gone online many times to see what information I could find on it. Lots of similar ones, of course, but some of them do not give any info on either. Sometimes you have to fly by the seat of your pants and I guess this is one of those times.
I feel pretty positive about the estimated time period, however.
When looking over this piece and trying to find out any "hints" of origin and all of that, I feel pretty certain that it was used on a southern farm or homestead or maybe west — like California where the grape vineyards were and still are plentiful. I feel that this particular press was probably used for olives, however. as you can do only a few at a time.
We don't really appreciate just going to a grocery store and picking up a bottle of olive oil off a shelf and taking it home and using it the very same day. Many years ago when one picked a few fresh olives or grapes, you were able to squeeze them for their oils and use it immediately in the homestead. Quite amazing, actually. And I love the structure of this vintage press. If only it could talk, what a story it would tell.
As I am finally going through some of my extra nice vintage pieces I have had for a very long time, I am taking some to my shop in order to prepare for the holiday season and its normal shopping for unusual or rare pieces begins. Need to do some rearranging and definitely to bring in a bunch of neat old stuff that those who collect such things might just be interested in adding to their collections or for giving as gifts.
Primitives are high on the list of "hard to find" items. And finding items in good condition is hard, as many are disappearing rather quickly these days because they were never taken care of properly. For instance, the oiling process to keep the wood from drying out and cracking. Or the metal pieces to rust quite badly and needing repaired or replaced if totally rusted clear through and is broken, too. I have to admit, any collection of vintage pieces, no matter what they may be — they all take time and work to keep them in their "prime condition" so they may be once again handed down to another generation. Another generation to take care of them and to continue passing down to other family members who will take care of them as you did once.
As I am starting to rearrange my booth at the CR Rustic Antique Mall here in North Platte, 108 E. Fifth St., and to start getting ready for the holiday seasons soon approaching, it is so much fun to watch what is being brought into the shop. Actually, any time of year is fun, to be honest, for watching what is brought in. Every dealer in the shop probably does the same thing that I do each time I come in to rearrange or restock — I walk the aisles to see what new or old items have been brought in to each and every one of the different booths. The variety is amazing. I usually walk the whole store at least once a week. And I try to help out a bit on Saturday afternoons, so I like to be more aware of what was brought in during the week — especially when customers may ask about certain things they may be hunting for. I wish I had a better memory, however. I may see something one day and forget it the next — being old is sometimes very difficult.
By the way, I did forget to mention that I think the wood on this particular food press is probably maple because of its weight and its strength, as well as the fine texture of the wood for lasting so long. Many of our family farm tools were made from maple because of its strength and durability factors. So important to know your variety of woods as you never know what you might find on a road trip or buying trip of any kind. Whether you are shopping to restock your business — or just to find some neat items to add to your own collections along the way. It is an awesome way to spend your time — you never know what you might find on one of your road trips to anywhere.
I just might remind everyone, also: I have shut down my What's It Worth classes for the year. I am hoping I will regain my energy level and maybe start them up again next spring. Time will tell — but time is also reminding me that I have been in this business over 50 years now. I have loved every moment of it, telling stories of my treasure hunts along life's way but the most fun part are the stories I have with the friends I have travelled with on road trips and antique hunts and all those other trips that may have even been a bit of a "lost cause" trip — taking time with the friends is probably the most important thing any of us can do at any age.
So please keep on trucking on and finding all those special little places along each and every road where you can stop for a bit and stretch your legs. And you might even find an absolute treasure along the way.
Just a reminder, CR Rustic Antique Mall at 108 E. Fifth St., is open on Tuesdays thru Saturdays — and as the holiday times get closer, those hours may change a bit. I just want everyone to take time out to smell the flowers and enjoy the variety that each antique shop may have arranged for every body to scout out. We are lucky to have so many shops in our fine town so I hope you will take the time to look through them all — and maybe you will strike it rich or find something you have been looking for for a very long time.
Have a great week ahead, everyone — and please be safe out there. Have a great October and fall festivities.