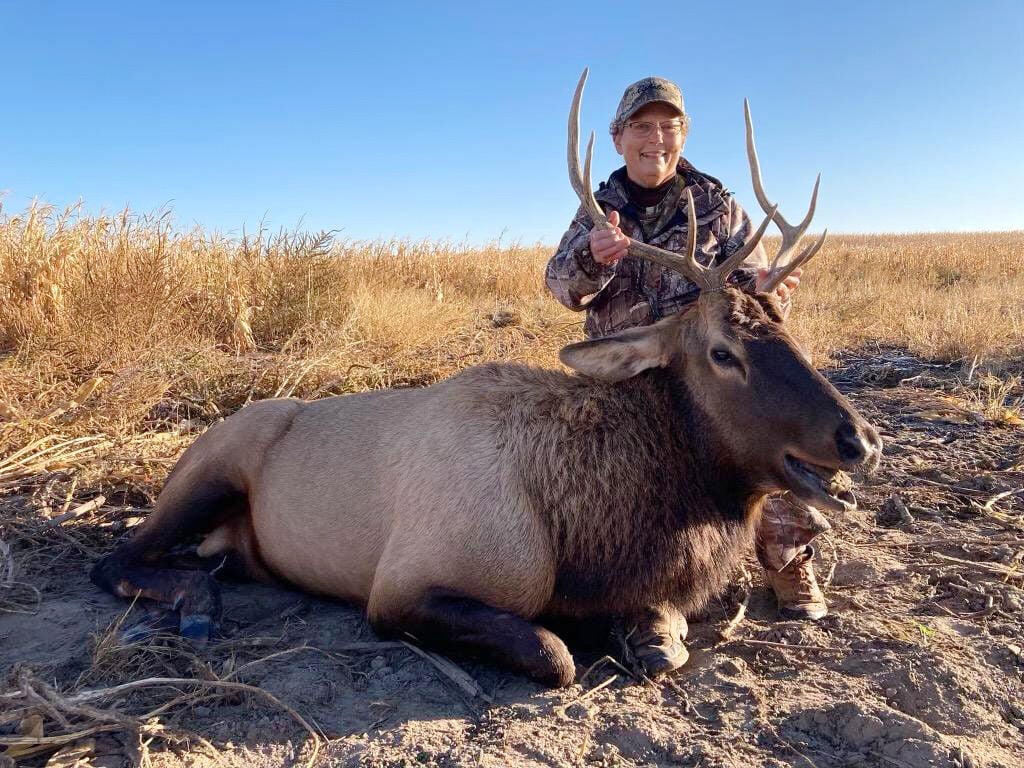 I've got a very cool story for you this week. Now, a story about a 70-year-old lady hunting elk here in Lincoln County is pretty special, but a story about a 70-year-old lady hunting elk with a broken knee cap and banged up shoulder from an automobile accident on Oct. 8t, just days before her elk hunt, that is really special!
Rojean Einspahr lives here in North Platte. She has been hunting since childhood and introduced her husband to hunting. Together with her son, the Einspahr's are definitely a hunting family.
"One year I got three deer. I was teaching in Maywood and I was coming home and a deer jumped out in front of me and incapacitated my car. That was my first deer. We hunted that Saturday and then went to Holstein to a wedding. Later that night my husband proposed to me and gave me a diamond. That was my second dear," Einspahr said smiling. "We came back for Sunday and I shot my deer, my third deer. Three deers in one weekend!
"Hunting was a bit different this year," Einspahr told me. "First of all, I had RSV (a respiratory virus) and Oct. 27 was the first time I got to go out to even try and hunt, because my husband and I had both been down with RSV. My son took me out hunting. We hunted different places and we saw elk, he would call some, but they were always on property we did not have permission to hunt."
I asked Einspahr what intrigued her about hunting.
"Well, it was always a family deal," Einspahr said. "We all got together the night before, you know, all the stories and all the plans. It was the excitement of locating the deer, the hunt. After the hunt, it was the re-telling of what happened and all those things just make it fun.
"The first year I went hunting is a memorable hunt for me. I went hunting with my brother and he let me use a .243." Einspahr and her brother were sitting on the side of a canyon and saw a deer across the draw on the side of another hill. "I thought it was too far away, but my brother said, 'Sis, you can do it. Just pull the trigger,'" She got that deer.
"It was a few days before we had to have our applications in I was talking to my son and husband and said I thought it would be a good idea if they put in for their permits," Einspahr said. "My son said he thought I should put in for a permit too, but I didn't know ... I wasn't walking or getting around very good at the time."
They convinced her to apply for a tag.
"I was at home one day and I got an email they said I had gotten my bull permit," Einspahr said. "A little bit later, we got emails that my husband and so got cow permits."
The question now was whether they had enough freezer space.
"On the morning of the hunt we were driving into a field and my son said he saw the reflection of an elk in a water pit," Einspahr said. "We drove back by and you could see the elk in the reflection. There were dark weeds all around him, but you could see him."
The plan was for her son to drive her up to a point past the elk. She and her husband got out and slowly worked their way back to a patch of brush that would provide them with some concealment. The bull jumped the fence, onto the right side where Einspahr had permission to hunt. The bull ambled along through the tall grass and weeds. Einspahr watched, waiting for a clear shot. The bull turned and walked up a hill, but Einspahr was looking right into the sun, and the bull disappeared over the hill.
Her son made a few cow calls and the bull reappeared. The bull walked a few steps toward Einspahr. She raised her rifle up to her shoulder, braced it across her shooting stick and centered the elk in her sights. She pulled the trigger at about 150 yards. Her .264 Winchester Magnum covered the distance in a millisecond. The bull went down with a thud. Successful hunt!
"It was exciting," Einspahr said as she finished up her story.
Congratulations, Rojean. I'm guessing you will remember this hunt for a long time. And a big thanks to her husband and son for putting this hunt together and getting Rojean in/out of the field safely.
Inaugural Landowner Season
Nebraska's inaugural Special Landowner Deer Season is over. This season required a special $8 Landowner Deer Permit, of which 3,690 were sold. The permit was valid only for the three-day season, Nov. 6 to 8, and was not valid for any other deer season.
The Special Landowner Season Permit allowed a qualifying landowner to hunt on his or her property on the Saturday, Sunday and Monday before the opening of the November firearm deer season. This season was created by the passage of LB 126 in the Nebraska Legislature's 2020 session.
Initial results from the Nebraska Game and Parks Commission showed that hunters had a 24% success rate during this season. The harvest includes 590 whitetail bucks, 100 whitetail does, 177 mule deer bucks and 21 mule deer does. Overall harvest was highest in the Blue Northwest (81), Frenchman (81), Wahoo (77), Blue Southeast (71), Platte (68), Elkhorn (66) and Loup East (64) deer management units.
Nebraska's firearm deer season wraps up at sundown tonight. I hope everyone had safe and successful hunt. Before I left for deer camp, I had heard a few stories from hunters about seeing less deer than previous years. We will have the final numbers from the Nebraska Game and Parks Commission in a few months and see if these observations were on target.