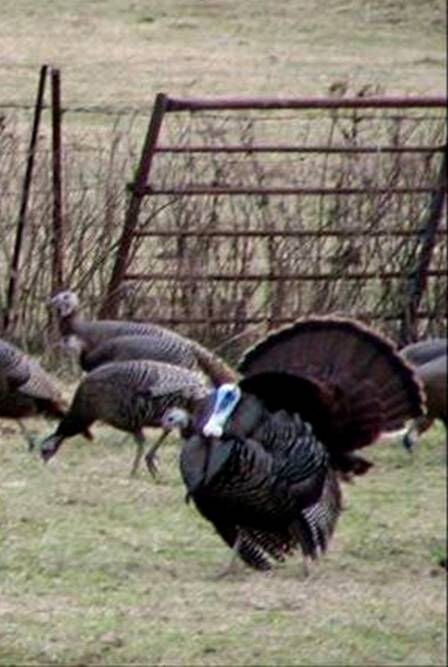 OK, there is about a month left in the 2021 spring turkey season. May 31 is when the season ends. Gobblers have been pressured and are now more wary and are familiar with the ways of hunters. Turkeys are smarter than a lot of hunters think.
These birds adapt to hunting pressure just like they would adapt their daily routines to deal with pressure from any predator. That's how they survive. As a hunter, you have to recognize that the dumb/easy ones are already in the freezer. Late-season gobblers are more of a challenge to hunt. Here are a few tactics you can try:
» Go where the birds are: Forget your usual spots. You're not going to find a big gobbler this time of year unless you look for him. That means scouting — a lot of scouting. When you find them, figure out how to get where they are. Over the years, I have found that it means bivouacking in the area before the sun comes up and waiting. Your particular situation may take some additional ingenuity — and of course, permission to be on private property.
» Hunt light: Don't rely on your usual set ups. Leave your big blinds and most of your decoys at home. Adapt your tactics to be more flexible and ready to move quickly — running and gunning as I call it. You need to find traveling gobblers and set up along the paths they are using.
» Call less: By this time of the season, gobblers have heard just about every call a hunter can make. I believe that gobblers that survive the early part of the season learn that calling means danger and they tend to stay quiet. A gobbler may still come to your calls, but he may never answer you. These wily toms will often hold up outside of shotgun range and watch for the slightest movement. You have to move toward the gobblers you see, stalking quietly and using all available cover. Even when you are ultra-careful with your stalking, successfully closing the gap and closing to within shotgun or bow range is a tough proposition. Turkeys can spot the slightest bit of movement. I had a Ph.D. turkey biologist tell me once that turkeys can spot movement and translate that into a threat eight times faster than other prey species. I'm not sure how a statistic like that can be quantified, but I do know that turkeys have spotted me far more often than I care to admit while trying to sneak up on them. Now is the time of the season when good camouflage, that matches your hunting terrain, becomes critical.
» Hunt later: I think gobblers stay closer to the roosts and breed the hens they have been with all night. By this time in the season I wait until late morning, or even the afternoon, before I hunt. Most of the hens have been bred by late morning and have moved off to nest. The gobbler is still on the prowl and a hunter with a hen decoy has a chance to fool him. Once I hear or spot a gobbler I will quickly set out a hen decoy. A tom that does not see a hen where he expects to see one will most likely drift away before you can get a shot. Once I set up my decoy, I move off to some cover about 20 yards away, then a make a few kee-kee-run calls. Quite often you can get a shot at a gobbler who is sneaking in by circling and watching the decoy. A little movement from your decoy can be helpful, so I'll attach some 10-pound test monofilament to the stake the decoy is sitting on and run the line back to wherever I'm hiding. I can give the decoy a little wiggle occasionally to draw a tom's attention.
» Hunt specific areas: Roost trees and strut zones are mt highest priority spots this time of the season. I want to find a spot that is along the path a gobbler follows from roost to strut zone. Until pressured, he'll follow this path about the same time every day. Find a good spot that provides plenty of cover and ambush the bird when he walks past. I like to find a spot that keeps the gobbler from seeing me until the last second, like tucking into a row of hay bales or the thickest tangle of cedar trees. The downside of this tactic is that I can't see the gobbler either until he is in my lane of fire. This is a necessary tactical gamble because if you can see the tom coming from a mile away, he can see you too.
» Buddy hunt: Grab a buddy who is a good caller and head into the timber in the afternoon. Find an open spot where a decoy can be seen, set up the decoy, then plant your calling buddy near it. His job is to call and not move. This way the sounds come from where the decoy is located. You, the shooter, need to move off about 20 to 25 yards and wait for the gobbler to come in. His attention will be on the sound and decoy, and that just may give you an opportunity to get a shot.
Since walleye fishing is another big spring activity I thought this recipe would be nice to offer. Here's what you'll need:
Walleye fillets (about 2 pounds worth)
2 teaspoons of fresh ground black pepper
2 cups of parmesan cheese
Take a square of aluminum foil and shape it so that it forms a trough to lay a fillet in. Leave enough extra foil available to fold over the top of the fillet before grilling.
Slice the onions into thin rings. Lay in enough onion to cover the bottom of the foil trough. Lay a fillet on top of this bed of onions.
Cut the lemons in half and squeeze the juice of ½ a lemon over each fillet. Sprinkle the fillet with roughly ½-teaspoon of black pepper. Cut the butter into pats and arrange ¼-stick of butter around the fillet. Sprinkle on ¼-cup of Parmesan cheese. Top with more onions.
Wrap the extra foil over the tops of the fillets to hold everything in a tight bundle. Place on a grill over a campfire let it cook for 3-5 minutes. Turn the bundle so the other side cooks evenly for another 3-5 minutes. Remove from the fire and check.
A done fillet should be white, flaky and tender. If a fillet needs to be cooked a little longer, simply close up the foil and toss it back on the grill. The foil keeps all the juices inside and "steam cooks" the fish. Man, it just doesn't get much better than this.