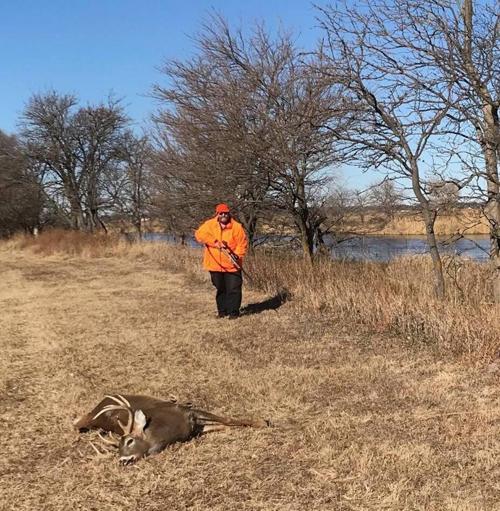 An excellent question for this time of the year. From a biology standpoint, the rut is a roughly three-month period in the life of a buck when they are getting ready to breed. The motive is survival. All animals must mate at the right time for the species to survive. For deer, there is a period of about two weeks in the fall where things just go crazy. The desire to breed will often make a buck lose all its other normal "survival" instincts. For many hunters, it is the best time to see that monster they have dreamed about.
One negative aspect of the rut is that bucks are on the move. They may be chasing a doe or they may be pushed around by harvest operations. They can pop out on a road at any time and that makes driving a bit more hazardous. In a study done by the Michigan Office of Highway Safety Planning, more crashes occur in November than any other time of the year. The times coincided with the peak of the Michigan whitetail rut. Those statistics parallel data all over the whitetail range in North America; it is the same for Nebraska. About 200 people are killed every year in deer-vehicle accidents.
Even for those who don't hunt, or even venture out of city limits, deer doing odd things can impact their way of life. You may see deer running through yards, down the street, jumping fences or crashing through store windows.
At this time of the year, bucks seem to wander through the woods without being cautious. I've watched young bucks walk by me at maybe 5 yards away and never act like they knew I was there. They had their heads down and were sniffing the air constantly for the scent of a doe they must have been following.
If the firearms season overlaps the peak period of the rut, I go to my blind in the morning and will stay there until dark. During the rut, bucks move all the time! Dawn and dusk aren't the only time you can see bucks. Over the years I have shot some nice bucks in broad daylight, all through the day. Some of my best bucks have been taken between 10 a.m. and 1 p.m.
River otters
Most people have never seen a river otter in the wild, especially in Nebraska. River otters were a valuable item in the fur trade of early Nebraska. From the 1700s to the early 1900s, river otters were taken for their furs and meat. These animals were extirpated from Nebraska by the early 1900s due to unregulated harvest. There were efforts to re-introduce the river otter from 1986 to 1991. A total of 159 otters were reintroduced into the state's waters. Their recovery and subsequent delisting from the state threatened species list in 2020 is a great example of success in conservation. River otters now can be found nearly statewide with populations in most major river systems.
It was probably about December 1990 when I was sitting in a tree stand along the South Platte River near Roscoe with my muzzleloader. I heard splashing and squeaking noises coming from the river. It took a while, but eventually I saw a river otter along the south bank. I consider this one of my best days in the field! I only got to see the otter for maybe 10 minutes before it moved off elsewhere, but it is indelibly stuck in my memory.
Nebraska's first limited river otter harvest season will open Nov. 1 and those with a valid fur harvest permit will have the opportunity to trap one otter per season. The season will run until Feb. 28, 2022, or three days after the 75th otter has been harvested in the state, whichever comes first. The NGPC's goal is to manage and maintain healthy, thriving populations for the long term. This season will provide data about statewide river otter distribution, while continuing to allow the population to expand. Trapping is the only legal method of take. Harvest is allowed statewide.
Each day, before setting traps for river otters, permit holders must confirm the harvest limit has not been met and the season is open by calling 855-881-8905 or checking Game and Parks' river otter season status webpage at outdoornebraska.gov/ottertrapping. Any harvested river otter must be reported within 24 hours of harvest by contacting the nearest Game and Parks office, conservation officer or by calling 855-881-8905.
The otter must be tagged officially by Game and Parks within two business days after harvest, with the permittee furnishing the date and location of harvest before attaching the harvest seal.
The otter should not be frozen. See the "Small Game and Waterfowl Guide" for a list of office locations and conservation officers at outdoornebraska.gov/guides. Any incidental take of a river otter outside of the harvest season, or beyond the limit of one per harvester, is unlawful unless the animal is immediately released if viable or the harvester reports the take and turns over the carcass to Game and Parks.
Even though it will be legal to take an otter after Nov. 1, I don't think I would do it. They are too fun to watch.
Trout stockings
Fall is also a time when the Nebraska Game and Parks fisheries crews are working hard. They have been stocking the trout they have reared this year. Here is where some of the trout are going:
This week, Lake Helen in Gothenburg received 1,900 rainbow trout. Plum Creek Park Pond got 675 trout. Windmill State Recreation area near Gibbon received 540 trout. Next week, Birdwood Lake, just west of town, will receive 2,500 rainbow trout. These trout are the basis of a great winter fishery for North Platte area anglers. Melham Park Lake in Broken Bow will get 750 trout next week.