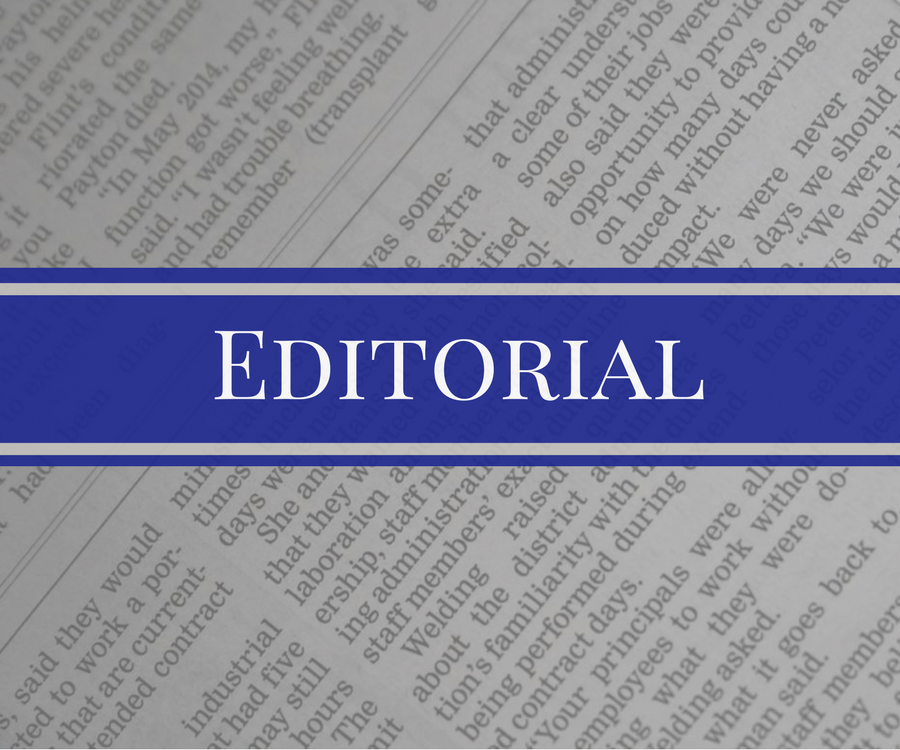 Leave it to a famous Hollywood movie to sum up the Holy Grail that Americans expect their local governments to seize this time of year.
Early in 1985's original "Back to the Future," as someone in a van in Hill Valley's town square urges the re-election of Mayor Goldie Wilson (the one Marty McFly later — or earlier? — encourages to run one day while Marty visits 1955).
"Mayor Wilson's progress platform," the van's bullhorn bellowed, "means more jobs, better education, bigger civic improvements and lower taxes."
Those who must grapple with taxes and budgets in City Hall, the courthouse or school district headquarters — no matter what they said during their campaigns — learn the contradictions in Mayor Wilson's campaign promise once in office.
The newest ones are learning them now during Nebraska's annual "budget season," when city councils, county boards, school boards and other consumers of property taxes try to reconcile demands to supply everything for nothing.
They all deserve to be judged fairly in tackling their frankly impossible task.
As a Telegraph story last weekend illustrated, west central Nebraska's local officeholders generally aren't the cause of some politicians' charges that property taxes are still out of control.
Those would-be Mayor Wilsons should look to Salt Creek and the Missouri River instead.
They cried out in February that statewide property tax requests had grown 4.3% a year between 2010 and 2020.
As if to mark this year's 25th anniversary of trying to control property taxes with local spending and tax-rate lids, they called for yet another lid — this one a 3% cap on growth in annual tax requests.
Before you cheer, note this well:
For 25 years, Nebraska's local lids have featured limited exceptions. So would the proposed 3% tax request cap in Legislative Bill 408, which remains alive for 2022.
Taxes to repay bonds, for example, are excluded from current lids. And voters can override them. LB 408 would do likewise.
But what of that 4.3% growth rate over 10 years that so concerned the eastern powers that be?
It covers property taxes for all purposes. It rolls in taxes to repay bonds. It ignores any existing voter-approved overrides.
The better to rile up voters? You decide.
Be that as it may, The Telegraph adopted their kitchen-sink approach. We looked at property tax requests of all types for our region's major tax consumers since 2016. (Statewide growth over that five-year period was 3.7% a year, by the way.)
Average annual growth was far lower — 1.2% a year — for our area's cities and villages, counties, school districts, community colleges, NRDs and ESUs.
Many had one or two years when growth exceeded 3%, a failing that for smaller towns and counties might be a matter of a few dollars rather than a few hundred thousand.
Nonetheless, our region's leaders have held the line on property taxes in recent times.
Who's responsible, then, for statewide tax collections growing so fast that they must be made to cope with yet another lid?
Three guesses: Douglas. Lancaster. Sarpy.
Subtract tax requests in those three counties from the statewide totals, and average annual growth in the 90 counties outside the Omaha-Lincoln orbit was just 2.1%.
But the three metro counties combined for 5.7% average growth in tax requests, led by 7.7% growth as a group in 2019-20.
It's not hard to guess why. Look around on a trip to Omaha, its suburbs or Lincoln. You'll spot new housing developments or shopping centers on most every trip.
We expect to wait a long time for a Unicameral proposal on property taxes that would cap their annual growth only in counties with populations over 100,000.
But no matter where we live, we expect police and fire protection. Reliable roads and utilities. Good schools. The services the state created counties to provide. And so on.
We want those things as much as our metro counterparts. But no matter what Mayor Wilson promises, it all costs money, no matter who's asked to supply it.
Once North Platte's local governments finish approving budgets next month, their tax requests this year likely will again lag behind the would-be 3% lid.
This isn't to say you will or should approve of every decision they make.
But we're pretty sure they've learned just how worthless Mayor Wilson's promise is.