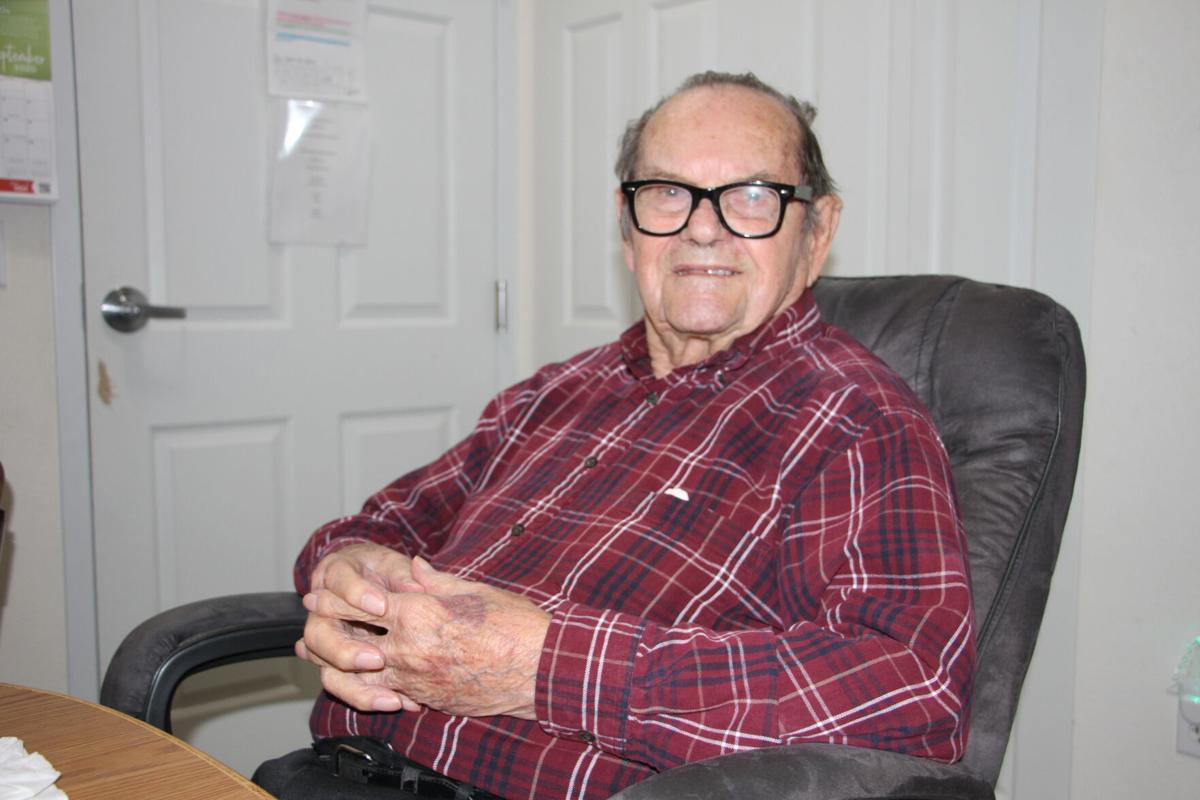 Veteran Steve Fleck enlisted in the U.S. Navy in 1942 when he was 21 years old and served until Dec. 6, 1945.
On Nov. 16, the North Platte resident will celebrate his 100th birthday.
"I was working in Torrington, Wyoming, and thought I'd better get to North Dakota and sign up," Fleck said of his war service. "I really didn't want to be in the Army, so I signed up for the Navy."
He did his basic training at Great Lakes Training Station in Illinois and then was sent to Northwestern University for radio training. He followed that up with further radio training in California and finally New York.
"Before I was put aboard a ship, I was in New York City and that's where I got the nickname 'Dakota,'" Fleck said. "The service people put on a dance for our servicemen. I met a girl there and she said, 'I'll just call you Dakota,' because I'm from North Dakota."
Fleck said he was kind of a flirt and one of his fondest memories of that time was when he was in New York City and saw all the pretty girls. He loved to dance, especially polkas, and found ready dancing partners while he was there.
"Then they put me aboard a ship — the USS Dorothea L. Dix," Fleck said, "where I was the radio operator."
Fleck said the ship was a troop carrier.
"We took a load of troops to Cairo, Egypt," Fleck said. "We made one invasion from Cairo to Sicily."
The ship was assigned to bring captured German troops back to the United States.
"Since I could speak German, I spoke German to them," Fleck said. "They didn't want that war. They hated Hitler."
He said many of the Germans stayed in the United States after the war.
"They didn't want to go back," Fleck said. "Some of them worked in North Dakota, South Dakota, Nebraska. One of them worked for my uncle up there in North Dakota."
Fleck served in both the European and the Pacific theaters during World War II.
"I talked to other ships, but it was all coded messages," Fleck said. "I was in Guam for a while, then they took us to the Philippines. The Japanese were taking the American prisoners back to Japan, and one of my cousins, Tony Fleck, was aboard that ship that was sunk down in Manila Bay."
As the radio operator, Fleck was able to get sports scores in Morse code from the mainland United States.
"When I was aboard ship, I did the sports scores for the troops," Fleck said. "I'm not bragging, but I could copy Morse code very fast."
He copied the sports news from San Francisco and made a rough copy that the troops passed around the ship.
"After they dropped the bomb on Hiroshima, the war ended," Fleck said. "I asked for my discharge, but an officer on my ship at the time, the USS Knox, asked me to accompany him back to the Philippines to bring back the American troops."
After that trip, Fleck was discharged and moved to Kansas City because he didn't want to go back and work on the farm.
"I worked for the Ford Motor Company in Kansas City," Fleck said. "I looked in the paper and saw a job opening for a radio operator. I applied for the job and the guy that hired me was a professor at Rockhurst College in Kansas City.
"He said, 'We've been waiting for you.'"
That was when Fleck started his long career with the Federal Aviation Administration.
"I met my wife, Ruth, in Kansas City when she was working in a cafeteria," Fleck said. "She was sitting up there in a chair and I was sitting with another girl. I looked over at her and went over and sat down with her. I was a flirt."
They starting going out and Ruth took him to meet her parents.
"Her dad told her to bring me down to the farm, so I went to the farm to meet her parents," Fleck said. "Guess what the first thing he had me doing — milking cows. He put me right to work."
Fleck asked Ruth to marry him and they were married in Kansas City.
From there, Fleck continued to work for the FAA, earning promotions along the way until he eventually ended up in North Platte.
Steve and Ruth had six children together. She died in 2013 on their anniversary.
Their children are Linda Toll, Mick Fleck, Duane Fleck, Cindy Huntsman, Marsha Sedlacek and Madonna Madsen.
His daughter Cindy said there are a "flock of Flecks." Steve has 21 grandchildren, 51 great-grandchildren and seven great-great-grandchildren.