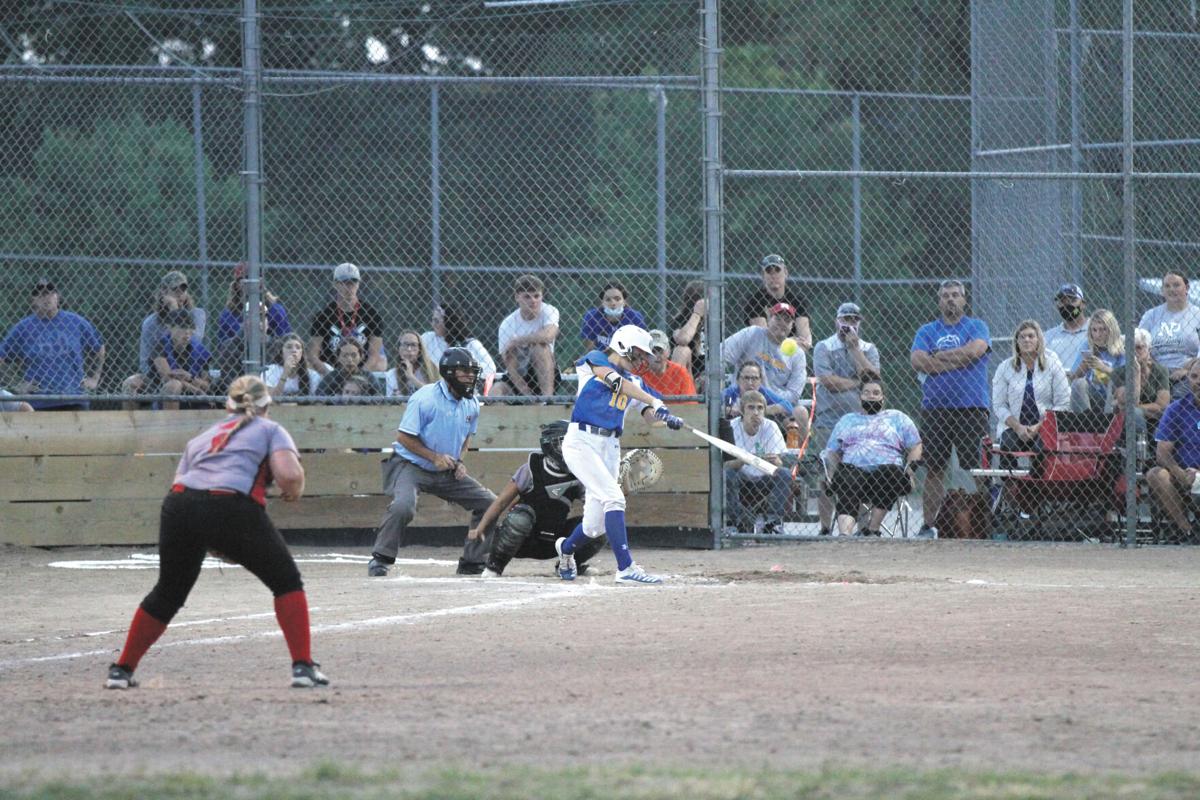 One swing in extra innings broke a 0-0 tie and decided the North Platte softball team's fate Monday against McCook.
With a runner on second due to extra inning rules and Sydney Barner leading off the inning, it didn't take long for Barner to see a pitch she liked and send it over the center field fence for a walk off two-run homer.
Behind Barner's walk off and pitcher Tatum Montelongo's dominant performance, North Platte defeated McCook on Tuesday at the Dowhower Softball Complex.
"McCook always plays us tough," coach Jeff Barner said. "It's a good rivalry in softball. It's always fun. We just match up pretty well. Their pitcher was hitting her spots today."
Montelongo pitched a complete game and held McCook to four hits. At times, she was unhittable, and when the Bison made contact, they hit it right where the North Platte defense was.
"Very seldom do I ever see her get flustered or see a moment too big for her," Barner said. "She's amazing. She has a lot of confidence in what she's doing and in her teammates. That confidence in the circle helps her, but also helps our team on the defensive side too."
Bison pitcher Emma Kehler pitched just as well, keeping North Platte to five hits, using her sinker to force North Platte to pop out much of the night. When the Bulldogs weren't popping out, they were hitting shots straight to the McCook defense.
"We were aggressive again trying to go after the long ball," Barner said. "We were putting them up a little too high instead of driving them. It was a good combination between them and us, but yeah, it worked out in the end."
Both teams had their chances to get a run on the board in regulation. Abby Orr and Ellie Hanson hit back-to-back singles with one out in the bottom of the fourth for the Bulldogs, but consecutive fly outs ended the inning.
McCook had a runner reach second in the top of the fifth, but two strikeouts from Montelongo ended the threat. North Platte had another chance in the bottom of the inning, when Kaitlyn Aden reached third and Barner reached first with two outs, but Aspen Nelson grounded out to the pitcher. Orr reached second in the bottom of the seventh, but didn't score.
Momentum changed in North Platte's favor in the eighth inning. Teams start with a runner on second in extra innings, and McCook's runner was thrown out at third after attempting to take the bag on a wild pitch.
That left an opening for the Bulldogs, with a runner on second, to win the game off Barner's home run.
"I was tempted to have her bunt," Barner said. "I know she can slap, so I was pretty confident we could get a bunt down. I was actually going to let her have one pitch to drive ... she had her opportunity and took it."
Be the first to know
Get local news delivered to your inbox!