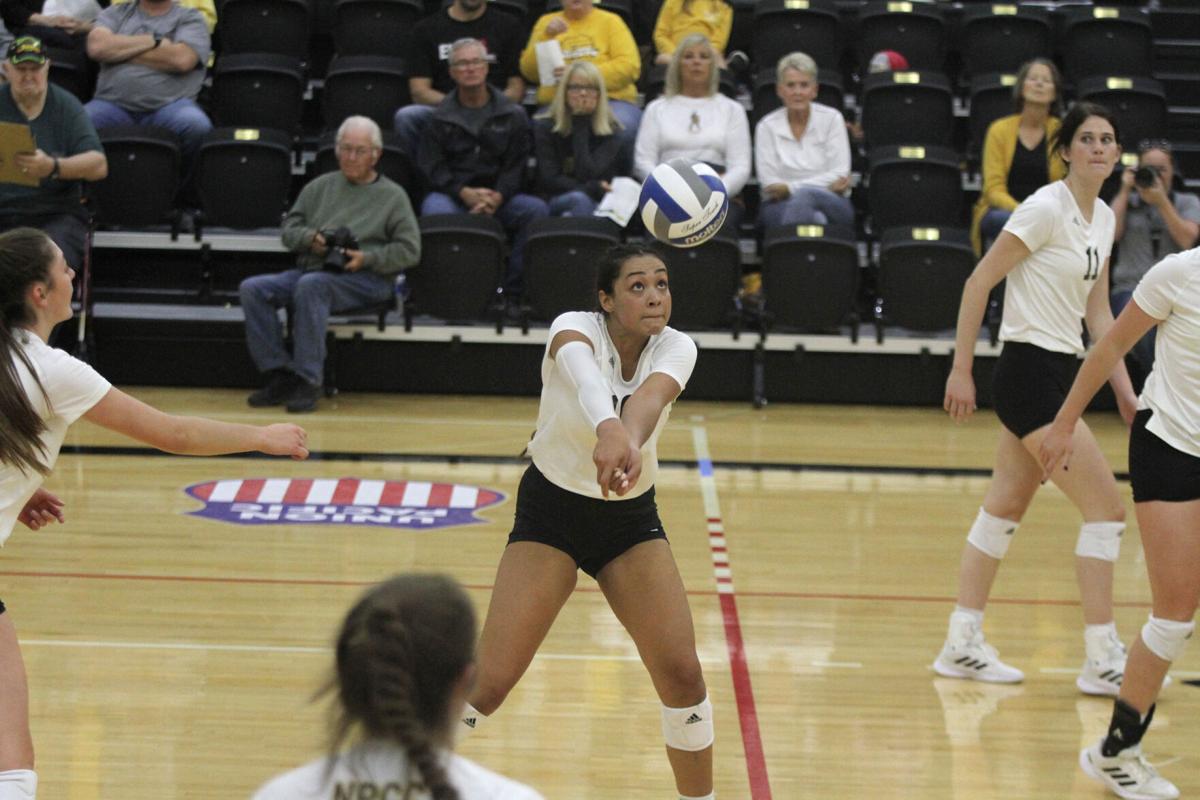 It took a tiebreaker in the third set, but the North Platte Community College volleyball team swept Northeastern 25-23, 25-19, 26-24 at home on Tuesday.
"I'm really proud of how we executed," NPCC coach Alexa McCall said. "That's a good team, and for us to do the things that we did and were able to do, I'm just really proud of how they worked together. I thought they were playing to win, and that's what we have to do."
Northeastern captured the first two points of the match, and the Knights answered with a 6-0 run. Northeastern's 5-0 run midway through the set gave the Plainswomen a 15-14 lead.
Tessa Metschke's ace gave North Platte back the lead at 20-19 and a Madi Neely kill and Plainswomen error gave the Knights the opening set.
"I just thought that offensive, we were more in system," McCall said. "We pushed our pass to be a little better, and I think that allowed our hitters more freedom and gave us more one-on-one situations."
North Platte cruised to a second set win after pulling away early. Kim Krise earned a pair of kills in a 5-0 run that put the Knights up 11-6 midway through.
Northeastern couldn't recover. The Plainswomen pulled to within three at 22-19, but North Platte responded with the final three points of the set, two of which came off kills from Krise and Morgan Ramsey.
The third set looked as if it would follow suit, even going as far as to have North Platte up 22-12. The Knights, however, struggled to get those final three points.
Northeastern returned almost every attack North Platte threw at it. By the time the Knights got a point, it was 23-14. When NPCC got it's 24th point, the Plainswomen had pulled to within five.
Northeastern then scored the next five points to tie the set at 24-24, despite two North Platte timeouts in the process. The Knights, though, secured the victory when Northeastern served out of play followed by NPCC notching the final point to win 26-24.
"I would've liked to see up close out that third set a little faster than we did, but that's getting a little picky," McCall said. "We won.
"It was a domino effect of one mistake can lead to the next, and so I think we have to be able to stop those runs and be able to side out one or two times, and we just didn't execute when it came to that," she added.