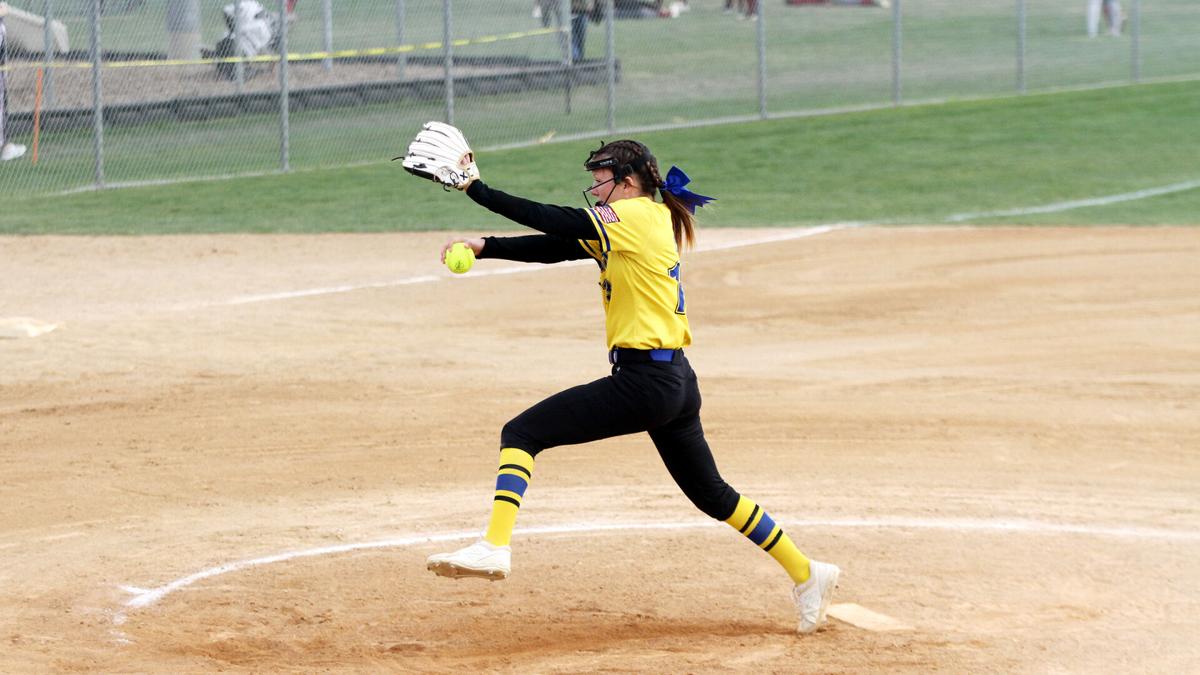 Papillion-La Vista didn't hesitate to swamp its starting pitcher Jordan Bahl after she struck out Sydney Barner, Aspen Nelson and Abby Orr in the top of the seventh.
Twenty-one North Platte batters faced Bahl on Thursday in the third round of the NSAA State Softball Championship in Hastings. Fifteen of them struck out. The other six either lined or grounded out, and not a single runner reached base.
Bahl, an Oklahoma commit, pitched a perfect game.
North Platte couldn't touch Papillion-La Vista's ace with a trip to the state title game on the line. And while Bulldogs starting pitcher Tatum Montelongo held the Monarchs to just three runs — their lowest of the tournament — Bahl's dominance on the mound helped Papillion-La Vista defeat North Platte 3-0 and clinch a spot in the championship.
"Jordyn's a good pitcher. She does a good job," North Platte coach Jeff Barner said. "She controls the ball, controls her pitches. Throws with good velocity. She's tough. We knew that going in. I thought our girls did a good job. We just couldn't string some hits together. We did hit the ball hard a couple times, but just right at people."
Most of the contest was a pitcher's duel. Montelongo kept North Platte in it for five innings, only letting up a home run in the bottom of the second that held the game at 1-0. The Monarchs collected hits off Montelongo, but couldn't really do much with runners in scoring position.
North Platte's ace allowed six hits while striking out six batters.
"She's been pitching really well in this tournament, and she did it again today," Barner said. "She's doing a great job. They did a couple of things and made some adjustments through their lineup, which good teams will do, and put the ball in play a little bit."
As good as Montelongo was, the Monarchs eventually wore her down, scoring twice in the sixth. The Monarchs entered the game having won their first two games by a combined score of 24-0, both of which were by mercy rule. North Platte outscored its opponents 11-4.
Papillion-La Vista put the game out of reach in the bottom of the sixth. Bahl doubled and was brought in on a Brooke Dumont RBI single to center field. Maggie Vasa reached on a fielder's choice, then stole second. Kaylee Wagner scored her on an RBI single to right field to set the score at 3-0.
North Platte had it's top of the lineup — Barner, Nelson and Orr — at the plate in the top of the seventh, but Bahl struck out the side and completed her perfect game.
North Platte will play Lincoln Southwest in the loser's bracket finals on Friday, and the winner will face the Monarchs in the championship game. The Bulldogs defeated Lincoln Southwest 7-3 Wednesday night. The winner of that game will have to defeat Papillion-La Vista twice.
"Right now, we're playing really well," Barner said. "We just got to keep doing what we're doing, have fun and enjoy the moment."
Be the first to know
Get local news delivered to your inbox!