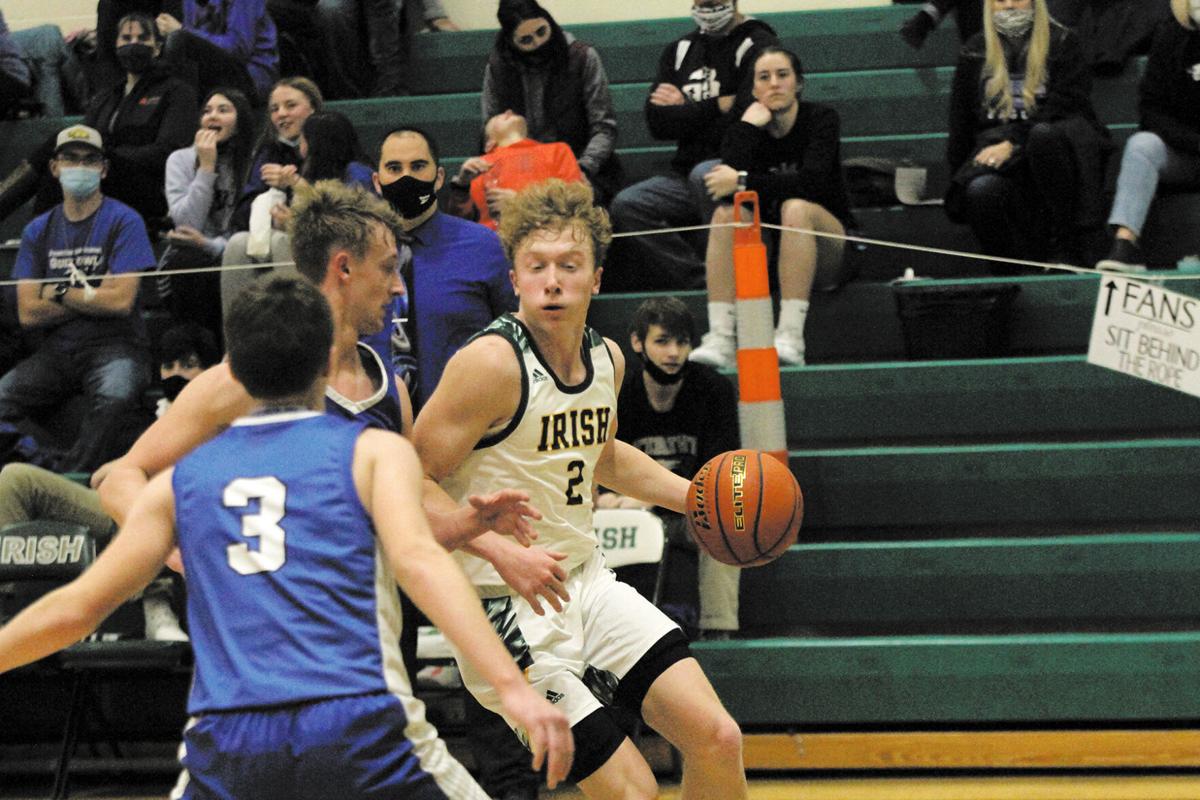 Jack Heiss dropped 14 points and Corby Condon scored 11 — all in the first quarter — as the St. Pat's boys basketball team cruised to a 61-23 win against Overton on Friday at home.
"I was pleased with the way we came out and executed offensively and had good intensity on defense and kind of were able to establish ourselves early," St. Pat's coach Bill O'Malley said. "Just overall, I thought the kids did a nice job."
The Irish were dominant offensively from the start after Condon knocked down back-to-back 3s and Alex Davies made a shot in the paint to push St. Pat's to a 10-2 early lead.
Overton kept up with the Irish at the start, going on a four-point run, and later nailing a 3 to pull within three at 12-9. Those were the last points the Eagles scored until the third quarter.
"Some of that is just discipline defensively," O'Malley said. "If you get overly aggressive, you end up giving up easy baskets, so it's kind of that balance between trying to be aggressive enough to make it difficult on them and not overly aggressive to give up easy baskets."
The Irish held Overton scoreless the rest of the first quarter, through the second quarter and a couple minutes into the third. St. Pat's, meanwhile, went on a 36-0 run, and by the time the Eagles found the basket again, the Irish held a 48-9 lead and had put in some bench players.
"It's really helpful to be able to get everybody in there," O'Malley said. "All those guys are practicing and putting a lot of time in, so it's nice to be able to reward them with some meaningful minutes."
Overton played those players much closer, but it didn't mean the Irish stopped scoring. Brecken Erickson notched a pair of baskets in the third quarter, and Andrew Brosius hit a 3 to put the Irish ahead 54-14.
"I thought everybody did a really good job and I thought they continued to really work to get good shots," O'Malley said. "That's important. When you sub, you want to make sure you are still trying to play good basketball."
O'Malley said it's important for St. Pat's to develop some confidence and momentum with the SPVA conference tournament starting next week. With the Irish's recent loss to Mullen on Tuesday, the Overton win could help bring the team back on track. The Irish play Perkins County Monday in the first round at home.
"We need to feel like there are some things we're doing well, and start to build toward next week," O'Malley said. "We'll have a good matchup with Perkins County on Monday, and we need to play well there. Hopefully, we're able to move on."
Tonja Heirigs hit a 3 with 38 seconds left to pull the St. Pat's girls within one-point of Overton.
She didn't get another shot, as a late travel forced a turnover with seven seconds left, and a foul on an inbound pass meant her day was done as the Eagles held on to defeat the Irish 35-33 on the road.
St. Pat's only held the lead twice despite it being a back-and-forth contest, as Overton matched the Irish point for point. Turnovers dominated the first two minutes, but the Eagles settled down first and jumped out to a 6-2 lead.
The Irish pulled within two twice in the first quarter: Once on Mae Siegel's two free throws, and later on Tonja Heirigs two from the charity stripe.
The teams traded baskets for much of the second, but Overton started to pull ahead when Ella Luther hit a 3 to push the score to 17-11. Overton's Rachel Ecklund made a jumper in the final seconds to give the Eagles a 19-15 halftime lead.
St. Pat's kept it within one possession for the entire third quarter. Siegel made the and-1 layup to put the Irish up 24-22, which was quickly tied on the next possession. Kate Stienike made the front half of her one-and-one free throws, but the Eagles tied the game again with a free throw of their own.
Overton did just enough in the fourth quarter to push St. Pat's away. Ashlynn Florrell opened the quarter with a shot on the inside, then Ecklund hit a 3 from the right corner to send Overton up by five.
The Irish got a huge 3-pointer from Jayla Fleck midway through the frame, and Heirigs tied the game on a steal and layup. Overton, however, jumped back up by four with a Maeli Meier 3-pointer and a free throw.
Heirigs hit her 3 late, but St. Pat's didn't get another opportunity to take the lead following a travel with about seven seconds left.
The Irish girls earned the top seed in the SPVA Tournament and will play in a semifinal Friday at North Platte Community College.
Rachel Ecklund 16, Maeli Meier 6, Jolee Ryan 5, Ella Luther 3, Allie Altwine 3, Ashlynn Florell 2.
Tonja Heirigs 15, Mae Siegel 11, Jayla Fleck 4, Kate Stienike 3.
Jack Heiss 14, Corby Condon 11, Alex Davies 6, Caleb Munson 6, Brecken Erickson 5, Trayton White 4, Will Moats 4, Joseph Heirigs 3, Andrew Brosius 3, Sam Troshynski 3, Logan O'Malley 1, Zarek Branch 1.
Wyatt Ryan 6, Caleb Svarvari 5, Alex Banzhaf 4, Kaedan Wallace 3, Preston Shively 3, Braden Fleischman 2