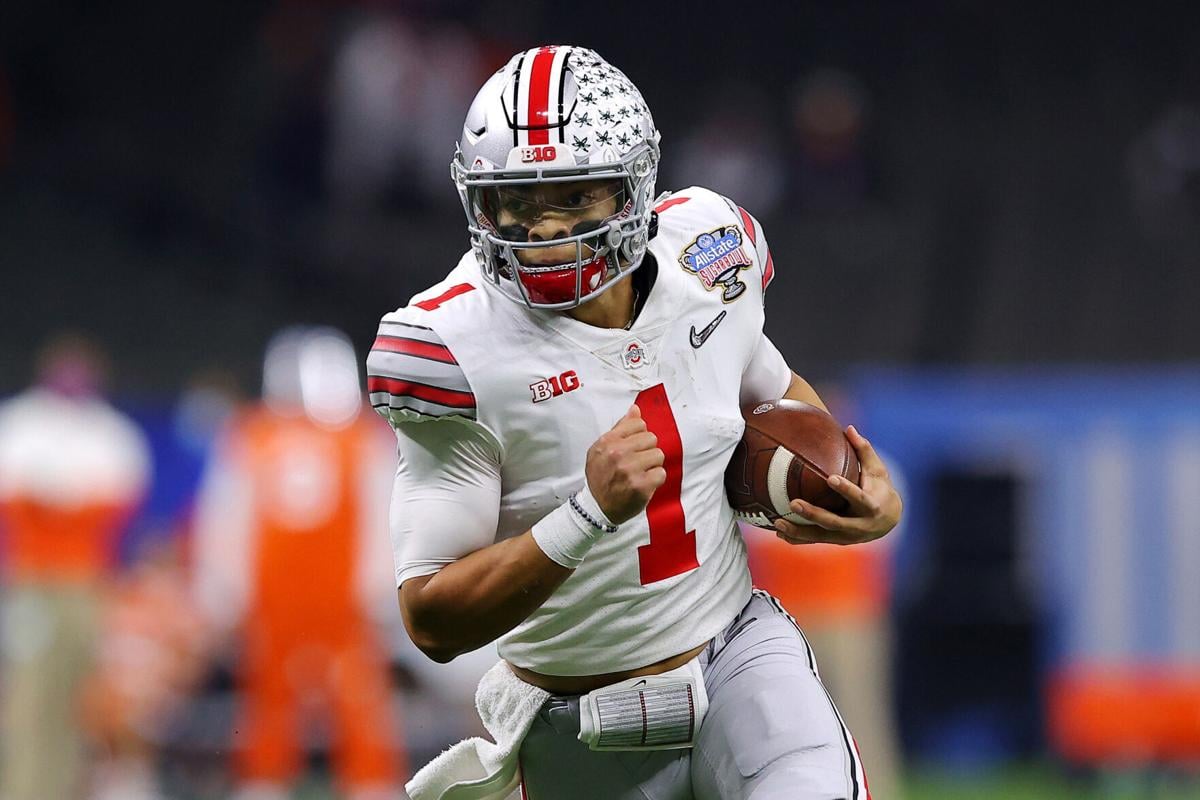 SAN DIEGO — Lying has become so American, it's replacing apple pie.
But in the NFL, truth really gets the Heisman in April, when lying by mortals and immortals is a widely accepted — and expected — venial sin.
Trouble is, so many football men have tells, terrible poker players lousy at deceit, so they are susceptible to rug burns.
One must try to navigate through the smokescreens, swim around the warm spots — and the red herrings.
It's April, so it must be — as A.J. Smith coined it — Liars Month.
The NFL draft takes place in April. And April can be for fools on more days than its first. Suckers born every minute until the lottery breathes its final fabrication.
April is when they fall in and out of love, when intangibles and what happened in real football games either can be forgotten or put aside.
As we speak, Justin Fields appears to be getting Dan Marinoed.
ESPN's Dan Orlovsky said he'd heard the Ohio State quarterback is a "last-one-in-first-one-out kind of guy," insisting it wasn't his thinking. Nevertheless, a bad thing to put out there, including Fields lacking the passion to be great.
Some are even questioning Trevor Lawrence's motivation due to innocuous comments he made to SI. His status isn't changing, but he's right. Chosen ones don't need "chips on their shoulders."
By most accounts, Fields' non-committal attitude isn't true, but April rumors procreate, GMs bite their nails, and visions of Ryan Leaf dance in their heads. Not much wind is needed to flap a red flag in April. Justin is the most physically gifted QB in this draft — with the best arm — but he may be falling.
It happened in 1983 with Marino, when unfounded drug rumors were spread and he dropped to Miami at the end of the first round.
But everyone is looking for the next great QB now. Preferably mobile. But Alabama's Mac Jones has had one of the great offseasons in history doing absolutely nothing, and his tires need air.
The quarterback who's been to 10 Super Bowls and won seven of them in this century can run for one thing — glory.
Fields even held a second pro day Wednesday to show his goods to potential buyers. The more pro days Fields has, he increases his chances to go to a bad team — unless it's the 49ers.
It's a cutthroat business. There are no friends in April. Only pirates.
2021 NFL Mock Draft: Trades shake up first round
6. Miami from Philadelphia (4-11-1) — Jaylen Waddle, WR, Alabama, Jr.
It's scary that a 10-win team with such a good coach and plenty of young talent also has four picks in the top 50. The Dolphins are desperate for wide receivers who can get open and it's clear that will be the target here (or they wouldn't have made this deal with the Eagles). Miami mimics Cincinnati by reuniting a top receiving prospect with his old college quarterback. A healthy Waddle is the most explosive all-around athlete at receiver in this class and his addition will only expedite former Crimson Tide teammate Tua Tagovailoa's development. Top needs: WR, RB, LB
7. Detroit (5-11) — Penei Sewell, OT, Oregon, Jr.
In most drafts, Sewell would be the consensus No. 1 overall pick and he'd pair nicely with Taylor Decker, giving the Lions bookend tackles. The 2019 Outland Trophy winner — he opted out last season due to the threat of COVID-19 — isn't flawless, but his ceiling is as high as they come (he'll only be 21 in October). Top needs: WR, LB, DB
9. Denver (5-11) — Micah Parsons, LB, Penn St., Jr.
A classic Vic Fangio defense usually features a playmaking linebacker at its core. Parsons is another elite prospect who opted out of the 2020 season, citing "the potential risk to the health and well-being" of his young son due to COVID. He recently dazzled scouts with a 4.39 40-yard dash at his pro day. This would be the first time in my lifetime the first defensive player off the board lasts this long. Top needs: Edge, OT, LB
11. N.Y. Giants (6-10) — Kwity Paye, Edge, Michigan, Sr.
The Giants are in need of another pass rushing threat to go opposite Leonard Williams. Paye is already an impressive run defender against the spread offense, which is becoming increasingly important in the NFL, and there are athletic indicators he will continue to improve as a pass rusher. Top needs: OL, Edge, LB
12. Philadelphia from Miami through San Francisco (6-10) — DeVonta Smith, WR, Alabama, Sr.
Is it me or does it seem like the Eagles are always in need of help at receiver? The Heisman winner took his game to another level after Waddle was sidelined in 2020 — he had 1,300 yards on 72 receptions and 19 touchdowns in his last eight games. The only blemish is his size. Top needs: WR, CB, LB
13. L.A. Chargers (7-9) — Rashawn Slater, OL, Northwestern, Sr.
Signing All-Pro center Corey Linsley is a step in the right direction for a very bad offensive line. Slater opted out this season due to COVID, but handled the mighty Chase Young as a junior while playing left tackle and didn't allow a single sack his last season. He's versatile and talented enough to play all five offensive line positions. He did nothing during his pro day to hurt himself. Top needs: OL, CB, DL
14. Minnesota (7-9) — Christian Darrisaw, OT, Virginia Tech, Sr.
Coach Mike Zimmer didn't hold back when he called his defense the "worst one I've ever had," but the offensive line is priority here considering the Vikings don't have a pick in the second round. Darrisaw would be the first Hokie offensive lineman to be drafted in the first round since 2008 ( Duane Brown). Top needs: OL, S, Edge
16. Arizona (8-8) — Najee Harris, RB, Alabama, Sr.
If you're a fantasy player who is excited about Chase Edmonds' potential as a featured back now that Kenyan Drake has moved on, don't get your hopes up. Harris has evolved into an all-around threat. Of course, he's a powerful runner with his size (6-foot-2, 230 pounds), but he's also developed into a great receiver out of the backfield and he's improved significantly in pass-protection. Top needs: CB, RB, OL
17. Las Vegas (8-8) — Trevon Moehrig-Woodard, S, TCU, Jr.
The Raiders must address their atrocious secondary. Moehrig-Woodard's skillset is scheme-proof. He's a hard hitter who led all safeties in pass breakups in each of the past two seasons. Top needs: OT, S, LB
18. Miami (10-6) — Travis Etienne, RB, Clemson, Sr.
One way to alleviate the pressure off of a young quarterback is to give him a dynamic running back who is a three-down threat and capable of scoring every time the ball is in his hands. Etienne, a three-time All-American and the ACC's career rushing leader, fits the bill perfectly. Top needs: WR, RB, LB
19. Washington (7-9) — Jeremiah Owusu-Koramoah, LB, Notre Dame, Sr.
I'm going to go out on a limb here and say Taylor Heinicke isn't the quarterback of the future for the Football Team — or Ryan Fitzpatrick for that matter — but there's not a QB on the board worthy of this pick. Owusu-Koramoah is an explosive athlete who can make plays from sideline-to-sideline. The ACC Defensive Player of the Year also won the Butkus Award (nation's top linebacker) and was a consensus All-American. Top needs: QB, LB, Edge
21. Indianapolis (11-5) — Azeez Ojulari, Edge, Georgia, So.
I expected the Colts to be aggressive seeking their next quarterback in the trade market and they didn't disappoint. The next biggest priority is to continue building their pass rush. Ojulari was a semifinalist for the Chuck Bednarik Award (the nation's top defensive player) with 8.5 sacks, 12.5 tackles for loss, four forced fumbles and 25 quarterback hurries. He's only scratching the surface of his talent. Top needs: Edge, OT, CB
22. Tennessee (11-5) — Jaycee Horn, CB, South Carolina, Jr.
The Titans will need to address their secondary (after releasing Kenny Vaccaro and Malcolm Butler) in a major way. Horn — his father Joe was a Pro Bowl wide receiver — is a very talented, uber-aggressive press corner with elite speed, good size (6-foot-1, 205 pounds) and can make plays in run support. Top needs: WR, CB, DT
23. N.Y. Jets from Seattle (12-4) — Jaelan Phillips, Edge, Miami, Jr.
If past is prologue, once head coach Robert Saleh has his quarterback situation figured out, he'll focus on building a pass rush. Phillips stepped up in Gregory Rousseau's absence after transferring from UCLA. The former highly-touted recruit is a relentless pass rusher who produced eight sacks and 15.5 tackles for loss in 10 games as a Hurricane. Top needs: QB, OT, LB
24. Pittsburgh (12-4) — Alijah Vera-Tucker, OL, USC, Jr.
The Steelers are facing difficult decisions at almost every major position after this season, but it's clear the offensive line has to be a priority. Vera-Tucker was one of the best offensive tackles in the country, but could also shine on the interior in the NFL. Top needs: OT, RB, LB
26. Cleveland (11-5) — Zaven Collins, LB, Tulsa, Jr.
The Browns need to upgrade their pass rush outside of Myles Garrett, but they also need to improve their linebacker corps. Collins has the size (6-4, 260), athleticism and positional flexibility that will cause most defensive coordinators to drool. He received the Bronko Nagurski Trophy, awarded by the Football Writers Association of America to the top defensive player in college football. Top needs: LB, Edge, DL
27. Baltimore (11-5) — Gregory Rousseau, Edge, Miami, So.
Yannick Ngakoue and Matt Judon are gone. It's been almost two decades since a Hurricane defensive end was taken in the first round ( Jerome McDougle in 2003). Rousseau finished with 15.5 sacks in 13 games as a redshirt freshman, but opted out of the 2020 season due to COVID-19 concerns. Top needs: Edge, C, LB
28. New Orleans (12-4) — Rondale Moore, WR, Purdue, So.
Emmanuel Sanders' release and no money for free agency might necessitate this move. Moore would be a nice fit opposite a healthy Michael Thomas. An impressive pro day should boost him into the back-end of the first round. Top needs: QB, DB, WR
30. Buffalo (13-3) — Jaylen Mayfield, OL, Michigan, Jr.
Offensive tackle Daryl Williams was resigned, but the Bills still need to address the interior. Mayfield features the versatility and athleticism to thrive in offensive coordinator Brian Daboll's system. Top needs: DL, G, CB
31. Kansas City (14-2) — Samuel Cosmi, OT, Texas, Jr.
The greatness of Patrick Mahomes has made up for the mediocrity of his offensive line since he became the starter. Joe Thuney was a nice addition at guard. Cosmi is capable of starting at right tackle day one, but has the ability to protect Mahomes' blindside eventually. Top needs: OT, LB, WR