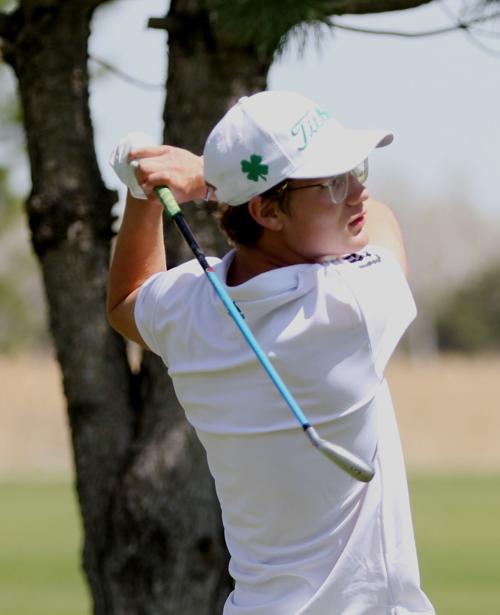 Connor Hasenauer's only birdie came on his final opportunity, and with dramatic flair.
The St. Pat's junior sunk a roughly 50-foot putt on the No. 9 hole at River's Edge Golf Club on Thursday afternoon that drew a round of cheers from the spectators that had gathered around the green.
"It felt pretty good, pretty good," Hasenauer said of the putt. "Everybody was kind of watching and cheering for me so that was kind of fun. I haven't done that (before)."
It capped Hasenauer's round of 75 to lead the 16-team boys field in the St. Pat's Invite.
"Everything worked pretty well," he said of his round. "I didn't hit anything bad I think was the big thing. I just kept it in the fairway, probably hit 15 of 18 fairways.
"I putted my way to a lot of pars," Hasenauer said. "I only had one birdie and it was the last hole. I just parred my way around the course and managed to hold it together for the whole round."
Hasenauer was four shots ahead of his teammate, Teegan Sonneman and the two led the host Irish to the tournament championship as well.
"I played pretty well outside of not hitting a green," said Sonneman, who is a junior as well. "I definitely scrambled (today). It's a course that you have to play smart and know where you are aiming. There's a lot of hazards on this course and trees are a big factor with it too."
St. Pat's Hunter Deeds, Sam Dekleva and Matthew Phelps all shot rounds of 91, and the Irish finished with a team score of 336.
A North Platte High School JV team finished in second, 48 strokes behind the Irish. Sutherland was third with a team score of 394.
"Today was kind of a struggle for some of our guys but they kept playing," St. Pat's coach Brendan Lynes said. "It just feels great to have a meet. We went almost a month without one (due to inclement weather). Now we have to be able to throw a couple weeks back-to-back (with meets) and are building up to districts and hopefully state.
"It's just really good to be able to go out and compete against other schools," Lynes said. "It was a great day."
South Loup's Colbi Smith finished third individually with a round of 81, one shot ahead of Sandhills/Thedford's Brett Downing.
"I was hitting my drives pretty good today," Smith said. "Putting was kind of a struggle but the greens were pretty quick.
"I was content with (the round)," Smith said. "It could have gone worse but I also feel I could have dropped that score a few strokes pretty easily."
Downing shot a 36 over the final nine holes of his day — 10 strokes better than he had on the first half of his day.
"There was a few holes in a row where I was able to drain some putts and get a few birdies," Downing said. "I got a bunch of pars after that and just kept hitting.
"My chips all ended up right next to the hole so I didn't really have to work too hard," Downing said. "The front nine was a lot different. I kept hitting it out-of-bounds and three-putting. Once I came in and ate lunch, it just got a lot better."
1, St. Pat's 336; 2. North Platte JV 384. 3, Sutherland, 394.
1, Connor Hasenauer, St. Pat's, 38-37. 2, Teegan Sonneman, St. Pat's, 40-39-79. 3, Colbi Smith, South Loup, 41-40-81. 4, Brett Downing, Sandhills/Thedford, 46-36-82. 5, Ty Monie, Sutherland, 50-41-91. 6, Matthew Phelps, St. Pat's, 42-29-91. 7. Hunter Deeds, St. Pat's, 46-45-91. 8. Sam Dekleva, St. Pat's, 47-44-91. 9. Carson Leibhart, Anselmo-Merna, 43-39-92. 10, Luke Martinez, Sutherland, 49-43-92.