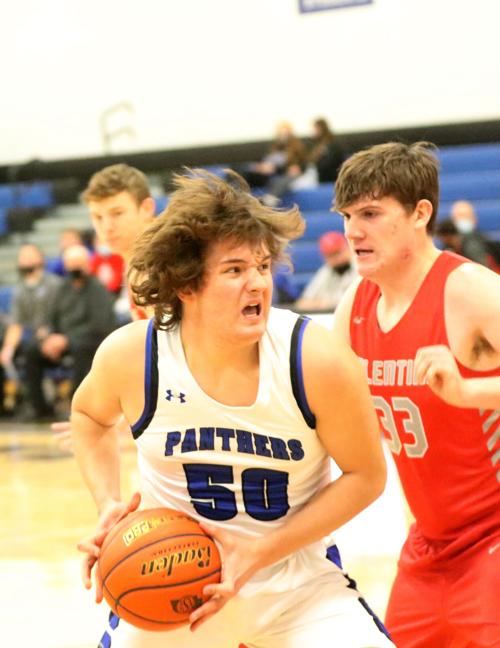 HERSHEY — Both Panthers basketball teams continued their hot streaks on Friday night.
The Hershey girls downed Valentine 55-32 for their fifth straight victory.
The Panthers boys held off the Badgers 51-34 in a physical matchup and extended its winning streak to eight.
Both teams travel to Holdrege on Saturday.
The Hershey boys overcame two key players fouling out in the fourth quarter, a 13-for-33 effort from the free throw line and a tenacious Badgers defense to keep its streak alive.
"We didn't get into an (offensive) rhythm," Hershey coach Dustin Jorgenson said. "Valentine had did a nice job. They had a good game plan and they executed well.
"They took us out of our game there for awhile and I thought our kids responded well."
Cayden Spearman and Bryce Butterfield both had 12 points as the Panthers improved to 12-1 overall.
Defense has been the key for a Hershey team that jumped up four spots to No. 4 in the Omaha World-Herald Class C2 state basketball rankings this week. It was the case against a stingy Badgers team as well. Forty-five fouls were called in the game and Hershey's Sage Young and Thomas Gosnell both fouled out within 18 seconds of each other in the fourth quarter.
"We hang our hats on defense and we had to tonight because we didn't shoot the ball very well," Jorgenson said. "It was two scrappy teams that got after it. It was very physical."
The Panthers struggled from the line all night — including a 1-for-10 stretch over the third and fourth quarters. The story was the same for Valentine which went 9-of-23 from the line.
"Free throws are a big part of the game and you've got to hit them," Jorgenson said. "I have confidence we will rebound and hopefully hit free throws better the next time."
Brysen Limbach had nine points to lead the Badgers (1-10), who trailed by 18 points in the third quarter but got as close as 41-32 with under three minutes left in regulation.
Cody Frank and Jack Lancaster both added seven points for the Badgers.
The Panthers are seeded second in next week's SPVA tournament. Bridgeport, ranked fifth, in Class C-2, has the top seed.
Hershey handed Bridgeport its lone loss of the season on Jan. 9.
"The conference is loaded and I think its up for grabs," Jorgenson said. "It's a competitive conference and a lot of teams have a chance to win it."
Talia Steinbeck scored a game-high 20 points, including three 3-pointers in the first half for the Panthers, who never trailed in the game.
"We were a little stagnant (offensively) and she got us going," said Hershey coach Alex Lowther of Steinbeck, who scored 16 of her points over the first two quarters. "It didn't seem like she missed (a shot) there for awhile."
Nine different players had at least two points for the Panthers, who improved to 8-5 overall.
Defense and transition baskets have been a key to Hershey's run over the past few weeks and it was a key again on Friday.
The Panthers held Valentine to 12 points in the first half and led by 17 at the break.
Kinsey Buechle led the Badgers (4-8) with 10 points.
"We just want to make teams uncomfortable (on offense)," Lowther said. "We want to pressure them and force teams to make passes that we can get some steals off of.
"The main thing is that (opponents) get one shot, and we get the rebound and run our offense," Lowther said. "We gave up a little too many offensive rebounds in the first half (Friday) but I challenged the girls to be better in the second half. I felt they did a really good job in the third quarter in which we really got our fast break going."
Hershey enters next week's SPVA tournament as a fourth seed.
"I like where we are seeded right now and our goal is to win the conference tournament," Lowther said. "There are solid teams for sure and I think any one can win it. It just depends on who is on that night."
Haley Hesse 4, Kailee Kellum 8, Malika Monroe 6, Kinsey Buechle 10, Delaney Robison 4
Talia Steinbeck 20, Emma Hall 2, Jordyn Messersmith 5, Kinley Folchert 5, Carly Sexson 5, Shayda Vaughn 7, Day Roberts 5, Michalee Brownawell 4, Elie Schmitt 2.
Brysen Limbach 9. Cody Frank 7, Hank Lancaster 4, Jack Lancaster 7, Kenny Shelbourn 2, Tim Egelhoff 3, Rhett Witt 2.
Cayden Spearman 12, Bryce Butterfield 12, Sage Young 11, Cooper Hill 6, Logan Vanarsall 3, Austin Hoelscher 2, Thomas Gosnell 5.