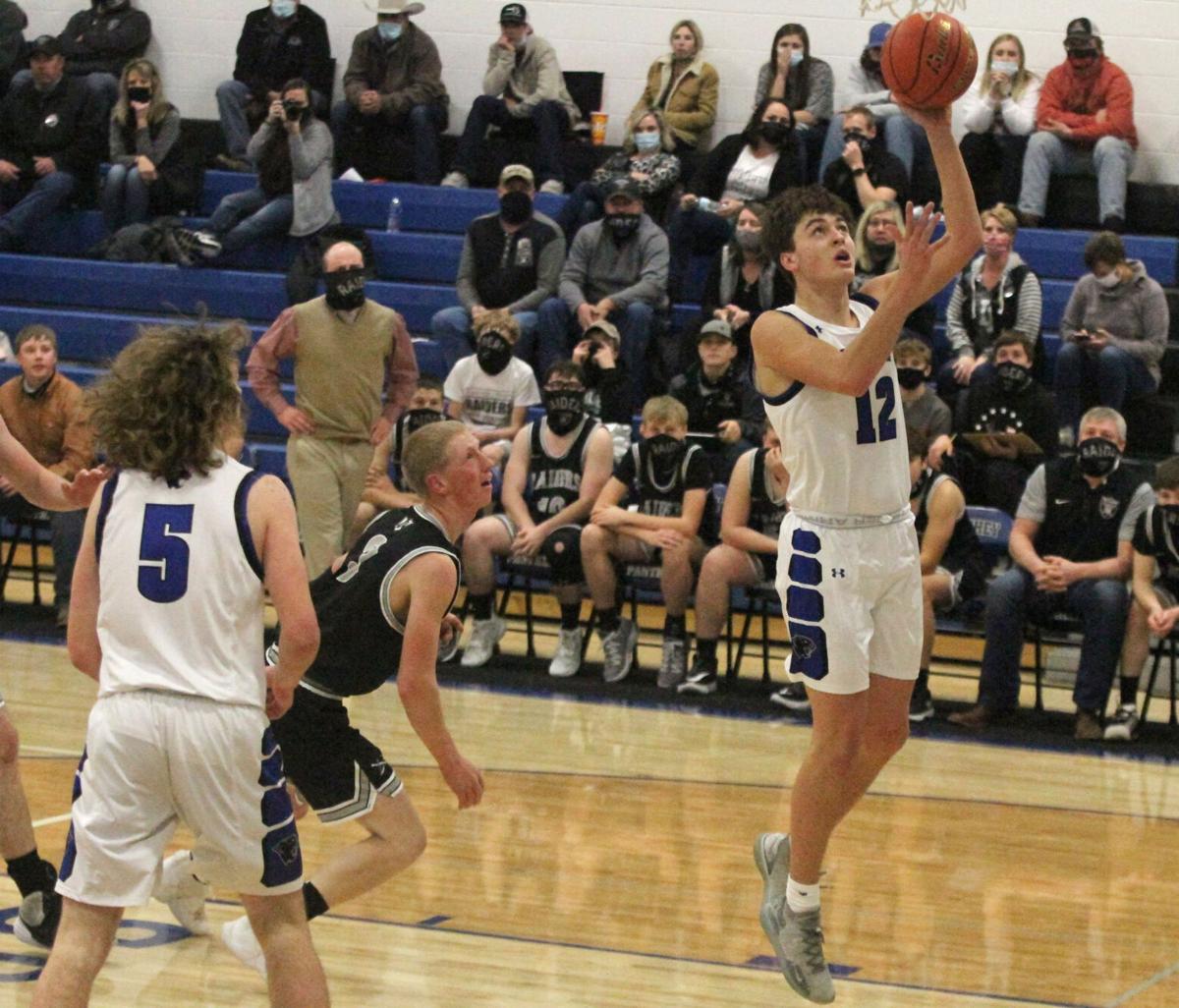 Bryce Butterfield stuck to Lawrence-Nelson's Krayton Kucera in the second half like peanut butter to the roof of the mouth. Wherever Kucera went, Butterfield followed.
The move turned the Raiders' offensive possessions into four-on-four basketball with Lawrence-Nelson's most dangerous threat — Kucera hit three 3-pointers in the first half and led with 11 points at the time — taken out of the play every time.
It ultimately paid off. The Raiders tried to find other options, like Keith Miller and Trevor Biltoft, but nothing was working. Taking Kucera out of the game helped the Hershey boys defeat Lawrence-Nelson 52-42 on Wednesday in the first round of the Greg Miller Memorial Holiday Tournament. The Panthers will face Gering on Thursday at 4:30 p.m.
"Butterfield's one of the most athletic kids on our team and he'll do anything you ask of him," Hershey coach Dustin Jorgenson said. "And he stepped up and did an amazing job and played great defense. And he knew his job and he did a great job."
Kucera was a small part of the offense in the first quarter, as five different Raiders scored. Biltoft and Miller led off with back-to-back baskets before Hershey's Sage Young dropped a bucket of his own. Miller scored once more to put his team up 6-2.
The Panthers tied the game on consecutive Cooper Hill baskets inside the paint. Hill finished with a game-high 17 points.
Lawrence-Nelson started focusing on the 3, getting one from Kucera and Logan Menke to take a 12-9 lead. Hill hit another to pull Hershey within one before Cole Troudt hit a 3 to put the Raiders up 15-11. Young dropped a 3 in the final few seconds to make it a 15-14 game.
Butterfield, who finished with nine points, opened the second quarter with a basket inside the paint, Cayden Spearman hit his first of four 3s and Young dropped a shot to give Hershey its first lead.
Hill extended Hershey's lead to 26-20 late in the second quarter with five consecutive points. However, Kucera hit another 3 in the final minute, followed by another from Troudt to tie the game at halftime.
"It was huge," Jorgenson said. "I don't know how many points (Kucera) had in the first half. And I don't know if he scored in the second half, and if so, it was minimal."
Young regained Hershey's lead with an opening basket of the second half as the Panthers pulled away for a 33-27 lead.
Hershey extended that lead to seven by the end of the third quarter at 40-33 after buckets from Hill, Butterfield and a Spearman 3.
Butterfield locking down Kucera in the second half limited Lawrence-Nelson's offense to just seven in the fourth quarter as Hershey pulled away.
"Lawrence-Nelson came out and played a really good game," Jorgenson said. "Shot the ball extremely well. I was disappointed in our defense, but I thought we did some good things down the stretch. We got to start shooting the ball better and start making better decisions."
When asked about what went right during his team's 62-20 win over Lawrence-Nelson on Wednesday, Hershey girls basketball coach Alex Lowther spoke about the work his team has put in.
The Panthers like to run, and that helped them out a lot Wednesday. Hershey's length is also a bonus.
Then came the 3-pointers, and the shots falling.
"We played real well. We came out, we executed well," Lowther said. "Shots finally started falling for us. I told the girls that was what I was expecting all year from them. Hopefully this shoots us forward for the rest of the year."
One player to find those shots early was Dayonna Roberts, who's hot hand to end the first quarter led to a 25-5 lead.
"That was big in the first quarter, and I think that's what kind of propelled us to build up the lead that we did," Lowther said.
Those 3s were important in terms of momentum, but the rest of the Hershey offense blitzed Lawrence-Nelson. Shayda Vaughn, Tahlia Steinbeck and Michalee Brownawell made baskets as Hershey quickly took a 10-2 lead.
Brownawell and Steinbeck hit two more shots before Roberts dropped back-to-back shots from deep.
The second quarter was more of the same. Lawrence-Nelson struggled to keep up with Hershey's size and length, and the Panthers got to use more of its bench. Emma Hall scored six points in the quarter and Dalaney Kohn scored a free throw. Hershey dropped 18 points in the second while holding the Raiders to five and took a 43-10 lead.
The Panthers had 11 players score points in the game, led by Roberts' 12 and Steinbeck's 11. Lowther said that's just how Hershey is.
"It's not like we have anyone that lights it up every time," Lowther said. "We got a real balanced score and I think that's just the way our team is."