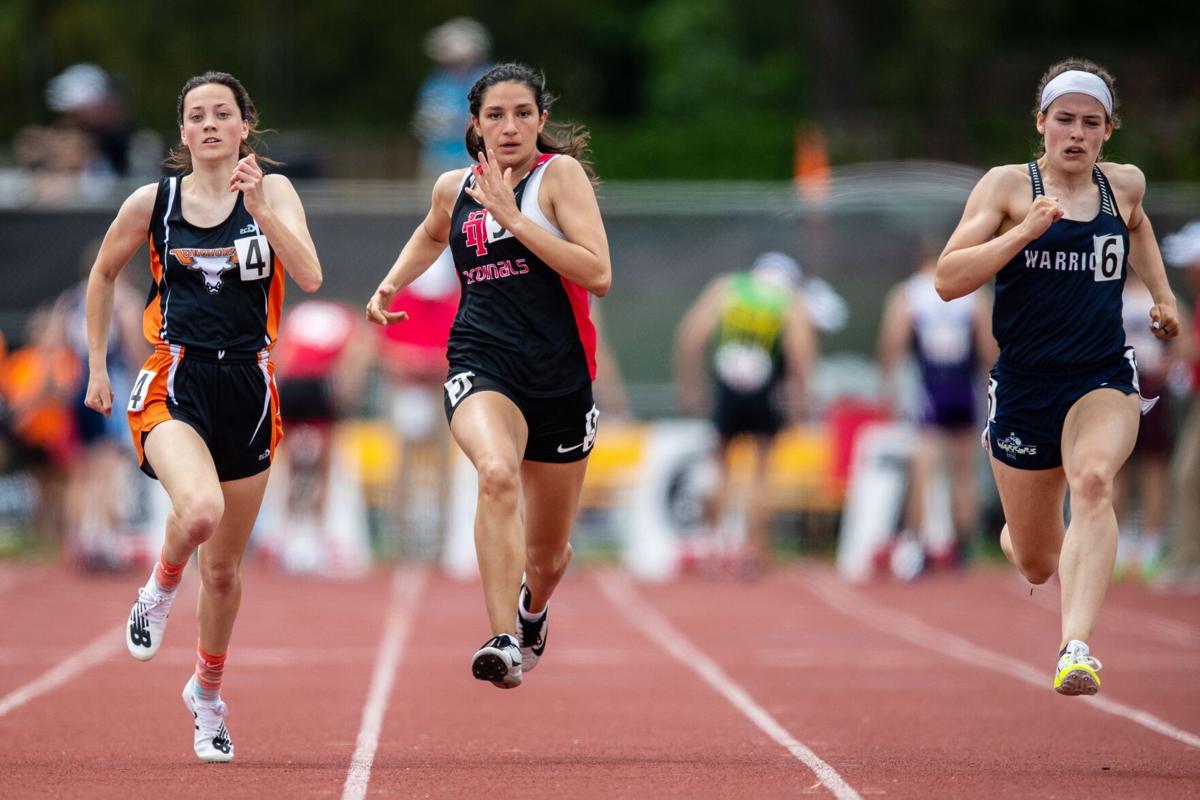 The Chase County girls track and field team raced to the Class C state title Saturday at Omaha Burke behind the strength of its sprinters.
Kamrie Dillan's 25.76-second performance in the 200 and Bryn McNair's 57.16-second performance in the 400 highlighted the Longhorn day and put those two racers on the top of the podium. Both runners also were key pieces of the Longhorn 4x400-meter relay team that notched a third gold — along with Jordan Jablonski and Ali McNair.
The Longhorns scored 62 points on day two of the meet for a total of 68, besting day-one leader Hastings St. Cecilia by 13 points for the schools' third girls track and field title in the last five state meets. 2020's meet was canceled because of COVID-19. The Longhorns won back-to-back titles in 2016 and 2017.
The Longhorns also earned key points from Dillan's second-place finish in the 100, Bryn McNair's second-place finish in the 200 and third place finish in the high jump, and a second-place finish by the 4x100 relay team of Dillan, Jablonski, Jerzee Milner and Chloe Dillan. In addition, the 4x800 relay team of Jablonski, Ali McNair, Lucy Spady and Kora Weiss earned a bronze.
In Class B, McCook garnered a pair of individual champions — one on the girls side and one on the boys. Shawna Wilkinson notched a 57.59-second time in the 400 to win and Talyn Campbell cleared 14-6 to win the pole vault. Branson McDonald finished fourth in the event, helping the Bison reach fourth place as a team.
Other point-scorers for the Bison: Mark Arp placed third in the high jump, Torrington Ford fourth in the shot put, Adam Dugger fifth in the triple jump and Isaiah Stoddard fifth in the discus,
For the eighth place Bison girls, Sierra Kotschwar was third in the discus and the shot put, Brittni Kinne was fifth in the shot put, Hannah Crow was eighth in the pole vault and Wilkinson was eighth in the 200
Cozad's Brittney Aitken finished second in the 100 and 200. Her Haymaker teammate, Makaia Baker, finished fourth in the 400.
Gothenburg's Aubrey O'Hare finished fifth in the 300 hurdles, as did her teammates Madison Smith in the discus and Jake Burge in the pole vault. The Swedes' 4x100 relay — Kynlee Strauser, Bella Rickertson, Clara Evert and O'Hare — finished fifth, as well.
The Ogallala 4x100 relay team — Milan Coggins, Taylor Trumper, Makayla Kirchner and Sophia Plugge — finished in third place.
In other Class C action, Reagan Cool of South Loup placed fourth in the pole vault while Jadeyn Bubak placed sixth in the 100. The 4x100 relay team of Mya Weverka, Halie Recoy, Bryn Schwarz and Bubak placed fifth for the Bobcats.