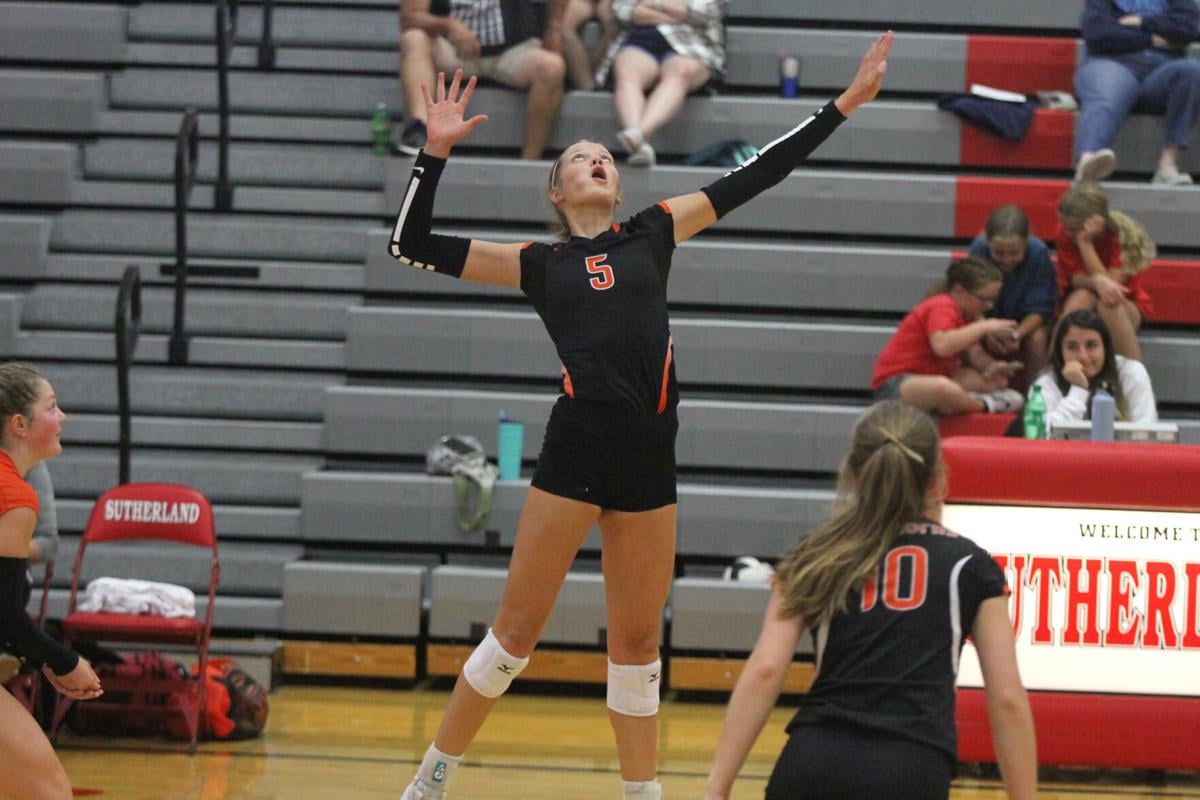 Bryn McNair and Gisselle Acuna collected 11 kills each as the Chase County volleyball team swept Southwest 25-15, 25-18 to win the Sutherland Invite on Saturday.
The Longhorns defeated Sutherland 25-15, 25-17 in the opening round before beating Overton 14-25, 25-21, 28-26 in the semifinals.
"I thought we played really clean volleyball," Chase County coach April Lambert said. "We've been working on that, being air-free on our side of the net. And I'm just proud of the way the girls battled back in some of our matches when they were down. We played tough and we played the whole tournament, which I'm really proud of them for."
Chase County needed to battle back against Overton, who claimed the first set and took the Longhorns to the brink in the third. Against Southwest, not so much.
Chase County started to pull away from a 5-5 tie in the first set that saw both teams trade points. McNair spiked two kills to start a 7-2 run and force a Southwest timeout.
The Roughriders captured the next point on a Bryn Lampe kill, but Chase County responded with five consecutive points to go up 17-8. Chase County won the set 25-15.
Lambert said a big part of Chase County's strategy was forcing Southwest's main hitter, Caylin Barnett, off the net and avoiding her on the serve.
"We tried to keep them off the net so that she's not attacking us," Lambert said. "And then we just saw her tendency to hit cross, so we parked our libero right on her line, and Chloe (Dillan) did a great job getting some digs on her."
Southwest played the second set much closer, trading points up to a 9-9 tie. Chase County, though, started to pull away with a 6-0 run fueled by four consecutive kills from Acuna.
The Roughriders pulled to within one at 18-17 with a kill from Barnett, but the Longhorns captured the next four points to go up 22-17 and win the set 25-18.
"Our hitters got more confident as the day went on, and they kind of saw that if they stayed aggressive on the net, they would beat the block most of the time," Lambert said. "So we just tried to stay aggressive on offense."
Overton came from behind to beat St. Pat's 18-25, 25-18, 25-23 to finish third at the Sutherland Invite.
The Irish went 1-2 on the day, first defeating Hitchcock County 25-14, 25-20 before losing to Southwest in the semifinals 25-20, 25-4.
Chase County def. Sutherland, 25-15, 25-17
North Platte St. Pat's def. Hitchcock County, 25-14, 25-20
Overton def. South Loup, 25-21, 25-16
Southwest def. Dundy County-Stratton, 25-4, 25-14
Chase County def. Overton, 14-25, 25-21, 28-26
Southwest def. North Platte St. Pat's, 25-20, 25-4
Overton def. North Platte St. Pat's, 18-25, 25-18, 25-23
Chase County def. Southwest, 25-15, 25-18