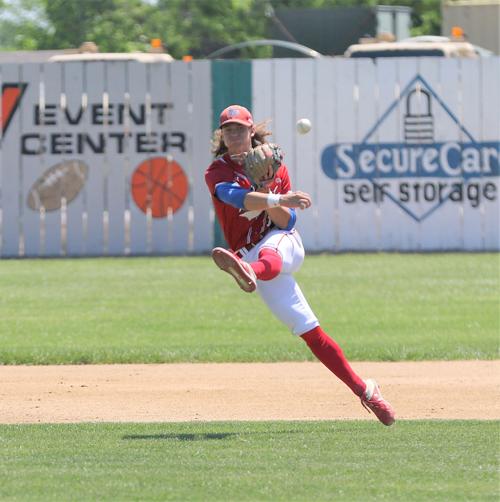 Call them the Runnin' Nationals.
The FNBO Nationals senior team came into Sunday having surpassed last year's team total of 77 stolen bases, and added to that amount in a doubleheader against the Kearney Jersey's.
North Platte (12-2) swiped 15 bags in a sweep at Bill Wood Field by the scores of 9-1 and 10-0. Both games went just five innings due to the run rule.
North Platte hosts Hastings in a juniors-seniors doubleheader on Tuesday.
"My goal is to have the smartest and fastest team out there," said Nationals coach Ricky Holm. "We're going to take everything that's given to us (on the base paths) and some stuff that isn't. That's hopefully our goal.
"I would say the majority of our guys have the green light at all times (to steal)," Holm said. "Until I tell them that they don't."
In the second game, the Nationals stole four of their eight bases during a nine-run fourth inning that broke the game open.
North Platte also had five hits, including three triples, in the frame. The final triple was Tyler Tobey's that drove in two runs. It was plenty of support for Jaylan Ruffin and Carsen Johnson, who combined on a two-hit shutout.
"Hitting is contagious," Holm said. "Guys start hitting and other guys start feeling left out. It's a snowball that goes."
The Nationals had a hit and a run through the first three innings despite Kearney committing seven of their eight errors in that span. Five came in the second inning.
"I kind of got into (the team) a little bit," Holm said of the Nationals inability to take advantage of early opportunities. "It frustrates me because we put up a nine-spot (in the fourth) and its like, 'Guys, if we come with the energy, attitude and the right plate approaches, we can be doing that in all those innings.
"I'm glad we snapped out of it but I would like to see that energy and focus from the first inning on."
North Platte 9, Kearney 1
The Nationals also demonstrated their team speed with seven stolen bases in the opener.
Johnson had five stolen bases, and in both of his first two at-bats he walked, stolen second and third and eventually scored.
"Everybody's got wheels on this team," Johnson said. "We're very fast and (Holm) has also encouraged us to be aggressive (on the base paths). He gives us the green light almost every time and we've been taking it."
North Platte had single runs in the first, third and fourth innings and two in the second. The Nationals put the game away with a four-run fifth.
Cody Wright had a two-run double, and Bryce Butterfield followed with a single to end the game.
Wright finished with three of the Nationals five hits in the win.
The Nationals surrendered a run in the fourth but escaped a jam as two consecutive Kearney batters reached base in the inning.
The Jersey's attempted a double steal but shortstop Derrick Kuhlmann cut off the throw to second and fired back home to get the runner at the plate.
"That's the first time that we've run that play and run it successful," Holm said. "We've put hours into (situations) so its good to see when that work comes to fruition."
Kearney then got a base hit to move a runner to third but Butterfield got an infield pop-up to end the frame.
Butterfield allowed a run and four hits in five innings to get the win. ​