Lincoln Southeast is in position.
The Knights shot a team score of even-par 288 Tuesday at Norfolk Country Club to take the Class A lead after the first round of the boys state golf tournament.
Southeast holds a four-shot advantage over Omaha Westside on a day that saw the state's top four teams fill the top four spots on the leaderboard.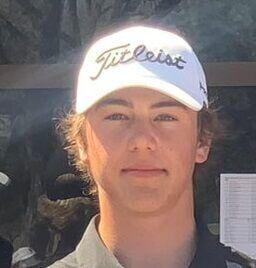 Behind Westside's 292 is defending champion Lincoln East, which shot 299. Two shots behind the Spartans is Creighton Prep. There is then a nine-shot gap to the next group of teams.
Southeast got a 3-under 69 from Gavin Gerch and a 1-under 71 from Owen Tucker to find its way to the top of the leaderboard. Gerch sits second individually behind Millard North's Samuel Vocelka, who fired a 5-under 67 with six birdies and a single bogey on the card.
The Knights also got a tough 72 from defending individual champion Thomas Bryson that, should Southeast hang on Wednesday, could go down as a turning point in this year's event.
Bryson, who won the Class A title as a freshman on the same course in 2022, went out in 4-over 40 on Norfolk Country Club's front nine. He then rallied for five birdies over his last eight holes to come home in 4-under 32 and get back to even par for the day. The finishing kick-started with consecutive birdies on holes 11, 12, and 13. The sophomore is tied for seventh.
Lincoln East got an even-par 72 from Parker Bunting that included birdies on two of his final three holes. Maguire Stanton one-upped his teammate, making birdie on three of his final four holes to shoot a back-nine 33 on the way to a 74.
Lincoln Pius X was eighth after Day 1 with a team score of 318. The Thunderbolts were led by Matthew Bartek and Francis Dawson, who each shot 78.
One shot behind the Bolts is Lincoln Southwest, which was led by Sam Kline's 76.
Southeast is looking for its first state title since 2009. A championship would be the Knights' 16th, which would break a tie with Oakland-Craig for second-most in Nebraska history behind Lincoln High's 18.
Norris, York pull away in Class B
Norris and York separated themselves from the field Tuesday in the Class B tournament at Monument Shadows in Gering.
The defending champion Titans fired a 5-over 293 to take a two-shot lead over the Dukes heading to the final round. Scottsbluff is third, 20 shots behind York.
Norris has finished first or tied for first in every meet this season. The only time the Titans didn't bring home a championship trophy? Last week, when York beat them in a team playoff for the B-3 district championship.
York's Ryan Seevers and Beatrice's Treyton Baehr are tied for first individually after both shot 2-under 70. Norris' Travis Tilford is third after a 72.
Norris and York golfers occupy eight (four each) of the top 17 spots on the leaderboard. The Titans' four counting scores were all between 72 and 74.
Waverly sits fifth in the team race after a 324.
Stars, Crusaders lead in Class C
Like Class B, two schools have pulled away from the pack in the Class C tournament at Elks Country Club in Columbus.
Kearney Catholic leads after a 320. Hot on the Stars' heels is Grand Island Central Catholic. The Crusaders shot 323. Yutan is third, 15 shots back of GICC.
The Stars, seeking their first team golf championship, have the individual leader in sophomore Jackson Dunham. His 74 was good for a three-shot lead over Aquinas' Jaylin Jakub, Pierce all-state quarterback Abram Scholting, and GICC's Bowdie Fox.
Grand Island Central Catholic is hunting for its seventh team championship, but first since going back-to-back in 2003 and 2004.
Lincoln Christian, with four freshmen in its varsity lineup was tied for seventh after Day 1 with a 347. The Crusaders were led by Benjamin Mooss's 82. Brady Watson added an 84.
Lincoln Lutheran's 372 was good for 13th after the first round.
Pender on top in Class D
Led by two of the top three on the individual leaderboard, Pender took the first-day lead in Class D at Lake Maloney Golf Club in North Platte.
Pendragons' senior Quinton Heineman shot 73 to lead Perkins County's Zaybreon Hansen by one shot in the individual race. Pender's Layton Gralheer was tied for third after a 76.
The Pendragons lead defending champion Overton by nine shots. Last season, the Eagles rallied from a 23-stroke deficit to win the crown.
Elmwood-Murdock shot 369 to finish the day in 12th.