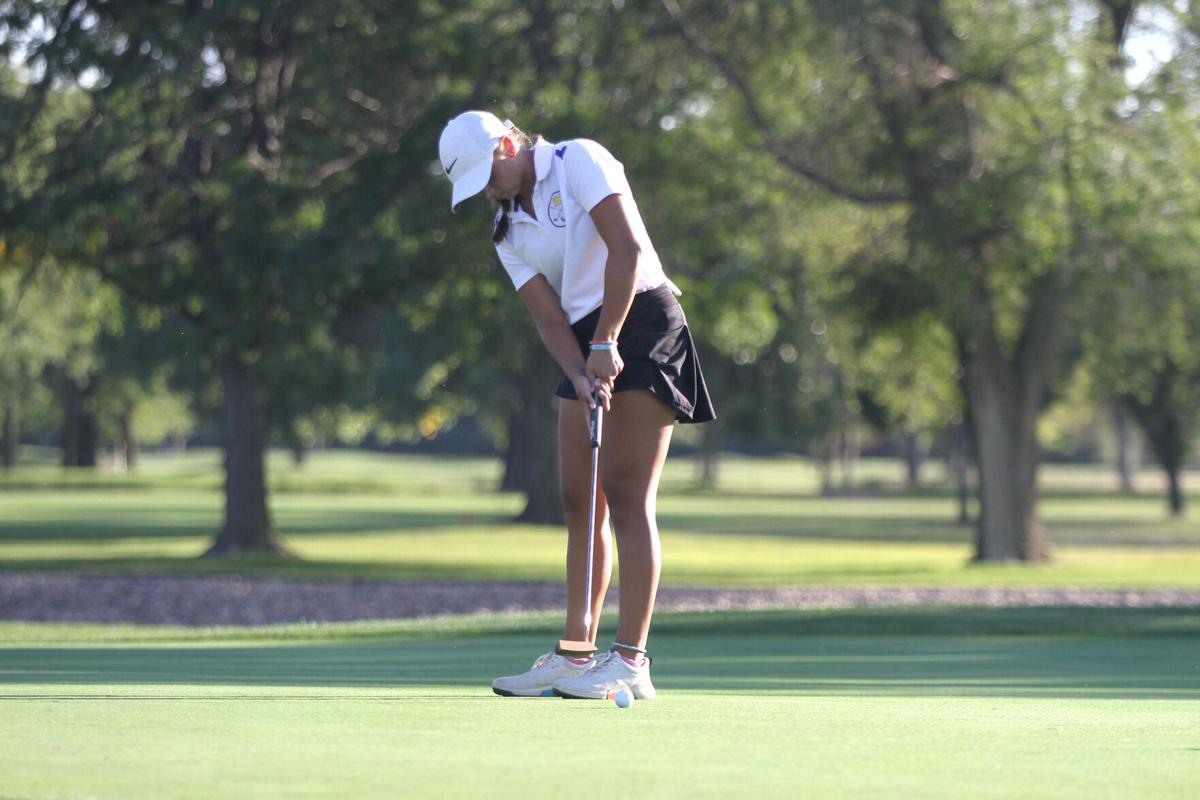 The DawgCat trophy is heading back to Kearney.
The Kearney girls golf team defeated North Platte 5-3 on Monday at River's Edge to reclaim the trophy. The format of the competition was match play for the first six points, and the two junior varsity matchups were a two-person scramble, something that neither teams was used to.
"It's just a different format," North Platte coach Jim Orcutt said. "I'm a firm believer in letting kids play different formats and exposing them to match play and scramble and things like that just for the fun of it. It's supposed to be a game."
Both North Platte and Kearney are preparing for conference invites this week and district play early next week, so a friendly bout between both programs served as a way for both teams to have some fun with a different format.
"I think we played OK," Orcutt said. "I don't think we played our best game today.
"The best part is the end when we see both teams get together and take a picture together," Orcutt added. "Sportsmanship is what this is about, so it's all good."
Karsen Morrison and Abbie Jones defeated Sydney Peterson and Hannah Lydiatt, respectively, in the first two spots.
Kearney captured the next three points when Alexa Mahalek defeated Kaylee Carlson, Addi Peterson bested Hailey Matthews and Olivia James beat Emily Hansen.
North Platte tied the contest at 3-3 when Winnie Haneborg defeated Ashleigh Sandstedt in the No. 6 spot, leaving the fate of the trophy up to the JV teams.
As the previous holders of the DawgCat trophy, North Platte just needed to reach four points to retain possession, but both JV squads, who played in a scramble, fell to Kearney.
"I actually think we're in a pretty good place," Orcutt said. "Some of these girls have never played match play before so that was kind of a factor. They were a little unsure what to do and how it was scored."
North Platte heads to the GNAC Invite on Friday, where it hopes to finally beat Scottsbluff for the first time this season. The Bulldogs later head to the Class A-1 District at Stone Creek on Monday with a shot at state on the line.
"We want to beat Scottsbluff," Orcutt said with a chuckle. "We have come close before at our place. They have beaten us at the other two. We got a little work to do down there, but it's going to be a long grind that day because that course is challenging, and we'll hope to play our best."
Match 1: Karsen Morrison (North Platte) def. Sydney Peterson (Kearney)
Match 2: Abbie Jones (North Platte) def. Hannah Lydiatt (Kearney)
Match 3: Alexa Mahalek (Kearney) def. Kaylee Carlson (North Platte)
Match 4: Addi Peterson (Kearney) def. Hailey Matthews (North Platte)
Match 5: Olivia James (Kearney) def. Emily Hansen (North Platte)
Match 6: Winnie Haneborg (North Platte) def. Ashleigh Sandstedt (Kearney)
Scramble 1: White/Dowhy (Kearney) def. Preece/Vargas (North Platte)
Scramble 2: Miller/Stone (Kearney) def. Blackford/Welk-Meyer (North Platte)